News
PGA Championship 2020: Tiger Woods (67) closes out week at Harding Park on positive note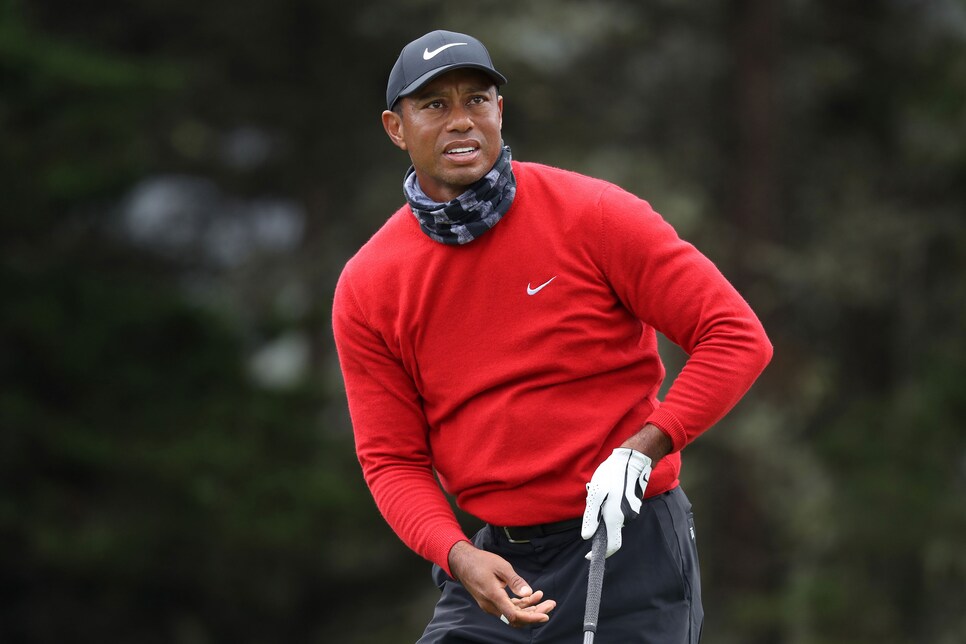 Tiger Woods reacts to his tee shot on the 14th tee during the final round of the 2020 PGA Championship.
Jamie Squire
SAN FRANCISCO — Among the bottomless bucket of clichés, one rings truer than most: Better late than never. Better to shoot something in the 60s on Sunday than something in the 70s, even if you finish your round some 90 minutes before the leaders tee off.
Tiger Woods will leave TPC Harding Park and head home Sunday in a better mood than he started the day, thanks to a final-round 67 at the PGA Championship.
"I drove it kind of like I did on Friday, and irons were a little bit more crisp and I hit better putts," Woods said. He picked up shots on the field putting for the first time since Thursday. "I made a few early on, and just kind of kept the momentum going. It's something I hadn't done the last two days, and it was an under par tournament score [one-under 279], which yesterday I was saying that's kind of what I wanted to do. I made it happen today."
It was, to revisit that cliché bucket, too little too late. Woods opened the week with a two-under 68 to put himself in the mix, but he wasted some really solid ball-striking early on Friday and could not sustain any momentum. A two-over 72 saw him enter the weekend at even par, eight back of the lead, needing a low round on Moving Day to have any chance.
His putter hamstrung that effort, as he posted another 72 on Saturday. Woods debuted a new wand this week, a slightly longer, heavier Scotty Cameron that looks almost identical to the one he used to win 14 of his 15 majors. And the early returns were positive, but Woods struggled to hit putts firm enough on Friday and Saturday and could not move up the board despite feeling mostly comfortable with his swing.
"That's golf," Woods said. "We lose way more tournaments than we win. This is one of those weeks where I didn't quite make the putts when I needed to, and I missed a couple shots on the wrong sides. But overall, I think I had one three-putt for the week and I had no doubles, and that's always something that you want to do going in throughout 72 holes of a major championship. Unfortunately I didn't make enough birdies."
On Saturday, the first birdie didn't drop until 16. It was a slog, but Sunday brought different news. Woods got up-and-down from a bunker for the first time all week—he was 0-of-7 through Saturday—for a birdie on the par-5 fourth, then followed it up with a beautiful chop from the rough right of the fifth fairway that trickled out to three feet. A third birdie of the day on No. 7 drummed up the possibility of something in 64 range, but Harding Park's brutal 8-9 stretch that, as it has been doing all week. He turned in two-under 33 then failed to birdie the easiest hole on the course, the par-5 10th.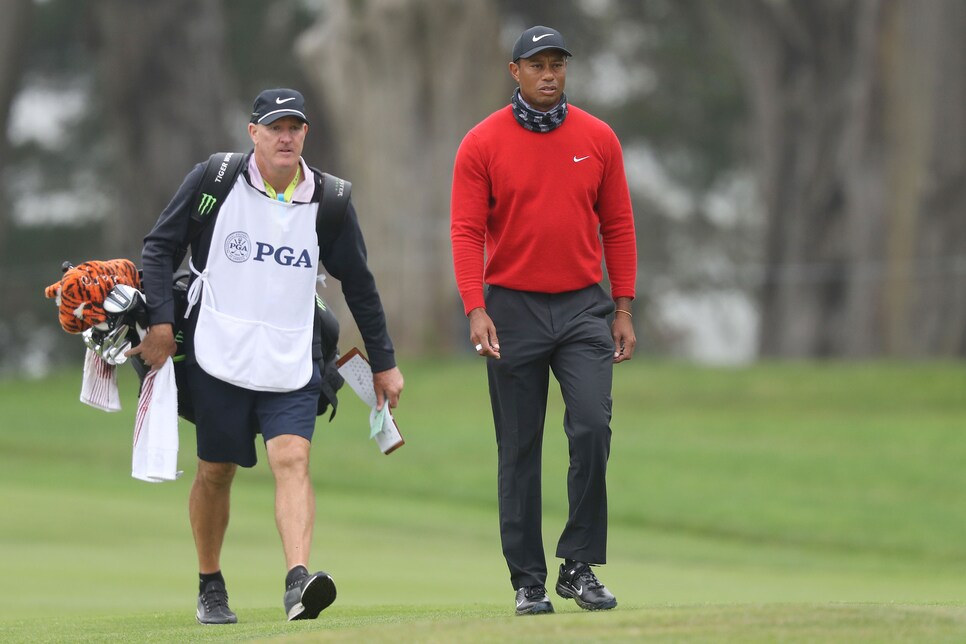 Tiger Woods walks alongside caddie Joe LaCava down the 10th hole during Sunday's final round at TPC Harding Park.
Jamie Squire
Woods had made five pars in a row before making a six-footer for birdie on 14 and a 10-footer on 17, both the result of butter-cut approaches that were perfect for distance. A bogey at the last didn't damper Woods' spirits, and he was rather upbeat after the round.
So what next, then, for Woods?
Well, as is typically the case, he stopped short of confirming when and where he'll play again. He is not in the field for next week's Wyndham Championship, so the next possible start would be the following week at TPC Boston for the Northern Trust, the first of three FedEx Cup playoff events. It would seem a likely spot for Woods, but with the Playoffs spanning three consecutive weeks, it's no certainty. Woods has not played three straight weeks since the 2018 playoffs and has not played back-to-back 72-hole events since February 2019.
"Well, that's potentially what could happen," Woods said of playing back-to-back-to-back events. "We've been training for that. Trying to get my strength and endurance up to that ability to making sure that I can handle that type of workload. We knew once I started playing again when I committed to Memorial that this was going to be a heavy workload, and my training sessions, we've been pushing it pretty hard, making sure that I kept my strength and endurance up. This week off will be no different. We'll be pushing it hard to make sure that I can stay strong and have the endurance to keep on going."