News
PGA Championship 2020: Distance is still Cameron Champ's thing, and he proved it Friday at TPC Harding Park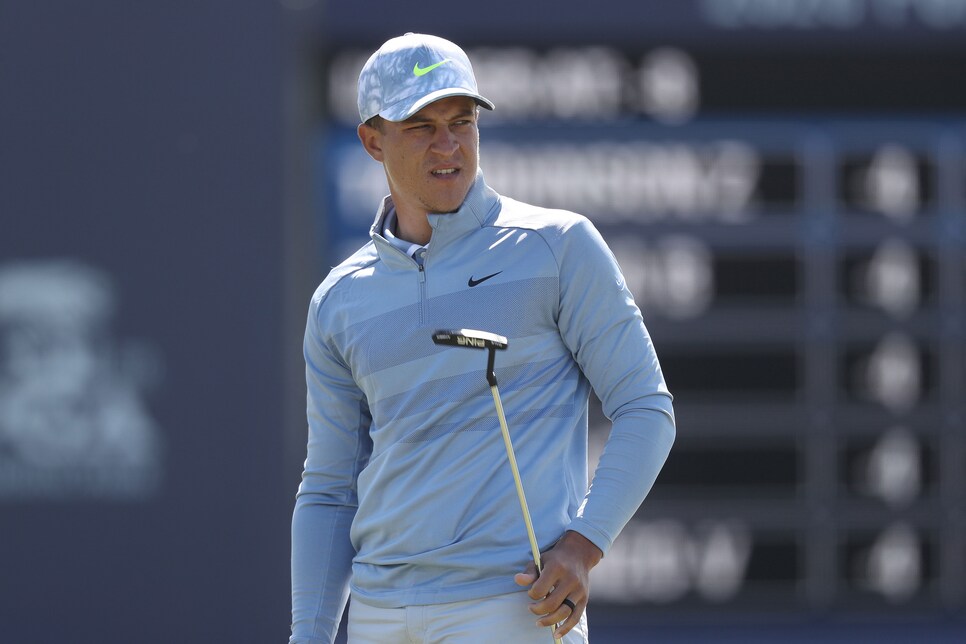 Cameron Champ reacts to a putt on the ninth green during the second round of the 2020 PGA Championship.
Jamie Squire
This whole swing-harder concept in professional golf is catching on. And it might become ever more embraced if the practice continues to yield significant benefits. Like those Cameron Champ enjoyed Friday in the second round of the 102nd PGA Championship.
Bryson DeChambeau has become the poster boy for gonzo distance. Tony Finau recently opted to stop holding back and let loose with a little more gusto.
Champ wasn't thinking of either of those men when he decided that he might have better command of his driver if he stopped babying the thing. His aggressiveness paid off to the tune of a six-under 64 at TPC Harding Park, which tied Tommy Fleetwood for low round of the championship.
A native of Sacramento, about 90 minutes northwest of San Francisco, Champ, 25, registered seven birdies against a lone bogey and moved onto the first page of the leader board with a five-under 135 through 36 holes. The two-time PGA Tour winner, playing in his second PGA, explained that he ventured out Friday morning with a more aggressive mindset in that facet of his game that already is his primary strength.
"Usually whenever I swing a little harder it goes a little straighter," said Champ, who ranks second behind DeChambeau in driving distance this season with an average poke of 321.1 yards. "Throughout the start of the round, I think I missed one fairway on the front side, which is great. It just gave me a lot more chances to make birdies.
"For me personally, I think I have to [swing harder]. I'm a lot more committed over it versus trying to hit a little low cut driver. Usually whenever I swing harder it goes straighter, and today kind of proved that. … If I just go at it—if I miss the fairway, I'm going to be a lot further up there and just deal with it, and then obviously if I found my groove kind of like I did today, then I'll hit a lot of fairways."
Champ hit nine fairways Friday while averaging a championship-best 330 yards off the tee. He leads the field in strokes gained/off the tee, and he gave himself plenty of scoring opportunities by hitting 15 greens in regulation during his stellar second round.
Like Rory McIlroy, Champ seems to feed off his driver and plays more confidently when it's clicking. He doesn't care whether or not people notice or if DeChambeau garners all the attention. He understands where the game is headed and what fascinates onlookers.
"Everyone wants to talk about distance, yeah, it's our new modern era," he said. "The long ball is what attracts everyone. You know, which it should. Nowadays, guys are hitting it longer and longer and longer."
Of course, longer isn't always better. In Champ's case, though, it's an effective approach
"To me, yes, you can hit it far," he said, "but you've still got to put up a score."
And what a handsome score he put up on Friday.