News
PGA Championship 2019: Tiger Woods has already come back. Now comes the best part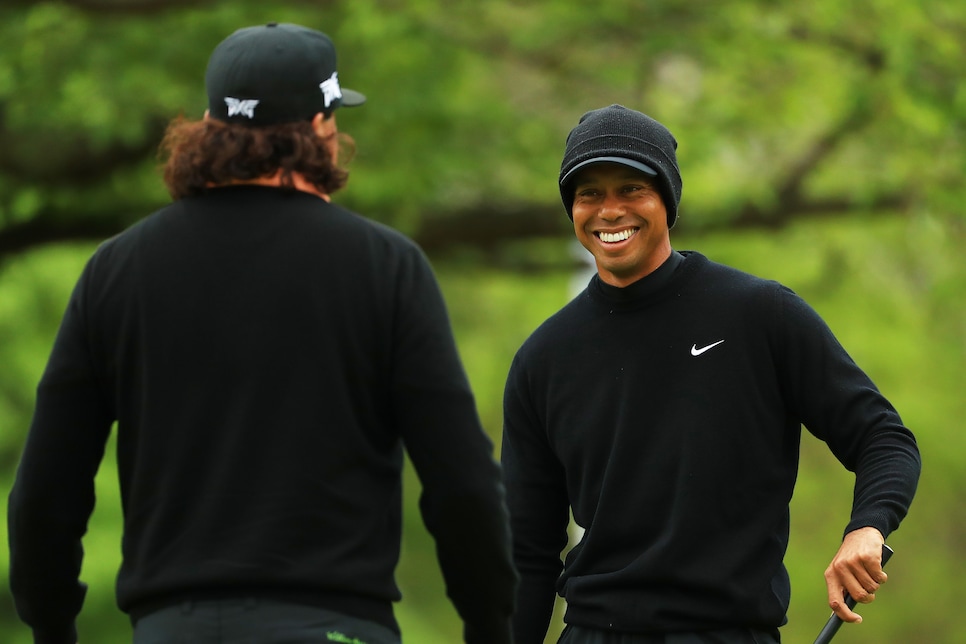 FARMINGDALE, N.Y. — Tiger Woods' Monday practice round finished on the ninth hole. Course cartographers will note this is one of the farthest points from the clubhouse at Bethpage Black, a byproduct of the out-and-back design and a trek that feels like it requires a sherpa. Especially in this weather, Long Island kissed with sub-50 temperatures, the occasional gust and rain teetering between spitting and Noah's Arking.
A fitting scene, for Woods' journey has been straight biblical.
"It's great to be part of the narrative," Woods said.
Was it really 17 years ago? Woods, fighting the muck and Phil Mickelson, capturing the 2002 U.S Open at Bethpage. It was his second straight major, the seventh in the 11 tries and eighth overall. At just 26, he was not so much shifting as shattering the sport's paradigm. Forget catching Jack Nicklaus and his 18 titles; many already considered Woods the superior player.
"It's not like my career is finished," Woods said that week to Nicklaus comparisons. "I have a long way to go and in that span of time I'm going to try to get better. This is what we all play for. I'm just living out a dream."
But it was 17 years ago, a time when most of the tour's current marquee players were in middle school, and what's transpired over the second half of that span has been more nightmare than dream for Woods. Yet he returns to Farmingdale this week not as golf's prodigal son but as its renewed power source.
As Woods lifted his arms and bellowed to the heavens at Augusta National this spring, it was said to cap the greatest comeback in sports, and in some ways, it was. However, a cap infers a seal, an ending to a journey, and the latest iteration of Tiger-mania is nowhere near the finish line, continuing to morph in its dynamism. If the Masters was a culmination of hopes, the PGA Championship is about what's next.
"If you look at most of the players or the players that have had the most success on tour, you're not measuredlike an NFL football player when you get in the Hall of Fame after nine years," Woods said. "If you played out here nine years, you haven't really done that well. You're measured in decades . . . It's just done differently. Because the nature of the sport, we're able to hang around a lot longer and still be relevant."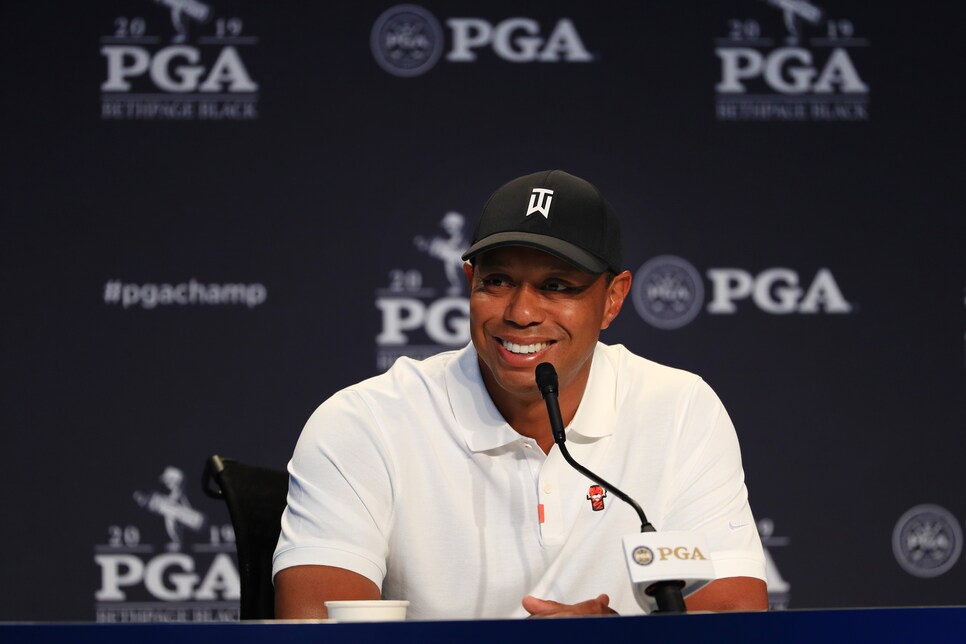 "Relevant" would be putting it lightly. Woods enters as tournament favorite at 10-to-1. Fueled by Augusta, yes, also his past conquests at this site: Along with the 2002 win, Woods finished T-6 at the 2009 U.S. Open, firing the lowest score over the final 54 holes. That he's unequivocally the most popular player factors into that betting figure.
Conversely, while Woods conjures a range of sentimentality, there's an objective aspect to the point. Only Brooks Koepka has been better in the last three majors, Woods making runs at both Carnoustie and Bellerive. He's won twice in his last seven events, ranks seventh in strokes gained and leads the tour in greens in regulation. Without the minimum divisor, he would be ranked No. 1 in the world, a standing he can reach by Sunday. Woods' bite has matched the bark, and as such, expectations—even by his preposterously high standards—have been raised.
The fact that this has happened, and is happening . . . well, despite Tiger's pleas to savor the moment, that's not how things exactly work these days. Forget nabbing Major No. 16; folks are wondering if he can compete for the Grand Slam.
"I'm not looking at it like that. I'm just looking at trying to give myself the best chance to win," Woods said. "Whether I'm dominant or not going forward, that remains to be seen."
Regarding this week, he won't need to alter his game plan from years past. Woods won in 2002 by hitting a tournament-best 73.61 percent of greens in regulation versus the field's 50.64 average, and found 73.21 percent of fairways against the competition's 59.13 mark.
"In order to win this one, driving is going to be at the forefront," Woods said. "With the rough as lush as it is, it has grown up a little bit. I don't know how much they're going to cut it down or top it off, but it won't be much.
"Fairways are plenty wide because it's wet. It's just you've got to hit it not only straight but you've got to hit it far because, as the week goes on and the greens dry out, the majority of the greens are elevated. And so trying to get enough spin, hitting the ball up to elevation with the greens firming up, you have to be in the fairway to do that."
Easier said than done. Driving accuracy hasn't been his strength in the latter part of his career, and good as an iron player as he may be, Woods has been dreadful from the rough (209th in proximity) this season.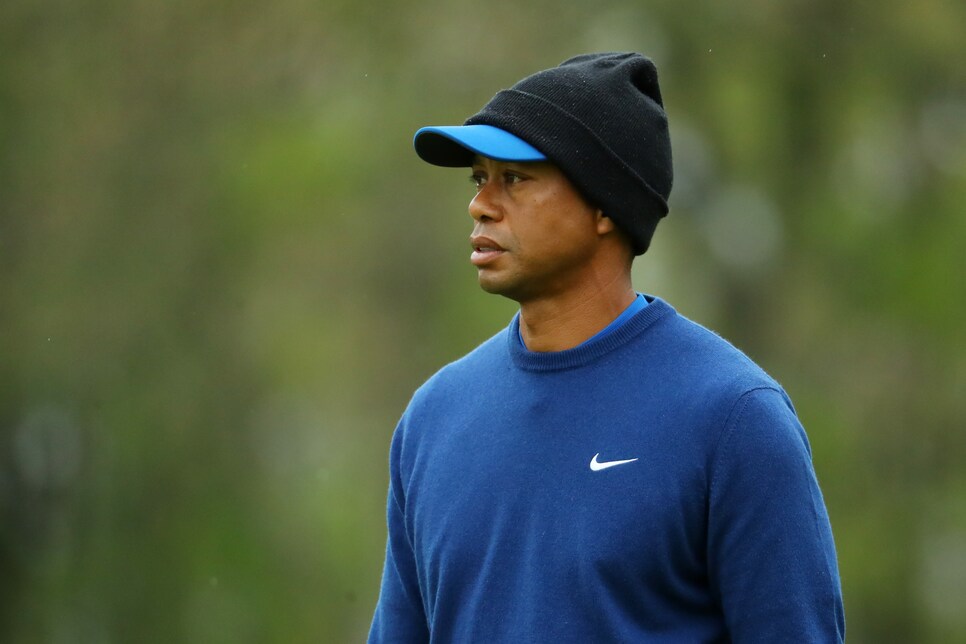 There's also the matter of his physicality. Woods' body has held up remarkably well over the past 18 months. But Bethpage is a big ballyard that will do a number on anyone, let alone a 43-year-old with a Rolodex full of orthopedics. Woods has to manage his time, and his training. He passed on the Wells Fargo Championship two weeks ago because he wasn't ready "to start the grind" that's demanded.
"Having enough energy is one of the things I struggle with," Woods told GOLFTV. "I still mentally think I'm 23. Still understanding that and coming to grips with it."
However, Woods asserts he feels fine, that he's no longer trying to find his game, but maintain it. He says he's fresh, and plans to take Tuesday off before a final practice nine on Wednesday. He'll then try to make what was once deemed impossible—contending for a major championship again—the new normal, in front of as raucous and pro-Tiger crowd as you can find.
"I can't even imagine," Joe LaCava, Tiger's caddie, told PGA.com earlier this week. "I think the atmosphere is going to be off the hook after winning the Masters."
Woods agrees: "This could be a hell of a championship."
He tees off in Round 1 at 8:24 a.m. on No. 10. Mentioned above, it's a long way from home, and a real long way from 2002. Woods has already proved he can come back. On Thursday, we get to see how far he can keep going.