The Loop
PGA Championship 2019: Tiger Woods drops dagger on John Daly during Tuesday press conference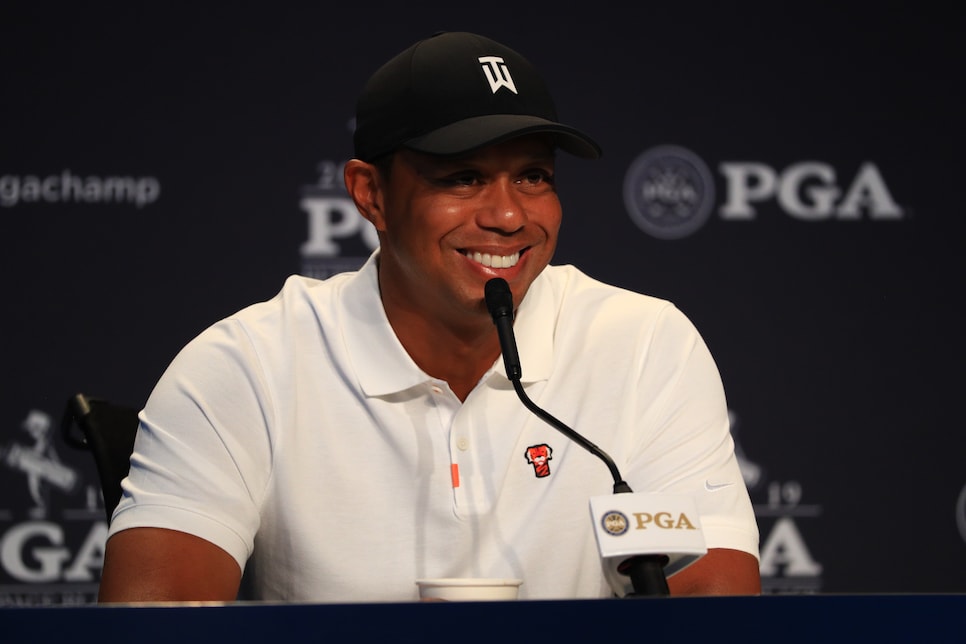 FARMINGDALE, N.Y.— Tiger Woods is known for dropping jabs on his opponents. On Tuesday morning, John Daly came out on the business end of a Woods' verbal haymaker.
Speaking to the media at Bethpage Black, Woods was asked his thoughts on Daly using a cart at the PGA Championship. Last week the PGA of America granted the 53-year-old, who is in the field thanks to the lifetime exemption earned from his 1991 PGA Championship victory, access to wheels under the Americans with Disabilities Act. Daly suffers from osteoarthritis in his right knee.
Yet Woods, realizing the opportunity before him, was stoic in his response:
"Well, I walked with a broken leg, so..." Woods replied, letting out a brief smile after a beat.
Woods, of course, is referring to winning the 2008 U.S. Open at Torrey Pines, where he was plagued throughout the week by an ailing left knee. He eventually received surgery and missed the rest of the season.
Good thing Daly is riding at Bethpage. Not sure if the big man can walk after receiving that blow.