News
PGA Championship 2019 live blog: Brooks Koepka widens his lead, Tiger Woods misses the cut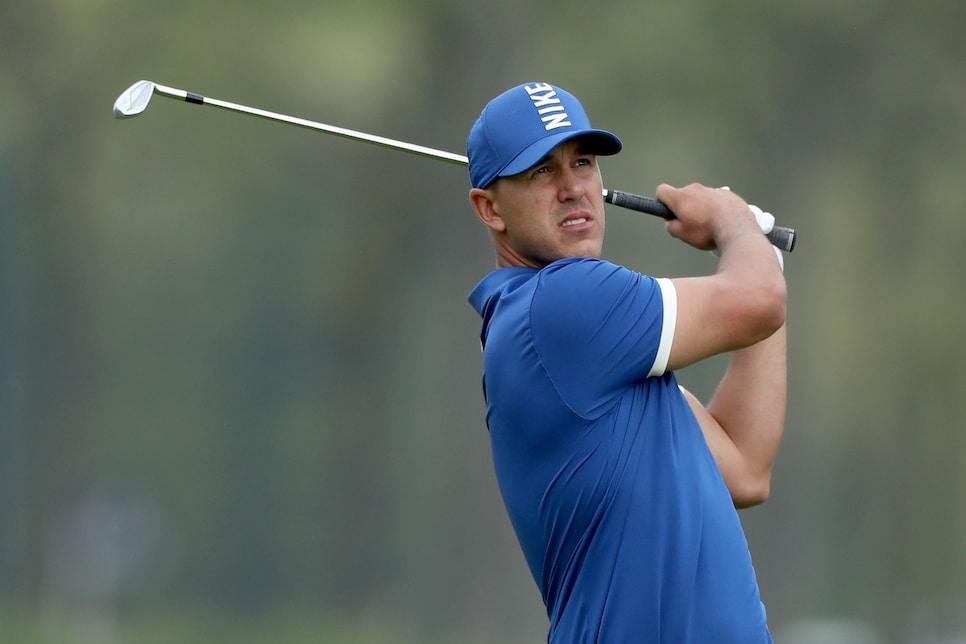 FARMINGDALE, N.Y. — We're back at Bethpage Black for Day 2 at the 2019 PGA Championship. The field is looking up at Brooks Koepka, following his course-record 63 in the opening round. With Koepka not teeing off until the afternoon, and conditions relatively tame compared to yesterday, a host of formidable foes will look to make a second-day surge. Follow all the Day 2 action from Bethpage Black with the Golf Digest PGA Championship Live Blog.
6:30 p.m.: And just for fun, Brooks Koepka makes one final birdie to shoot 65 and grab a SEVEN-shot lead heading into the weekend. Koepka's 36-hole total of 128 also breaks a major championship record. By two shots.
Just amazing. Good luck catching him, everyone!
6:28 p.m.: Rev up the yacht, Tiger Woods is going home early. After a great drive on 18, Tiger hits a terrible approach shot and can't chip in for birdie. He makes par, but finishes at five over. It's only Woods' third missed cut since coming back from back fusion surgery before the start of last season.
6:22 p.m.: Brooks Koepka's lead moves back to six shots after Matt Wallace misses a three-footer for par on No. 7. Wallace is now in a tie for second with Adam Scott and Jordan Spieth.
6:20 p.m.: Needing a birdie on the final hole to make the cut, Woods hits his best drive of the day. He'll finish 3-of-14 hitting fairways for the round.
6:18 p.m.: Tiger keeps his slim hopes of making the cut alive by making a five-footer for par on No. 17. Woods found the middle of the green, but raced his 40-foot birdie attempt by. Meanwhile, Koepka makes just his second bogey of the tournament after three-putting from even farther away. Koepka drops back to 11 under, five shots in front of Matt Wallace.
6:10 p.m.: So much for Brooks Koepka's seven-shot lead. Matt Wallace moves to six under to cut that margin to six. Wallace has birdied five of his first six holes on the front nine. Amazingly, the one hole he didn't birdie is the easiest hole on the course, the par-5 fourth.
6:03 p.m.: Tiger misses a decent look for birdie on the fringe on No. 16 and settles for par. However, Koepka isn't settling for pars on Bethpage Black's most difficult stretch. A second consecutive birdie moves him to 12 under and gives him a seven(!)-shot lead. Incredible.
5:55 p.m.: What a par save by Adam Scott on No. 18. After his tee shot wound up in an awkward spot above a fairway bunker, the Aussie hacked back to the first cut. But he wedged one to four feet and converted the par putt to cap off a 64. Scott began the day one over, but is now tied for second place at five under with Jordan Spieth—just six shots behind Brooks Koepka!
5:47 p.m.: Brooks Koepka hits it to four feet on No. 15 and makes the birdie to get to 11 under. He's now six shots clear of second place. Funny enough, Ricky Barnes also took a six-shot lead the last time Bethpage Black hosted a major in 2009. The good news for the field this week? Barnes wound up finishing tied for second behind Lucas Glover. The bad news? Brooks Koepka isn't Ricky Barnes.
Meanwhile, Woods makes par to remain at five over. The cut line has moved to four over, but Tiger is still going to need to birdie one of his final three holes to stick around for the weekend.
5:38 p.m.: A fairway! Tiger hit a fairway! With a driver, no less. Woods is not set up well on the difficult par-4 15th. Meanwhile, Adam Scott, after another beautiful iron on 17, misses his birdie putt from 20 feet and then misses the comebacker from inside of three feet. Wow. The Aussie's first bogey of the day drops him back to six under on his round, meaning he won't be able to break Branden Grace's major championship scoring record of 62. And after a bad drive on 18, he's going to have some work just to shoot 64.
5:30 p.m.: And just like that, Tiger gives back that birdie on No. 13. After a poor 9-iron to the front of the green, Woods rams his long birdie putt 10 feet past and misses the comebacker. It's been a bumpy ride for Tiger, who hasn't made a par since the eighth hole. He's now three over on his round and five over for the tournament, placing him two shots outside of the current cut line with four holes to play.
5:21 p.m.: Adam Scott comes up just short from 22 feet for birdie on No. 16 to remain at seven under on the day. Still, pars are good on that difficult par 4. Scott has two holes left to make one more birdie to match Branden Grace's major championship record of 62.
5:17 p.m.: Well, there's one birdie. After that poor tee shot on No. 13, Tiger lays up, then hits his third shot to about 10 feet and converts the (essentially must-make) putt to move back to four over for the tournament. Tiger is still currently outside the cut line (three over), but there's still a good chance that moves to four. Meanwhile, Koepka makes his birdie look a lot easier, flying a 3-wood 283 yards that lands right near the hole before winding up 25 feet past. From there, he two-putted to get back to double digits under par.
5:10 p.m.: Let's take a quick look at the leader board at Bethpage Black, where Koepka remains a fixture:
5:03 p.m.: A birdie on the par-5 13th is going to be tougher to come by for Woods after he yanks his drive way left. Tiger's ball fortunately rolls down into a fairway bunker, but he's not in great position—which is a familiar refrain. Tiger is now a miserable 1-for-11 in hitting fairways today.
4:56 p.m.: Uh-oh. Another bogey for Tiger Woods has dropped the 15-time major champ to five over for the tournament and outside the current cut line. After birdieing No. 9 to make the turn at even par for the day, Woods has made three consecutive bogeys on the brutal 10-12 stretch at Bethpage Black. Koepka makes par to remain at nine under. Considering how tough 15-17 play, Woods is almost surely going to need to birdie the par-5 13th if he's going to stick around for the weekend.
4:49 p.m.: Adam Scott is on fire. The Aussie rolls in another birdie on the par-3 14th to move to seven under on the day and six under for the tournament. With four pars coming in, Scott would match Brooks Koepka's 63 from Thursday. Of course, those are four pretty tough pars.
4:40 p.m.: That's a second straight bogey for Tiger, as he's officially in serious danger of missing the cut, dropping down to 4-over, one over the cut line. That made-fairway number is now 1-for-10, by the way. Wow ...
4:35 p.m.: Tiger chopped it out of the rough to the right of the fairway creatively with his fairway wood from 197 yards out, and it chases into the rough behind the green. His third shot is a less than great chip shot, leaving himself about 10 feet to avoid dropping another shot.
Adam Scott continues to make birdies ... he's up to 5-under with another birdie at the par-5 13th. The Aussie is now 6-under on his round.
Justin Rose is also hot on his back nine, getting to 3-under for the tournament. Don't discount the 2013 U.S. Open champ.
His countryman, Tommy Fleetwood, misses the short 4-footer for par at 14, a bad unforced error on the short par 3. Fleetwood drops to 4-under as he heads into the gauntlet of Bethpage's back nine.
4:28 p.m.: Hey, guess what? Tiger misses yet another fairway at 11. If we sound like a broken record, that's how we feel typing it. He's now 1-for-9 today...
Tommy Fleetwood found the left greenside bunker at the 14th hole, leaving himself with a tough up and down. But the Englishman hits a sensational bunker shot to about 4 feet for a good chance to save par.
4:18 p.m.: The bogey-free streak ends at 27 holes for Brooks Koepka, as the three-time major champion bogeys the difficult 10th hole after an errant tee shot and a poor second shot. It was a solid par putt from about 22 feet but it came up just shy. Koepka falls back to single digits at 9-under, which is four up on Tommy Fleetwood and Jordan Spieth. Fleetwood bogeyed the 12th, three-putting from the very front edge of the green. He just misses a birdie at 13 to remain at 5-under.
Tiger Woods bogeys the 10th hole, missing his par bid as it broke just across the hole. It was a great third shot to set up the chance at a par save, but it's another dropped shot for Tiger at 10—where he's 3-over for the week.
4:06 p.m.: Tiger finds the VERY long stuff at the challenging 10th hole. We're going to say that's a near impossible spot to save par. His ball disappeared in 12-inch high rough. From a similar spot yesterday, Jordan Spieth made a double bogey, having to play up the 11th hole. This could be an adventure for Tiger after that long birdie at 9.
4:00 p.m.: From 38 feet above the hole at the ninth hole, Tiger makes another birdie to end his front nine, making the turn in 35 despite hitting only one fairway. Pretty remarkable. It's not quite the start Tiger would've hoped for—but with some momentum heading into the back nine, maybe Tiger can get a few more to go.
Koepka's birdie just hits the lip and stays out of the hole. He stays at 10-under as he makes the turn.
Meanwhile, Adam Scott rolled in another birdie at the 11th hole. He's five-under on his round as he's put on a ball-striking exhibition, combined with some really solid putting.
3:50 p.m.: Tiger finally finds a fairway at the ninth hole -- that's his first hit fairway of the round. Koepka also does, as they'll each have a look at No. 9, one of the flattest greens here among other flat greens at Bethpage.
Fleetwood, who parred 11, missed the fairway to the right at 12. But hits a great recovery from the thick stuff, running his approach onto the front part of the green. He'll have a long, 70-foot putt upcoming to this back pin. But it's another very well-executed iron shot from the Englishman.
3:45 p.m.: Tiger, Koepka and Molinari all miss their birdie tries at the par-3 eighth. Tiger most especially could've used the bounce-back after the bogey at 7. Koepka remains at 10-under and four up on Tommy Fleetwood, who has a good look at birdie at 11. Tiger remains at 3-over, now 13 shots back of Koepka.
3:36 p.m.: Tiger drops another shot here at 7 after the poor tee shot. He chopped out down the fairway after drawing a really bad lie, pitched it from 78 yards to 9 feet but misses the par putt. Back to 3-over and on the cut line for Tiger.
3:28 p.m.: Tiger drew a terrible lie as his drive went through the fairway to the left. He just chopped it out down the fairway. He'll have 78 yards still for his third shot upcoming here at 7. This hole is a par 5 normally for the average Joes. Tiger's playing it like a par 5 here, but unfortunately it's a par 4 here for the pros.
3:23 p.m.: Tiger's struggles off the tee continue. No. 7 is a tough driving hole and Tiger finds the thick rough once again. Starting with his errant drive at the first hole, Tiger hasn't hit one fairway. Not one. And he's still even-par around Bethpage Black. Pretty impressive, actually. But Tiger needed to be a couple under-par at this point on the easier holes on the Black's front nine. The birdie at 6 helps, but there needs to be more where that came from, as he's still 12 shots behind Koepka now.
Koepka just hit a bomb of a drive at 7, cutting the corner perfectly with his driver. Nothing new there.
3:17 p.m.: Not an easy birdie make for Tiger Woods but he gets it to fall at 6! That was an absolute necessary boost of adrenaline for Tiger's round to get back to even-par for his round.
Koepka's birdie try comes up just short, so he'll stay at 10-under, four up on Tommy Fleetwood.
3:14 p.m.: Tommy Fleetwood is keeping pace with Brooks Koepka thus far. The Englishman rolls in a 16-footer at the ninth hole to add his third birdie on his front nine, turning in 32, to get within four of Koepka's lead (-10).
Koepka has a look from about 25 feet on the sixth hole after taking driver down the hill but finding the rough. Tiger is also about 20 feet away, above the hole, against the cut of rough. Not an easy make.
3:00 p.m.: Koepka, from the rough at the fifth hole, sees his approach come up short of the green. Apparently he is human.
Check that: he almost holes the chip, tapping in for par. Tiger makes a crucial 9-footer for par to avoid dropping another shot, so Tiger remains 3-over, right on the cut line. As does Molinari.
2:55 p.m.: Tommy Lad! Fleetwood rolls in a tricky downhill putt at the eighth for his second birdie of the day, moving into a tie with Spieth for second.
2:49 p.m.: Woods misses his birdie putt at the fourth to stay at one over, while Brooks misses his eagle attempt. (Yawn) Another birdie for Koepka, who extends his lead by five over Spieth.
2:45 p.m.: One name to watch regarding an afternoon run is Tommy Fleetwood. The Englishman, who entered the day at three under, is one under through six.
2:35 p.m.: After putting his drive in the left-hand rough, Tiger is forced to lay up at the par-5 fourth. Ahead, Adam Scott, four under through five holes, misses a short one at the sixth for another birdie. Still, Scott's at three under for the tournament and moving up the board fast.
2:28 p.m.: Koepka shows he's human! He only makes a par on the third hole. That said, it was an impressive par after missing the green long, and needing to hole a five-footer after his chip shot.
2:26 p.m.: OK, Tiger fans, a nice tee shot on the par-3 third leaves him 10 feet for birdie. But the satisfaction of that shot is lost when he misses the birdie try on the left side of the hole.
2:21 p.m.: Adam Scott missed his chance for four straight birdies on the fourth hole, his 26-footer just missing the hole on the left. But he makes it four out of five to start his second round when he rolls in a 13 footer on the fifth hole. He's now made 105 feet worth of putts on Friday after playing only five holes. That's compared to 73 feet worth of putts made over all 18 on Thursday. Not to dampen things, but Scott is still six back of Koepka.
2:17 p.m.: Koepka finds the center of the cup. Birdie. Nine under. Four strokes in the lead. Three strokes better than Tiger on the day. Easy game, huh?!?
2:16 p.m.: A hot start it isn't for Tiger. An iron off the tee finds the right rough, and he was forced to lay up with his second shot. His third hits the green a few feet from the hole, but zips back to 15 feet away. He can't make the par-saving putt and has to put a 5 down on his score card.
2:12 p.m.: So how is Koepka going to back up his Thursday 63? Maybe by shooting another one. On the par-4 second hole, Koepka easily finds the fairway and then hits his approach to nine feet, leaving him another makable birdie putt.
2:05 p.m.: Koepka converts the birdie putt, getting him to eight under par for the tournament and giving him a three-stroke lead over Spieth and a four-stroke edge over anyone else on the course in the afternoon wave.
2:03 p.m.: Give Tiger credit, he doesn't let the hubbub with his tee shot get to him. He splashes his bunker shot to six feet and makes the par putt to stay at two over.
2 p.m.: Koepka nips a wedge to inside four feet, setting up an easy birdie try.
1:58 p.m.: Woods slashes the ball out of the rough, advancing it into the right greenside bunker. It's actually not the worst result.
1:53 p.m.: It goes from bad to worse for Woods as his ball winds up in a clump of tall fescue (despite being hit into a massive gallery that would have seemingly matted down all the rough).
1:51 p.m.: Tiger's opening drive is far less impressive as his right foot appears to slip at impact, his ball hooking to the left side of the fairway into the gallery.
1:49 p.m.: Trying to back up his 63 from Thursday, Koepka hammers his drive off the first. The ball looks like it's heading for the right trees but Koepka's line is a good one as it carries them, flying 331 yards and leaving him just 59 yards for his approach shot.
1:46 p.m.: Brooks Koepka, Tiger Woods and Francesco Molinari have made their way to the first tee to raucous applause.
1:39 p.m.: Adam Scott told our John Huggan that he thought his game was rounding into shape earlier in the week. A third straight birdie to open his second round hints that he wasn't just blowing smoke. Scott now sits T-6, five back of Koepka.
1:12 p.m.: Rory McIlroy has completed a back-nine charge to secure a spot on the weekend. Rory canned four birdies over his final six holes to get back to 3-over, after making the turn in 40 this morning and looking like he'd be in serious danger of missing the cut. Not anymore. Same goes for Jason Day, who struggled early in his round, but birdies the ninth hole (his last of the day) to match at 3-over.
There are currently 82 players at 3-over or better, but with strong wind expected this afternoon, that number is expected to move to 4- or 5-over.
1:07 p.m.: Tommy Fleetwood is on the course with his second round, and he has already picked up a stroke. The Englishman canned an 11-footer at the opening hole to get within three of Brooks Koepka's lead and T-3, tied with Dustin Johnson and Daniel Berger.
12:58 p.m.: An up-and-down from a greenside bunker on Jordan Spieth's last hole (Bethpage's ninth hole) gives Spieth a four-under 66, matching Daniel Berger's 66. Spieth had six birdies in the round to go with two bogeys (15 and 16) to get within two shots of Brooks Koepka's lead.
Now the question will be whether Spieth can change the narrative on his weekend struggles. The biggest difference so far? Spieth's driver was (for the most part) on today. He hit a really poor drive at 16, but other than that, he was playing his approaches from the short grass, which is crucial to Bethpage Black.
Now the conversation will shift: Can Jordan Spieth complete the Career Grand Slam by adding a PGA Championship?
Dustin Johnson finished up his round at 4-under, three back of Koepka. DJ went even par on the back after five birdies (and two bogeys) on his first nine, the more difficult of the nine holes.
That was some great golf from DJ and Spieth as these guys are firmly in the mix near the top of the leader board.
12:40 p.m.: Jordan Spieth might officially be back! Spieth just added his fourth birdie on his second nine with a long 39-footer at the par-3 eighth hole. Spieth is officially two back as he plays his last hole of the day (the ninth).
The struggles for Spieth in 2019 (and 2018) have been well-documented, with Spieth not finishing in the top 25 in any stroke-play events this season. It's been the weekend scoring that has haunted the three-time major champion: He is 193rd in third-round scoring and 208th in fourth-round scoring, compared to third in second-round scoring.
12:30 p.m.: Birdies by Jordan Spieth and Dustin Johnson at the seventh hole move the duo to 4-under par and in a tie for second place, now three back of Brooks Koepka.
DJ rolled in a long, 23-footer for birdie for his first birdie of his second nine. That's a surprising stat, as you would've thought Bethpage's front nine would yield a couple birdies to DJ, the way DJ tore up the more difficult back nine (his first nine).
Spieth, meanwhile, keeps up his hot play—adding a third birdie on this nine.
12:20 p.m.: Jordan Spieth throws a dart into the green at the seventh hole for a chance for his third birdie on his second nine. From 177 yards out on this usual par 5 for average players, Spieth stuck his approach to about six feet. A birdie would tie him with Daniel Berger and Sung Kang at 4-under, 3 back of Brooks Koepka.
12:08 p.m.: Daniel Berger completed the low round of the day so far, carding a four-under 66 to vault up the leader board. Berger bettered Englishman Ross Fisher's 67 that he carded earlier.
You might recall that Daniel Berger played in the final group at last year's U.S. Open here on Long Island at Shinnecock. Berger shot a 66 in the third round to get into contention there. His second-round score here at Bethpage Black Friday matches that number, and it appears he'll have one of the late tee times on Saturday.
12:01 p.m.: Last week's winner at Trinity Forest, Sung Kang, is making a Friday charge up the leader board. He's currently 4-under and now in solo second place, vaulting above the now-crowded group at 3-under.
Dustin Johnson and Jordan Spieth are playing the sixth hole now—DJ sputtering a little bit after getting to 5-under after three straight birdies on his first nine. Bogeys at the 18th hole (his ninth) and No. 3 have moved him back to 3-under, in a tie with Tommy Fleetwood, Jordan Spieth and Daniel Berger.
11:50 a.m.: Daniel Berger, who is three under with two holes to go, is not the only surprising name at the top of the board. Sung Kang, fresh off a AT&T Byron Nelson victory, is also at three under through 14 holes. At two under is ... wait for it ... JAZZ JANEWATTANANOND. If you follow enough golf, his name is one you've come across and done a double take every single time, but he's never done anything of enough note to gain some real recognition. Contending at Bethpage would be exactly that. We'll see if smoooooth Jazz can stay in the mix, as he's still got holes 11 through 18 still to go on Friday.
11:40 a.m.: Dustin Johnson actually got a free drop back at the fourth, and his score has been corrected to a par. He's back at three under now. Always a relief to see the rules work in DJ's favor.
11:39 a.m.: Two big hitters, Jon Rahm and Dustin Johnson, make an absolute mess of the par-5 fourth, each making a bogey, which drops DJ to two under and Rahm to four over. Jordan Spieth, who still hits it long but is the shortest hitter of the three, make birdies to climb to three under.
Speaking of actual short hitters, Matt Fitzpatrick, who averages 287 yards off the tee, good enough for 159th on tour, six under on Friday. That is so preposterous I can't even wrap my head around it.
11:29 a.m.: Spoiler alert: Rory did not make birdie at No. 3. Time to lace one at 4 and go eagle hunting.
We said Left was one over for the week but that was incorrect, he was even. But now he's one over after making bogey at the third. Jason Day made his par and is also at one over.
11:21 a.m.: McIlroy's playing partners, Phil Mickelson and Jason Day, haven't been able to get anything going either. They are a combined four over on the day, but they're both still one over for the tournament, just four shots out of second. Day just found the green at the third while Phil missed it well right. Rory went third and went long and right, but he'll be able to putt it.
11:17 a.m.: If you were hoping for a back-nine charge to make the weekend from Rory McIlroy, it's not looking good. He's parred the first and second holes and remains at seven over. Rors is probably going to need an eagle at the fourth to have any chance.
11:07 a.m.: Since a T-6 last year at Shinnecock, where he played in the final group, we haven't heard much from Daniel Berger. He's had just one top 10 since that week, a T-2 at the Puerto Rico Open earlier this year, but that's about it. Right now he's three under on his round and three under for the week, putting him in a tie for third. Let's not forget Berger also had quite the performance at the Presidents Cup at Liberty National. The bigger the stage, the better Berger plays, apparently. We'll see if he can finish this round off. He's currently on the sixth tee.
Back at the third, Spieth buries his par putt for what might be the par of the week for him. He stays at two under overall, while playing partner Dustin Johnson drops a shot after three-putting from 82 feet. He's now at three under. The third member of that group, Jon Rahm, is battling back, making birdies at 1 and 2 and a par at 3 to get to three over for the tournament. That's only six shots out of second place at the moment, so he's not out of it.
11:02 a.m.: Wooo boy. Jordan Spieth just SNIPED one way left at the par-3 third, but he was able to find it and chip one past the hole, leaving himself a decent look at par.
10:58 a.m.: Danny Lee is showing some impressive fight on Bethpage Black's front nine, which is his back nine today. After carding a six-over 41 on the front to fall to even par, Lee made birdies at the first, third and fourth holes to climb back to three under for the tournament. He did just bogey five to drop back to two under, but even after the front-nine 41, he's still tied for fourth.
10:50 a.m.: Dustin Johnson misses another birdie opportunity here at the second hole after missing a short one on No. 1, too. Add in a bogey at the 18th hole, which played as the second easiest hole of the day, and DJ won't be happy about that stretch. Still, he's three back of his buddy Brooks Koepka.
10:47 a.m.: Jordan Spieth continues to bounce back from bogeys at 15 and 16 with birdies now at 17 and 1 to get to 2-under, which is two back of second place. Spieth took an aggressive line off the first tee (his 10th of the day), and only had 51 yards left at the dogleg-right opener. And he drained this putt to stay firmly in the mix:
10:40 a.m.: While DJ and Spieth are making Friday runs, Rory McIlroy is running in the opposite direction.
10:19 a.m.: Dustin Johnson finishes his first nine with a bogey, which drops him back to 4-under and three back of Brooks Koepka. Still, a strong 3-under start to his second round despite bookending his first nine with bogeys to go with his five birdies.
He'll head to the front nine at Bethpage Black, which is typically a little easier than the back nine, so DJ has a good chance to add a few more before he's done on Friday.
10:02 a.m.: The putter is HOT for Dustin Johnson. Three straight birdies for DJ, at Bethpage Black's brawny gauntlet of 15, 16 and 17, to get within two back of Brooks Koepka's lead.
His latest make was a 27-footer at the par-3 17th hole. The guy cannot miss right now. That's his fifth birdie in a seven-hole stretch. Incredible. You know his buddy Brooks Koepka will take notice as he prepares for his second round this afternoon...
Jordan Spieth bounces back from two straight bogeys at 15 and 16 to birdie 17 and get back to red figures at 1-under.
9:51 a.m.: Dustin Johnson is doing his best to catch his buddy Brooks Koepka on Friday. Holes 15 and 16 are two of the toughest at Bethpage, and DJ just birdied both of them with huge drives down the fairway, approaches to 10 feet, and made putts. DJ is making it look easy.
That's four birdies through seven holes for the 2016 U.S. Open champ. He's in solo second, now just three back of Koepka.
9:44 a.m.: The surge up the leader board continues for Dustin Johnson. Though he's playing what are usually some of Bethpage Black's most difficult holes, you wouldn't know it. DJ nails his approach from 155 to about 6 feet at the 16th hole for a great chance at a fourth birdie through seven holes.
DJ just followed up his 338-yard drive at 15 with a 319-yard one down the middle at 16. And that was into a slight breeze on the downhill tee shot.
9:36 a.m.: Dustin Johnson just made one of the toughest par 4s in golf look way too easy. 338 yards down the middle. Wedge to nine feet. Make the putt. The 15th is a brute, but not for Dustin Johnson. He's now tied for second with Tommy Fleetwood, as DJ has three birdies in his past five holes. DJ's game is dialed in right now.
More struggles around Bethpage: Jon Rahm just hit a shank out of the right rough at the difficult 15th hole. He played the 15th like most average golfers playing Bethpage Black: Drive it into the rough, shank it way right before the bunker, chop it up onto the green. Two-putt for bogey. Rahm is now 3-over for the tournament, right on the cut line. He hasn't hit a fairway or a green so far through his first six holes.
Jason Day is now 3-over his first four holes of the day, a surprising number from the Aussie, who looked sharp at the end of his round on Thursday.
9:18 a.m.: Patrick Cantlay continues to contend at these majors. With a birdie at the downhill par-4 sixth hole, Cantlay moves into a tie for third at 2-under.
At that number are Jordan Spieth and Dustin Johnson, who are playing the difficult 15th hole right now. DJ just bombed one of his patented power fades 338 yards (!) down the fairway. He picked up his tee very quickly—it looks like DJ's feeling his game right now. We wouldn't be surprised to see him make a strong run on his second nine.
Meanwhile, your Rory update:
9:02 a.m.: Spieth sends his second shot into the fescue at the par-5 13th. He's able to punch out left of the green, and makes a nice pitch to four feet, which he cleans up. Never feels good to par a 5, but heck of a lot better than taking a bogey.
Which is what Rahm just did, spraying his ball every which way but straight. His second straight bogey puts him at the two-over cutline.
8:55 a.m.: Rory bogeys the 11th thanks to a bad drive and mess around the green. The eject button has been pushed.
8:45 a.m.: Speith and DJ take pars at the 12th, while Rahm drops to one over with a bogey off an errant drive.
8:36 a.m.: Though it's the PGA, the set-up at Bethpage screams U.S. Open. Explains why Rory McIlroy is now +4. McIlroy has MCs at the least three Opens, just one top 20 since his 2011 triumph at Congressional. After opening double, has serious work to do to make weekend
8:30 a.m.: For those wondering where Bryson DeChambeau is at in these proceedings, the Mad Scientist does not seem long for the weekend. After opening with a two-over 72, Bryson begins his Friday with a double at the 10th.
8:25 a.m.: Danny Lee, we hardly knew ye. He doubles the 15th, now four over through six.
8:23 a.m.: Spieth drops his birdie putt to move to two under, a tie for third. DJ follows suit, moving him back to one under.
8:15 a.m.: Spieth has a nice approach at the 11th, leaving 15 feet or so from birdie. From an awkward stance, Rahm runs his well past the green. Johnson, looking for a bounce back, sticks his to three feet to get back to one under.
8:10 a.m.: Brooks Koepka went bogey-free on Thursday, but DJ had just one bogey. However, he made his second bogey of the tournament on his first hole, failing to get up-and-down after the lay up.
Rahm, however, makes par after a chunky chip, and Spieth puts his bunker shot to three feet. Two big par saves.
8:05 a.m.: The marquee group of Rahm, Spieth and Johnson are off to a sluggish start at the 10th. All fail to hit the green, with DJ forced to lay up from the rough and Spieth finding the bunker.
7:55 a.m.: Steve Stricker birdies the first hole to move to three over. Stricker hasn't missed a major cut since 2009, but likely need a few more red figures to keep the streak going this weekend.
7:40 a.m.: Danny Lee began his day one back of Brooks. After three holes, that deficit is now three, will Lee taking bogeys at the 11th and 12th. Playing in his first major in two years, and looking for his first cut since 2016, Lee's 64 on Thursday was one of the season's biggest surprises. Unfortunately, he now has to stop the bleeding, and fast.
7:30 a.m.: Only four groups have gone off the 10th this morning, yet given the carnage it wreaked on Thursday, that there have only been two bogeys—with a birdie!—through 12 players shows the field may receive a respite from the hole's wrath.
7:10 a.m.: The range was unusually quiet on Day 2 at the 2019 PGA Championship. During tournament rounds, the practice area doesn't have the same chatter as the early week. There are fewer jokes, more Trackman checks. All the catch-up conversations have been had. But at Bethpage Black's temporary range on Friday morning, the mood was particularly serious.
Part of that environment was spurred by the butt-kicking delivered by the Long Island course. The scoring average from Thursday was 73.064, a number higher than the 2009 U.S. Open scoring average. Another component was the scoreboard deficit after 18 holes, with Brooks Koepka and Danny Lee separating themselves from the pack with 63 and 64, respectively. And, with all due respect to Lee, he's not the name worrying the other 153 competitors at the moment.
Nevertheless, there are plenty of marquee names hovering around the periphery. Rickie Fowler, Jordan Spieth, Phil Mickelson, Jason Day and Dustin Johnson are in a group at one under, while Tommy Fleetwood—a player many are awaiting to achieve his major breakthrough—might be the tournament's best hope at catching Koepka at three under.
As for Tiger Woods, he won't be chasing Brooks as much as the cut. At two over, the 43-year-old has work to do on Friday to make the weekend. He will attempt to do so from the afternoon wave.