News
PGA Championship 2019 Live Blog: Brooks Koepka sets course record, but Danny Lee answers with 64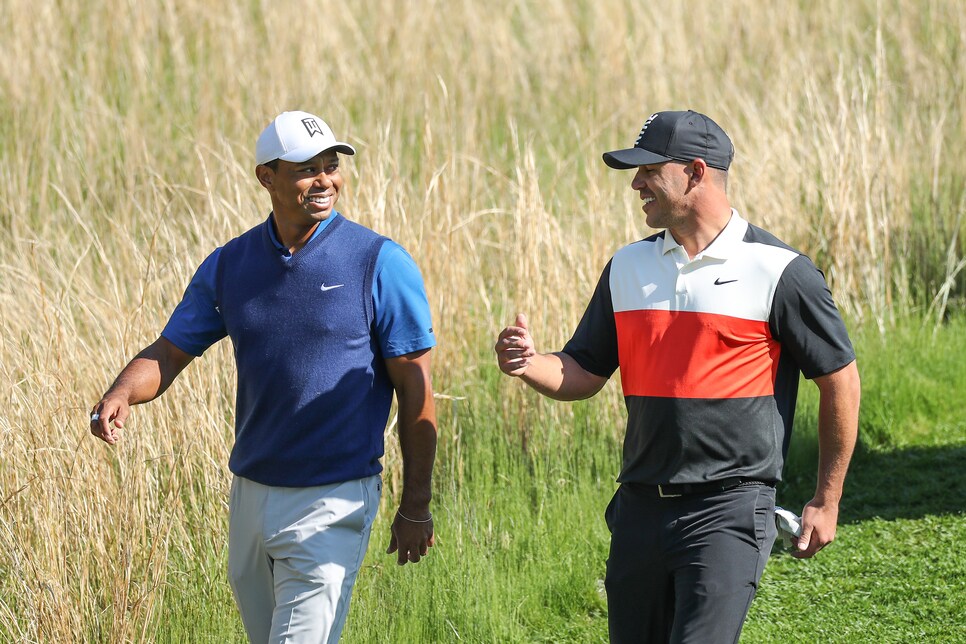 FARMINGDALE, N.Y.—There are 156 players in the 2019 PGA Championship at Bethpage Black. But on Thursday morning, most eyes will be on one competitor.
Granted, Tiger Woods has been the eye of the sport since he told the world hello in 1996. However, the latest iteration of Tiger-mania ramped up every notch following the 43-year-old's triumph at the Masters this spring. Not only was Woods "back," his pursuit of Jack Nicklaus was, amazingly, renewed. That the first stop in this venture would be Bethpage Black, a venue where Woods won the 2002 U.S. Open, only fanned the excitement.
That excitement has slightly morphed into intrigue after Woods didn't show up to Bethpage on Wednesday. Woods' team said the 15-time major winner was opting for rest, and that he'll be ready to go. Conversely, it was clear at his early-week press conference that Woods was battling a cold, and Wednesday's absence means Tiger has not played the course since Monday (he opted for practice on Tuesday, also citing rest).
So as Woods prepares to capture Major Win No. 16, will we see the Woods that was locked in with his body and game at Augusta, or one who's battling a bug? Woods tees off Thursday morning at 8:24 a.m. on the 10th hole, with Open champion Francesco Molinari and U.S. Open and PGA champ Brooks Koepka. Golf Digest will be here to detail Woods' trek around Bethpage, as well as the other proceedings in Farmingdale, with our first round Live Blog.
7:01 p.m.: Rough finish for Si Woo Kim, who dropped from three under to one under with two bogeys on his final three holes. His 69 still makes him one of just 16 guys in red figures, but there's no doubt he's going to wish he finished stronger.
That is a wrap on Day 1 from Bethpage, where everybody will be chasing Brooks Koepka and Danny Lee on Friday. Check back at golfdigest.com on Friday for all the important second-round updates.
6:50 p.m.: Jason Day quietly joins the group at one under with a par at the last, an impressive feat considering he was two over through 10 holes. The 2015 PGA champ played his final holes in three under, and didn't make another bogey.
6:40 p.m.: At long last, Rory McIlroy makes a birdie on his final hole of the day to card a two-over 72. We'll see if ending on a good note can give him some momentum for tomorrow.
Mickelson cleans up his par for two all-world saves on 17 and 18, putting him in the large group of players to fire a 69. Nice round from Lefty.
6:37 p.m.: Superb bunker shot from Phil at 18, leaving him with a short par putt that he should make. More importantly, looks like the elbow is all good.
6:36 p.m.: If Phil can save par on 18, add it to the video collection of all time par saves from Lefty. After finding a bunker off the tee, he went coast-to-coast, hitting his approach into a left greenside bunker. As he's making his way up the fairway, it looks like his right elbow is in pain from hitting out of a gnarly lie on his second shot. Hope he's okay.
6:24 p.m.: After carding a one-over 36 on Bethpage Black's back nine, 2017 Players Champion Si Woo Kim has caught fire on the front side. He just made his fourth birdie in his last six holes at the par-4 sixth to reach three under, putting him in a tie for third with Tommy Fleetwood.
At the 17th, Mickelson was in three-putt territory, and his long birdie effort came up well short of the hole. But he juuuuust snuck in the par putt inside the right edge of the cup to stay at one under.
6:18 p.m.: Can Phil Mickelson hang on? He's at one under, and he just found the putting surface at the par-3 17th. Many believed this would be a long week for Lefty with his erratic play off the tee, but he could be right in the mix if he finishes this round off.
6:14 p.m.: Spieth finds the green with his approach from the bunker at the 18th, then buries a birdie putt to post one-under 69. Back?! Not yet, but under par, in a major, at Bethpage Black is a pretty good answer to all the slump questions. Now the question is, can he build on it? He's been able to post some decent scores this season, just never four in a row. Going to be tough to do at the Black.
Right after Spieth's putt, Dustin Johnson narrowly misses his birdie and settles for par to also shoot 69. The third member of that group, Jon Rahm, made par to post 70.
Back at 16, Rory McIlroy misses one of his best chances at birdie and remains at three over for the day. Not great.
6:08 p.m.: AT&T Byron Nelson winner Sung Kang joins the group at two under with a birdie at the par-3 eighth hole, his 17th.
6:04 p.m.: Par for Jordan at No. 17, which he followed with a poor drive down the right side at the par-4 18th. "Give me a good lie," Spieth pleaded as the ball sailed toward the bunker. Should be an interesting approach coming up.
5:45 p.m.: Jordan Spieth rolls in a 20-footer for birdie on No. 16 to pull back to even par. Spieth is trying to complete the career Grand Slam this week, but first he needs to snap a streak of 14 consecutive tournaments without a top-20 finish.
5:40 p.m.: John Daly takes 75 shots and possibly as many Diet Cokes to play his first round in a cart at the PGA Championship.
5:30 p.m.: Sung Kang has found his way onto another leader board. The winner of last week's AT&T Byron Nelson has moved to one under after a rare birdie at the par-3 third. This is Kang's fifth career start in a major. His best finish was a T-18 at the 2016 U.S. Open.
5:20 p.m.: Phil Mickelson makes back-to-back birdies on No. 11 and No. 12 (no small feat) to move into red figures at one under. Mickelson has finished runner-up both previous times Bethpage Black hosted a major championship (2002 and 2009 U.S. Opens).
5:16 p.m.: Lucas Glover shoots an opening 72. At the 2009 U.S. Open, his final-round 73 here was enough for a two-shot win over Ricky Barnes, Phil Mickelson, and David Duval. Of course, that was BB (Before Brooks).
5:10 p.m.: Good gravy, Danny Lee! The 28-year-old birdies 17 and 18 to shoot a six-under 64, best round of the day besides Brooks Koepka. Lee hasn't made a major cut since 2016, and wasn't coming in on a heater by any means. Golf is a weird game, man.
5:01 p.m.: Phil Mickelson sinks one from Brooklyn to move to one under at the 12th, and Day follows with a bird of his own to go even.
4:55 p.m.: Despite mud caked on his ball, Day hits the shot of the day into the 12th, leaving five feet or so to get to even. Still with the marquee group, McIlroy finds the right side of the green, though no where close to the pin.
At the 13th, Spieth and DJ squander wedge shots, hitting the green but leaving 40-footers.
4:45 p.m.: Day answers with a birdie at the 11th to get to one over. But more importantly, CLUB PRO ALERT! CLUB PRO ALERT! Tyler Hall drops an eight footer at the 18th (his ninth) to get into red figures, the only club pro under par.
4:35 p.m.: Spieth's round is slowly coming apart. His drive finds the rough on the 12th, and proceeds to advance his second all of 20 yards. Lot of work left to save bogey. Spieth is even on his round.
4:30 p.m.: Following a nice chip out of the heavy stuff, Jason Day yanks a short one at the 10th to go to two over on his day. On the 15th, Danny Lee two putts for his bogey, dropping to four under and three back of Koepka.
4:20 p.m.: Mickelson, one over on his day, finds the bunker with his approach at the 10th. In the same group Rory, with a good lie from the rough, finds the putting surface from the rough, one of the first shots to hit the green in regulation from the heavy stuff on the hole.
4:03 p.m.: Jordan Spieth's strong start to his opening round is falling part slowly at the 10th hole. A pull hook off the tee into the junk was the undoing—he couldn't advance the ball far enough out of the tall stuff with his second, so he elected to play up the 11th fairway (from the 10th hole) for his third. Now he just came up short with his fourth shot—yes, playing from the 11th hole.
You know it's a mess when this is what your Shottracker looks like: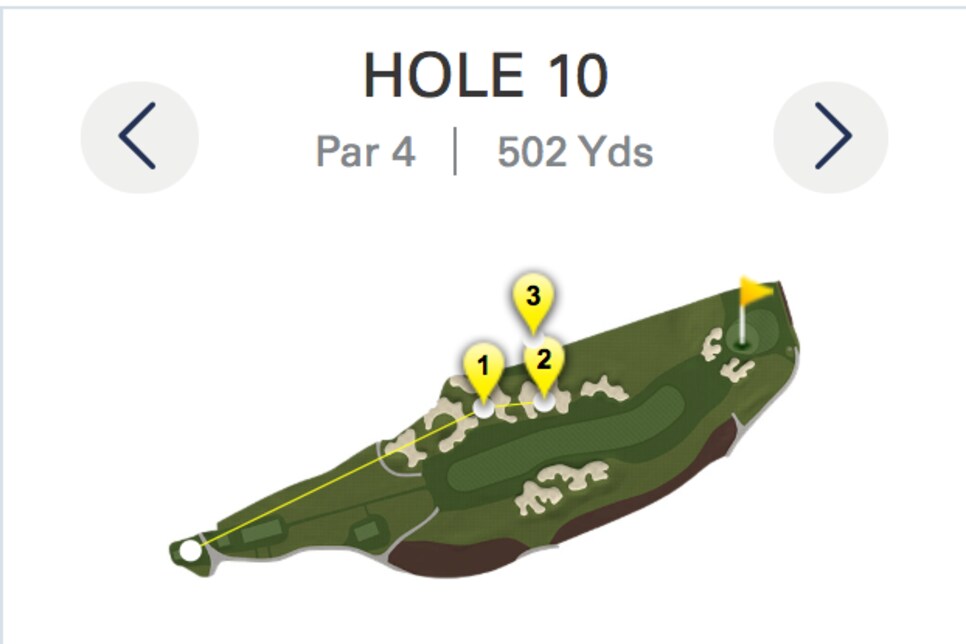 Spieth ends up with a double bogey at 10, playing as the second toughest hole today. That's a costly score, dropping the three-time major champ back to even-par.
3:51 p.m.: The scoring has gotten tougher as the day has gone on. Only three players have rounds of 2-under or better currently: Danny Lee at 4-under through 13, Gary Woodland at 3-under through 10 and Jordan Spieth at 2-under through 9.
The weather has stayed perfect at Bethpage, perhaps just a little extra wind this afternoon—combined with the greens firming up a bit. It's surprising to see all the great players this afternoon: Dustin Johnson, Rory McIlroy, Jason Day and others struggle to get going.
3:27 p.m.: There's some poor putting on display here at the eighth hole. From 26 feet, Jon Rahm just three-putted—running his first putt 8 feet past the hole, then missing the comebacker. Dustin Johnson was also in danger of three-putting after hitting the green, but he holed his 7-foot comebacker to remain at 1-over through 8. DJ bogeyed the opening hole and has seven pars since, with a couple missed opportunities in between.
3:11 p.m.: That's another strong putt by Jordan Spieth here at the seventh hole, as he rolls in an 8-footer to stay at 2-under.
One hole back, Phil Mickelson completed an epic adventure around the sixth hole with a par. Kind of like Jon Rahm before him, this was no ordinary 4.
Phil hit driver, perhaps a puzzling move since one only has about 110 yards in before the fairway slopes heavily downhill if you hit a 250-yard tee shot or so. Phil's tee shot went way left, but he found a greenside bunker, hit a solid shot to about 6 feet, and sunk the putt. Nothing to see here. Phil remains even-par through 6.
2:54 p.m.: Jordan Spieth is walking in putts at Bethpage. He rolls in a 25-footer at the sixth hole to get to 2-under, good for T-5, which is unfamiliar territory for Spieth this year. He's without a T-25 in a stroke-play event in 2019. Of course, Spieth has tended to start out well but has faded on the weekends. Either way, the Texan will be pumped about this early start.
Also pumped will be Jon Rahm after his sixth hole. The Spaniard's tee shot came to rest just on the outer edge of a right fairway bunker, requiring him to stand in the bunker while playing his approach from the thick stuff. His second ended up in a enormous greenside bunker left of the green, but he rolled in a 40-plus footer for a very unlikely par. If you believe in momentum, that could be big for Rahm, staying at 1-under after his birdie at 5.
2:42 p.m.: Oddsmakers aren't saying the 2019 PGA Championship is over, but here's an idea of how firm Brooks Koepka's grip is on this tournament: DraftKings has Koepka as a +138 favorite to win (nearly at even-money). He was 11-1 to enter the week. Tommy Fleetwood is at 10-1 being four back—but other than that, nobody is close to those odds.
There's a lot of golf to be played, but oddsmakers are clearly convinced Koepka is the heavy favorite, just after one wave of play.
Jon Rahm gets back to red numbers with a birdie at the sixth hole. It's his second birdie of the day—he's now 1-under. Jason Day just birdied the fourth hole, too, to get back to even par.
2:28 p.m.: Former U.S. Amateur champ Danny Lee has the round of the afternoon going now, birdieing 8 and 9 to move to 3-under through his first nine holes. He heads to the more difficult inward nine now, but that's a heckuva start from Lee, who only has one top-25 in a major (T-17, 2016 Masters).
2:20 p.m.: Jordan Spieth joins the small group of players under par in the afternoon wave. He gets up and down at the par-5 fourth hole to get to 1-under. Also at that number are Matt Kuchar (-1 through 2), Patrick Cantlay (-1 through 4), Lucas Glover (-1 through 8), Tony Finau (-1 through 6), Billy Horschel (-1 through 6) and Webb Simpson (-1 through 2).
Danny Lee has also joined the group at 2-under in the afternoon wave. The former U.S. Amateur champion is 2-under through 8. Also at -2 are Paul Casey and Gary Woodland.
2:09 p.m.: Brooks Koepka is addressing the media after his sensational opening-round 63. And the consensus is that Koepka played so well, the round probably could've been even better.
The 63 matches Koepka's own tournament-tying record, which he recorded in the second round last year at Bellerive en route to his third major title.
Koepka has been so good at the majors, even going back before he won, with nine total top-10s to his credit. And his dazzling start has him in position to contend for his fourth major this week at Bethpage.
2:02 p.m.: We have a feeling that Brooks Koepka's opening 63 is going to stand up by day's end. Some of the world's best players are now on the course in the afternoon wave. And they have their work cut out for 'em:
Paul Casey (through 5), Tony Finau (through 4) and Gary Woodland, at 2-under, have the lowest rounds of the afternoon wave thus far. 2009 U.S. Open champ Lucas Glover is at 1-under (through 6) and Billy Horschel and Danny Lee are also 1-under. Webb Simpson birdied the extremely difficult 10th hole to start his round, but he's just through one. That's about it. Bethpage isn't giving many low scores so far in the afternoon.
Rory McIlroy started his round off by bogeying the opening hole, which is playing as the third easiest hole of the day. Not a great start. He runs a birdie putt at 2 just by, so he's 1-over through 2.
1:31 p.m.: Sure, it's early, but. . . Brooks Koepka is going to be tough to beat this week. The defending PGA champ rolls in one final birdie, a 30-footer, on No. 9 to shoot 63. Yep, 63! At Bethpage Black.
Not surprisingly, that's a course record. Koepka currently holds a four-shot lead over Tommy Fleetwood and Luke List. He leads his two playing partners, Tiger Woods and Francesco Molinari, by nine. What a start for a man looking to win his fourth major in eight starts.
1:12 p.m.: On second thought, maybe Tiger should have putted his second shot on No. 8. Woods knocks his chip eight feet past and misses another par putt to drop back to two over. He's now eight shots behind Brooks, who made a two-putt par, with one hole remaining in his first round. In other news, Rickie Fowler, who like Tiger began his day with a double bogey on 10, posts a one-under-par 69.
1:03 p.m.: After a long wait on the tee at No. 8 (Hey, they're getting the full Bethpage Black experience!), Koepka finds the center of the green on the par 3 while Woods just misses right. Tiger should still be able to putt that one from about 30 feet, but considering how he's been wielding the flatstick the past few holes, he might want to opt for chipping his second.
12:50 p.m.: Tiger three-putts for the second time in three holes, missing a six-footer after an ugly birdie attempt from about 30 feet. So much for all that momentum he had following the eagle on No. 4. Woods is back to one over par, seven shots behind playing partner Brooks Koepka.
12:40 p.m.: Tommy Fleewood birdies No. 9, his final hole of the day, to post a three-under 67. He is the leader in the clubhouse until Brooks Koepka finishes his round in about 30 minutes.
12:32 p.m.: Brooks Koepka looked like he was finally going to make a bogey, but he rolls in a 10-footer on No. 6 to stay at six under. He's now two ahead of Luke List. No one else is currently better than two under. Tiger finds a fairway bunker off the tee, but he hits the green and two-putts for par to remain at even.
12:17 p.m.: The Tiger train just hit a minor speed bump with a bogey on the par-5 fifth. Normally, a bogey on one of Bethpage Black's most difficult holes wouldn't be a big deal, but Woods will be particularly frustrated after hitting a good drive and a solid approach. His slick birdie attempt ran four feet by and he horseshoed out his par putt. Making matters worse is he had to watch Brooks Koepka roll in another birdie. Koepka is now six under, three shots clear of Luke List.
12:00 p.m.: BANG! Tiger rams in a 30-footer for EAGLE to get into red figures. He has clawed his way back from being three over at the turn by going four under over his last four holes.
Wow. This is some rally from Tiger.
Meanwhile, Koepka makes par to remain at five under. After an adventure off the tee, he also dumped his third in the rough, but got up and down.
11:53 a.m.: Koepka finds his ball in the high stuff and does a pretty good job advancing it up by the green. Woods hits a beautiful iron that finishes about 30 feet away. There won't be many closer approaches with a front pin.
11:45 a.m.: Brooks Koepka shows the first hint that he's human by yanking his tee shot way left into high rough on the par-5 4th. Meanwhile, Woods smokes a tee shot down the left side of the fairway. There aren't many birdie holes at Bethpage Black, but this is one. And Tiger is in great shape to get back to even par.
11:40 a.m.: Oof. Tiger misses a golden opportunity to make a third straight birdie on the par-3 3rd. Playing partner Brooks Koepka does not. The defending PGA champ rolls in a 13-footer to move to five under. He currently has a two-shot lead over Tommy Fleetwood and Luke List.
11:29 a.m.: Tiger will have a chance for a THIRD straight birdie with another laser iron shot. His tee shot at the 235-yard par-3 third ends up about nine feet from the hole. He's locked in with a chance to get back to level par, despite those two double bogeys.
11:23 a.m.: Tommy Fleetwood falls out of the lead with a bogey at the par-4 sixth hole. He falls back to 3-under, one back of Brooks Koepka, who now owns sole possession of the (very early) lead once again.
Fleetwood's not the only Englishman to tumble down the leaderboard. Matt Wallace, who was the first player to get to 4-under, has bogeyed three holes in a row to fall back to 1-under.
11:17 a.m.: Brooks Koepka just blasts his birdie putt through the break here at 2. That'll be nothing but another par for him. Tiger, meanwhile, taps in his birdie to get back to 1-over par. That's his second consecutive birdie. That's a big bounce-back from those two double bogeys on his front nine. This is an action-packed opening round for Tiger as he heads to the par-3 third hole now back within earshot of the lead.
Luke List is making a big move on his opening nine. He has four birdies, along with one bogey, on his first nine (the front). List has yet to factor in a major (and he's still looking for his first tour win), but he's got the game to compete at brawny Bethpage.
11:11 a.m.: After a long wait on the second tee, Tiger Woods hits a tight draw with his fairway wood to find the fairway. His second shot is a PERFECT shot, with just enough distance to clear the front bunker, to end up about four feet from the hole. The birdie to start his second nine was a big start—he'll have a couple more opportunities here on this front nine, including a great one here at No. 2, as the front nine has played easier than the back so far this morning.
Koepka also finds the fairway and hits another stellar approach hole-high. He'll have about 14 feet for another birdie.
11:05 a.m.: Brooks Koepka now has company atop the leaderboard, as Tommy Fleetwood has added his fifth birdie of the day—and third within four holes—to grab a share of the lead at 4-under.
The Englishman bogeyed the 10th hole to open his round but has clawed back nicely.
We have Koepka and Fleetwood atop a leaderboard at a major in Long Island. Sound familiar to anyone?
11:01 a.m.: Tiger takes advantage of the strong approach shot and buries the birdie putt at the first hole. That's his second birdie of the day (birdied 15), and he gets back to 2-over. That's now six shots back of Brooks Koepka, who converts on the putt inside five feet for his fourth birdie of the day.
Koepka is the solo leader now, one shot better than Tommy Fleetwood and Chez Reavie (-3). Matt Wallace has bogeyed his second hole in a row to move back to 2-under.
10:58 a.m.: Many Bethpage golfers have found the right trees at the first hole where Tiger's drive ended up. But he has a look, and plays his approach beautifully to about 20 feet, hole high right of the back-left pin. That's a strong recovery from the trees and a look at birdie.
Brooks Koepka, meanwhile, is in full attack mode. From 88 yards out, he sticks his approach to five feet—for a chance at another birdie, which would give him the solo lead.
10:49 a.m.: Brooks Koepka joins the lead at 3-under, converting the birdie at the 18th hole. It's a bogey-free, three-birdie front nine for the three-time major champion. He's out in 32, tying Tommy Fleetwood and Matt Wallace atop the leaderboard.
Tiger's birdie bid slides by but he cleans up for birdie. It was a roller-coaster opening nine for Tiger—he looked like he had changed the momentum after the birdie at 15. But a second double bogey, this one at the 17th, has him out in 38 with his work cut out for him heading to the front nine.
Francesco Molinari adds his second birdie in three holes to make the turn in even par. Tiger's going to have to turn it on to keep up with this all-star group.
10:44 a.m: After a great 300-plus yard drive, Tiger's approach lands about 20 feet above the hole. Probably an unlikely birdie, but two good shots here on the underwhelming 18th at Bethpage.
Molinari hits his approach to about 15 feet in his attempt to get back to even-par. Koepka, meanwhile, will have a chance to tie the lead with a great approach to about 12 feet below the hole. With a Matt Wallace bogey, the lead is now back to 3-under, a number which Tommy Fleetwood is also at after a birdie at the third hole.
10:36 a.m.: Tiger's bogey putt misses to the right. That's his second double bogey of his opening nine—and moves him to 3-over par—erasing the good momentum from his birdie at the 15th hole.
10:34 a.m.: Tiger's par bid rolls about six feet by. This will be a difficult bid just for a bogey now. Koepka, meanwhile, cozies his second shot close—he'll head to the 18th tee at 2-under.
10:31 a.m.: Looked like Tiger had a fried-egg lie in the bunker, plus an awkward stance. He'll have about 20 feet above the pin to save par—might be another dropped shot here for the 15-time major champion.
10:27 a.m.: Tiger misses the green and finds the bunker with his approach right at the par-3 17th. The pin is just on the right, but he'll have a tough sand shot upcoming.
All three players miss the green in the similar spot. This 17th green is incredibly large: It's almost better to miss the green slightly to the right than being on the front left edge of the green.
There have been zero birdies at the 17th hole so far on Thursday. Someone will have to chip in from this thick rough off the green to record one.
10:17 a.m.: Francesco Molinari escapes the rough with ease and sticks it to a foot. That'll be a tap-in to get back to 1-over. Koepka also hits a great approach to about 20 feet. Tiger, meanwhile, elected to just chop it out of the rough and up the fairway. He hits a great chip to about three and a half feet, so he should be able to save his par.
Koepka misses the birdie but has another easy par. He stays at 2-under.
That's now 2 back of Matt Wallace, who just added his fourth birdie of the day on the sixth hole. The front nine is playing the easier of the two nines. But he's taking advantage better than anyone else. What a start for the Englishman.
Another Englishman is now one better than Koepka: Tyrrell Hatton is 3-under through 8. There aren't many low scores so far at Bethpage—but the front nine is giving a couple birdie opportunities—which these Englishmen are taking advantage of.
10:10 a.m.: Tiger finds the rough off the 16th tee on the right side. That one cut just a little too much. He'll have 207 yards out for his approach. Koepka found the fairway but is back a bit. He'll have a similar distance in. Molinari's was the most wayward of the bunch.
The 16th is one of the most difficult on the course. And the featured group of the morning is finding that out here.
Tommy Fleetwood, who opened with a bogey at the difficult 10th, has followed that up with three birdies (15, 16 and 1) to tie Koepka at 2-under, which is one back of Matt Wallace's lead.
10:04 a.m.: Tiger makes the unlikely birdie at the 15th hole to get one back—moving to 1-over through his first six holes. That was made possible by an incredible approach from 208 yards to this back pin. It's obviously early in his week, but that feels like a huge birdie for Tiger.
9:58 a.m.: From 208 yards out to this elevated green, Tiger Woods hits a tremendous iron to about 15 feet. He played the slope off the left side of the green to this back hole location. He'll be on the correct level with a decent chance to get one back with a birdie. He's still 2-over through his first five holes.
Brooks Koepka, now at 2-under after the birdie at 14, gets his 6-iron from the rough, 205 yards out, onto the correct level as well. Francesco Molinari has a chance for a birdie, too. He's at 1-over through five.
9:50 a.m.: Tiger's been relying on the power fade off the tee early. And he goes back to it on the brute, uphill par-4 15th hole. That'll leave him a little farther back to this elevated green, but being in the fairway at Bethpage is critical. Tiger's done that here again.
9:45 a.m.: Koepka buries his putt at the 14th to move to two under. Man is a straight machine. Though Woods blows his try five feet by, he cleans up the scrap to remain at two over.
9:40 a.m.: Woods' tee shot at the par-3 14th to the middle of the green. Appeared he misjudged the wind, coming up a club-and-a-half short. Another long birdie awaits.
9:30 a.m.: A look at the early leaderboard shows Charley Hoffman, J.B. Holmes and Matt Wallace at two under. I don't think the Bethpage ecosystem is ready for Holmes and his pace come Saturday. Pray for us all.
9:26 a.m.: After laying up, Woods has 80 yards to the pin...and, similar to 10, flies the flag by a mile. Something is not clicking this morning.
Woods recovers with a nice chip to gimme distance, but a curious start to his round.
9:15 a.m.: Woods plays a nice fade off the 13th tee, one that finds the fairway at the 600-yard plus par 5. Probably too far out to get home in two, but doing what he needs to do after the rough start.
9:10 a.m.: Tiger puts a nice roll, but it doesn't break right. Would have been a fantastic bounce-back, yet it's a par he'll gladly take.
9:05 a.m.: From 200 yards out, Woods goes with a 4-iron. Slightly tugged and tad short, it finds the green. Not exactly a makable putt, but back-to-back pars would go ways in righting the ship.
9:00 a.m.: On the 12th, Woods goes with a baby cut. Doesn't go far, but it finds the fairway. As does Brooks, who missed his short birdie putt on the 11th.
8:50 a.m.: Woods finds the green at the 11th, but a lengthy birdie awaits. Meanwhile Brooks looks like he's playing a pitch-n-putt, dropping his approach to six feet.
Woods gives a nice effort on the birdie, but it rolls just to the right. A par he'll gladly take though after the disaster at 10.
8:44 a.m.: Following that brutal start, Woods elects a fairway wood off the tee, putting one right down the middle at the 11th. Still, our thoughts and prayers to those that made the 30-minute journey to the 10th, only to watch that horror unfold.
8:40 a.m.: Woods' pitch is a pretty good effort, leaving five feet. But he blows his putt by. Double. Not what Woods, or his backers, had in mind.
8:36 a.m.: Oh boy. Woods' wedge shot flies the green. About as bad as a shot as you'll see Woods make from 100 yards. Meanwhile Koepka drops a 40 footer for bird from the fringe. Business as usual.
8:32 a.m.: Despite being just a yard or two off the fairway, Woods has to lay up from 200 yards. Mean up-and-down for par awaits.
On the bright side, Molinari finds his ball, choosing to lay up as well. Koepka's approach goes a tad long, meaning 0-for-3 from the marquee group at the 10th.
8:28 a.m.: Woods hits a cut on the first drive of the day. A ball that cuts a bit too much, finding the rough. Though not ideal, it's better than Molinari, whose tee shot goes so far left he has to reload. Meanwhile Brooks finds the middle of the short stuff, because of course he does. We are off.
8:15 a.m.: Tiger is out at the 10th, which requires a car ride and sherpa to reach. He gets some work in at the temporary green and is about to roll.
8:00 a.m.: Good news. Thomas Pieters birdies the 13th. Bad news: He played the first three holes six over. Still, progress.
7:46 a.m.: As much as one can read into these things, Woods still looks a tad under the weather, but it doesn't seem to be effecting his warm-up, blasting ball after ball into the stratosphere. Along with getting one closer to Jack, a win at Bethpage would tie Tiger with Sam Snead for the all-time PGA Tour wins mark. Although, as colleague Alex Myers points out, it's a record that should (arguably) already belong to Big Cat.
7:30 a.m.: Woods won't tee off for another hour, but he won't get the chance to ease into his round. The 10th through 12th is one of the hardest stretches in all of golf, and it's showing early going. The first six players played the 10th in six over. Kiradech Aphibarnrat started double-double, Thomas Pieters goes triple and bogey, and Brian Gay stumbles to the 13th tee at four over. There's a "Warning" sign for a reason, folks.