News
PGA Championship 2018: U.S. golf fans take heart: In the U.K., there's no on-air TV coverage available from Bellerive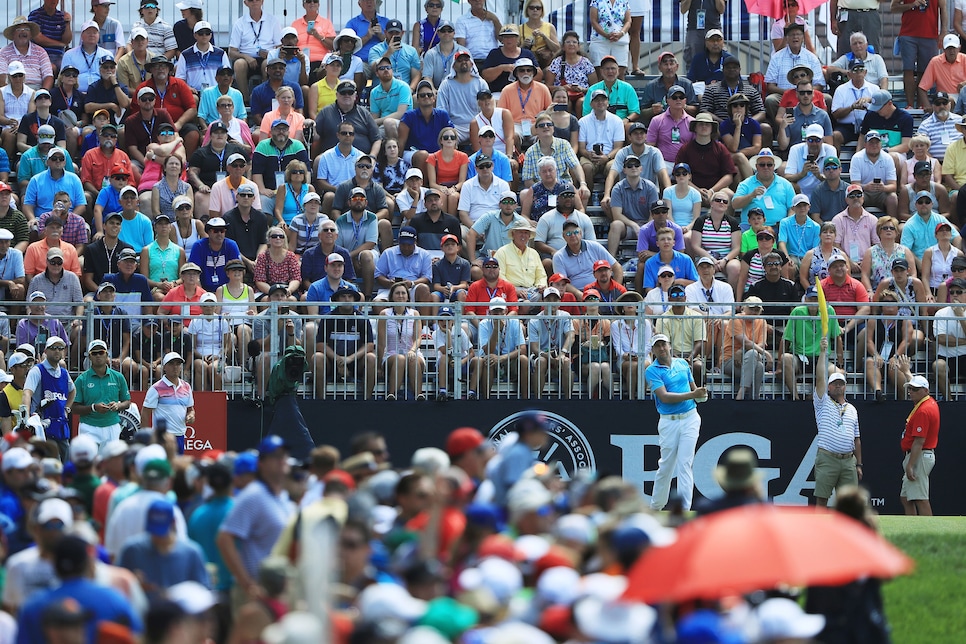 Sam Greenwood/Getty Images
ST. LOUIS — While television viewers in North America were understandably upset on Friday at their inability to watch the stellar second rounds played by the likes of Gary Woodland, Kevin Kisner, Brooks Koepka and Charl Schwartzel at Bellerive Country Club, things could have been worse. Across the pond, those in the United Kingdom and Ireland interested in watching the PGA Championship have been deprived of network television coverage, a state of affairs duplicated in Latin America.
The situation came about after the PGA of America was unable to reach a financial agreement with Sky Sports—which covered the PGA in the U.K. and Ireland until 2016. The BBC picked up the PGA coverage from Sky at the 11th hour, but the corporation, which has basically opted out of television coverage of golf over the last few years, did little to enhance the broadcast and provide a quality product.
The PGA then signed with broadcasters Eleven Sports to pick up coverage beginning this year. Launched in April 2015, the company portrays itself as an "international sports content platform." Owned by Italian businessman Andrea Radrizzani (whose portfolio also contains Leeds United Football Club), it focuses mostly on soccer coverage. According to its website, Eleven Sports deliver more than 25,000 live hours of sport per year to more than 17 million paying customers.
The problem? Eleven Sports does not have a television channel in the U.K., viewers interested in watching can only do so via streaming internet feed.
To be fair, it has been possible for those in the U.K. to watch for free. But with a catch. Potential viewers were asked to give up their credit-card details and cancel their "subscription" at the conclusion of the championship should they wish to avoid being charged. Otherwise, monthly fees would begin to apply.
It has, by almost every account, not gone well. Social media has been flooded with complaints from fans disappointed by the difficulties they have experienced in getting online in the first place, then with the apparently poor quality of the production values.
On Thursday, the group posted this message on Twitter:
Suffice it to say, that's not what you want to see in the first day of live coverage.
As ever, "Twitter King" Ian Poulter was also quick to chime in on the fans behalf.
In response, nine-time major champion Gary Player took up the cause, en route castigating the PGA of America and championship for abrogating their wider responsibility to make the game and this major championship available to as many people as possible.
"Surely this cannot be right," Player said. "Surely a major championship has a global field and audience. Surely the PGA Championship know and understand this?"