Equipment
PGA Championship 2018: The apparel trends to watch for at Bellerive
Dressing for major championships can be daunting. The top golfers in the world need to show up each day looking like they are ready to accept the Wanamaker Trophy, like they'll do this weekend at the PGA Championship. The key to dressing like a major winner comes down to a proper fit that looks flattering but is ultra comfortable and functional, so it does not impede the swing.
Also important is how the ensemble is coordinated head-to-toe. That means colors need to complement each other, details should pop and not distract, and the technical aspects of the pieces need to balance, not overhaul the stylistic elements. This is where the apparel companies usually come in. They work with the golfer—months and months in advance—to connect their looks in ways that match their game, personality, body type and weather needs. This week at the PGA Championship, temperatures are expected to be extremely high and as always in golf, there's a high probability of some rain.
Dustin Johnson's Traditional Blues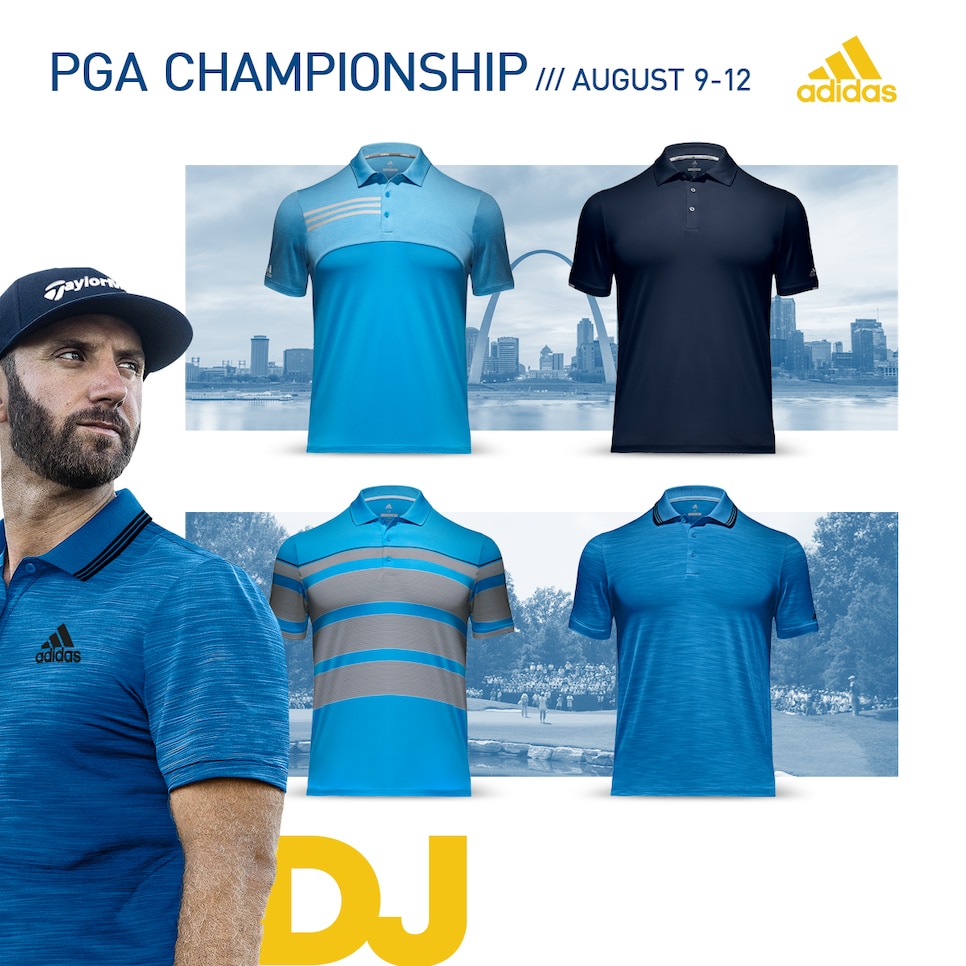 DJ will be sticking with his classic blue palette with a few tones mixed in. He's got a winning record wearing blue, so he'll be hoping to add another to the blue-victory trend in these four shades. On Thursday expect a vibrant sky blue adidas 3-stripes heather blocked polo, followed by a classic navy golf shirt on Friday. Both are extremely quick-drying and breathable to combat those sky high temperatures expected in St. Louis. Over the weekend, Johnson will wear the Ultimate 365 Engineered Stripe Polo, a bright blue golf shirt with gray stripes of different sizes. It's the most variety you'll see on the no-frills golfer. For the final round, DJ will undoubtedly make a run in the Ultimate 365 Heather Polo, one of his favorites judging by how often it gets put into his scripting rotation. He'll pair these tops with either the Ultimate Flat Front Pant or 3-Stripes Pant, also fan favorites of Johnson.
Rickie Fowler and Bryson DeChambeau's Major Golf Bags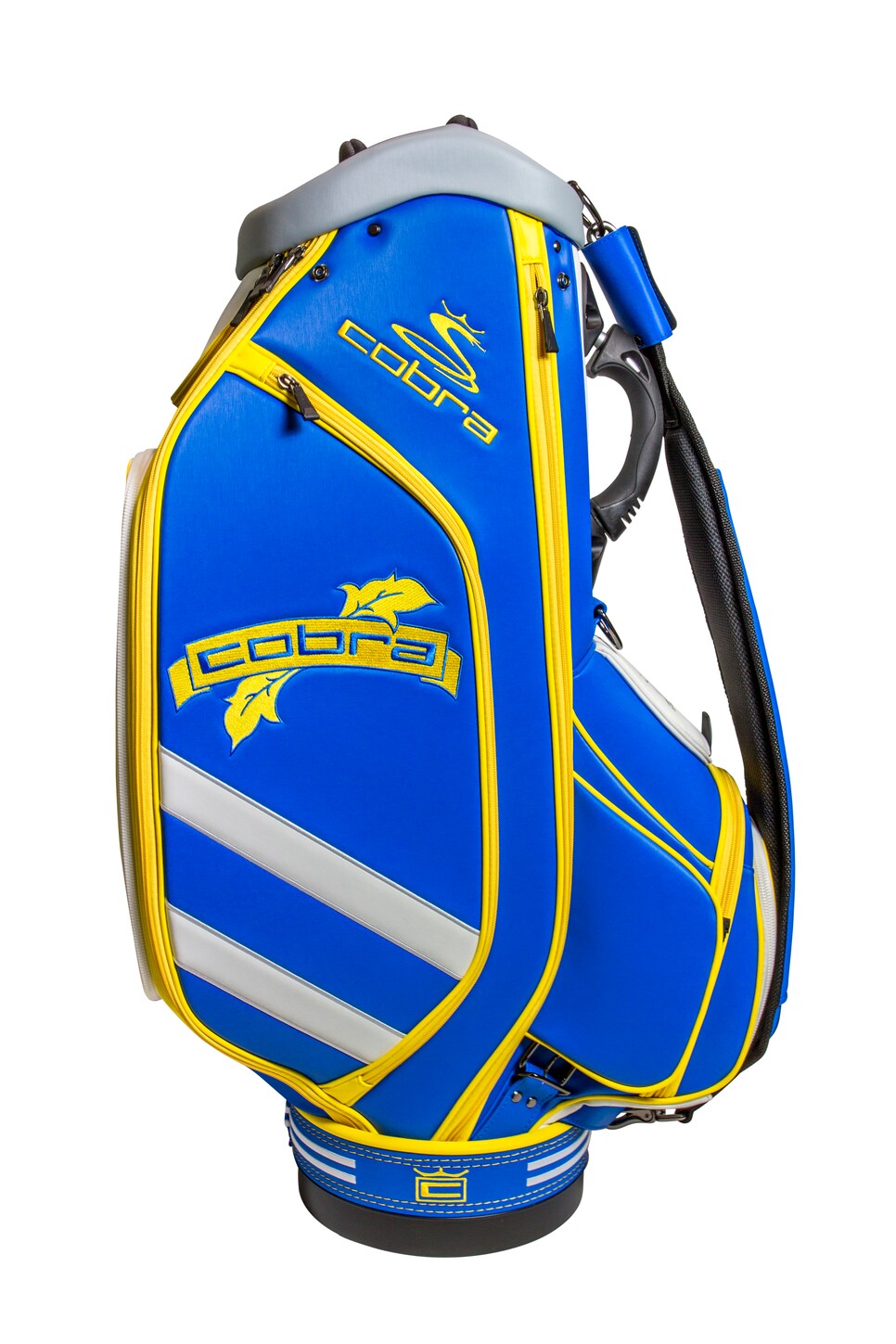 Cobra released a custom golf bag for every major this year that is designed to honor each course location. The final major-inspired bag has a blue and gold colorway inspired by Bellerive's intricate logo that is subtle, with detailing sure to impress. Fowler and DeChambeau's caddies will carry the custom stand bag, but Cobra and Vessel collaborated to design a replica stand bag for those of us without caddies on the bag for every round. The Special Edition bag ($600) has a single strap, tons of pockets and will certainly sell out quick.
Justin Thomas' Light-and-Airy Color Scheme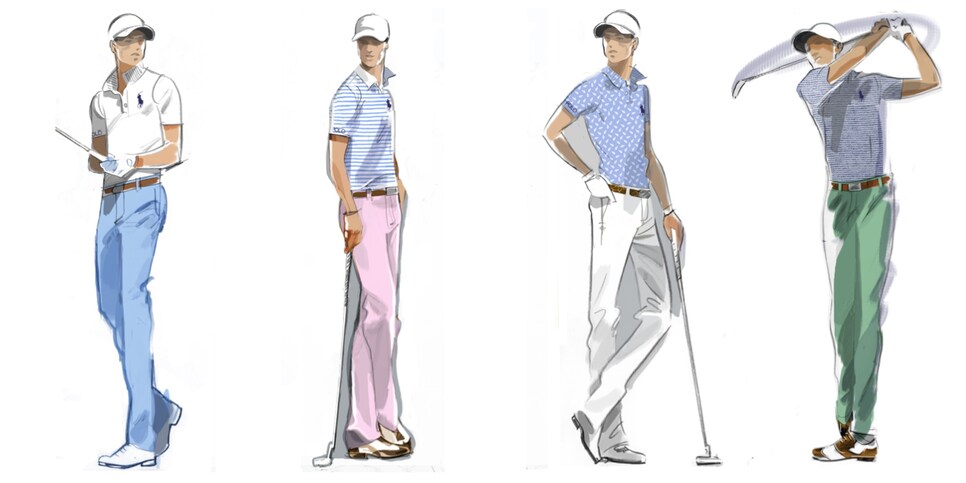 The always-stylish Justin Thomas will not disappoint this week at Bellerive. He'll start the week out in the light blue Ralph Lauren 5 Pocket Performance Chino Pant balanced with the white Solid Vintage Lisle golf shirt. The preppy combo is light and with breathable technical elements to keep him cool. He'll follow up with a pink pant (Performance Chino) and Striped Performance Lisle golf shirt that is young, fun and country-club approved. Our favorite ensemble from the 25-year-old comes on Saturday with a pair of crisp white Performance Chinos and a patterned Ralph Lauren Lux Jersey Polo. The bandana print is ultra-stylish and the light blue shade is perfect for late-summer fashion that can transition easily into fall golf. For the final round, he'll finish major season in a faded green pant and gray stripe shirt. A much more fall-inspired look than the first three ensembles of the tournament, the darker look is a little more serious providing a strong look on the final stretch.
Jordan Spieth's Ombré Look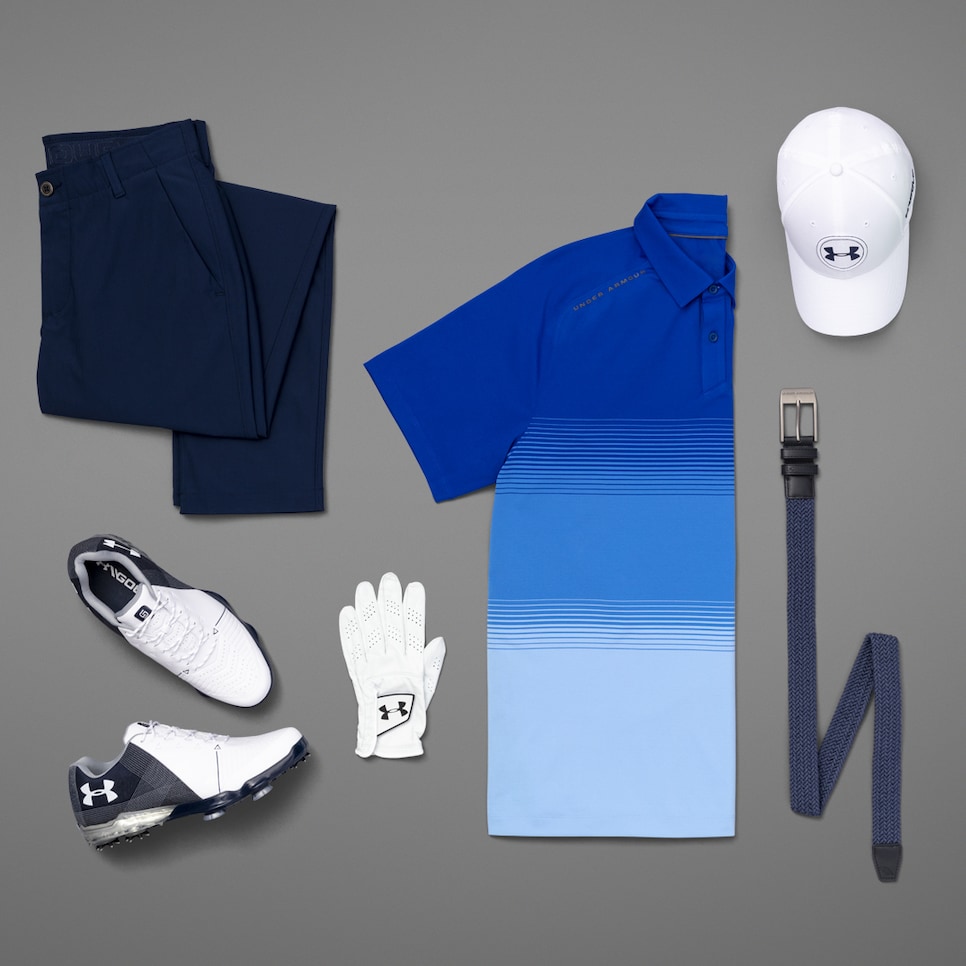 If you don't know what the word ombré is, it is about time you learn. It is a look where colors or tones shade into each other, usually light to dark. It's a popular hair color technique, but the trend has hit golf apparel and looks great. Spieth has been a fan of the ombré look this season and will wear a dark-to-light fading Under Armour Microthread Gradient golf shirt in the final round of the PGA Championship. Since the coloring gets lighter at the bottom of the shirt, it's easy to select a light pant to pair with, but Spieth's selection of the navy Under Amour Microthread Tapered Pants is top-notch. He's also a strict obeyer of the cardinal belt rule, matching his UA Braided Belt 2.0 perfectly to his pants and not to his white UA Spieth 2 Golf Shoes.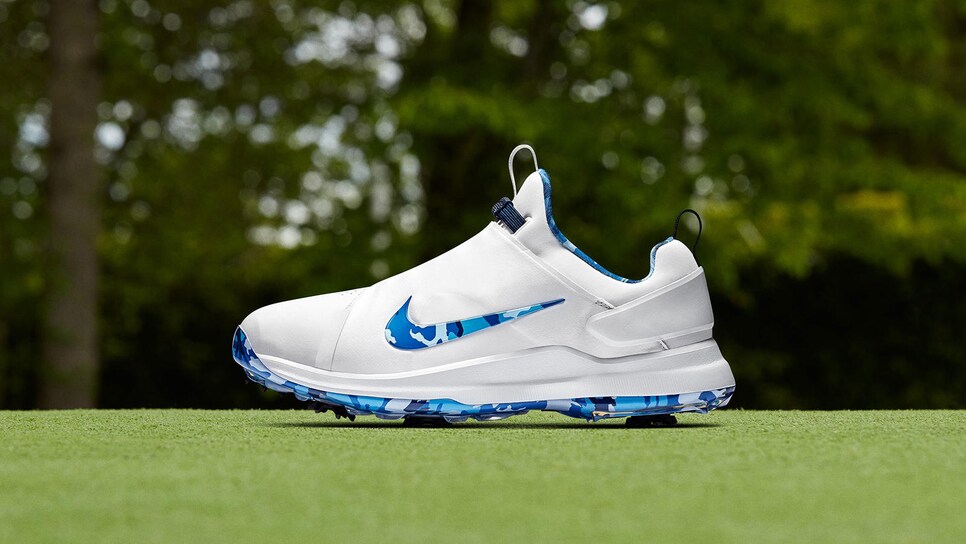 If you were a fan of the "Car-Nasty" golf shoes that the Nike guys debut at the British Open, wait until you get a look at the company's PGA Championship version. Sold in limited quantities, these blue camouflage print shoes are fresh and stylish. The blue detailing against the fresh white shoe is eye-catching without turning gaudy. Wearing camo can be a risk, but camo-details are almost always a sure thing. The shoe will be available August 8 and will likely sell out before the weekend. It's a version Nike's Golf Tour Premiere Men's Golf Shoe that comes in both simple and striking colors starting at about $200.