News
PGA Championship 2018: Officials confident Bellerive's greens won't be an issue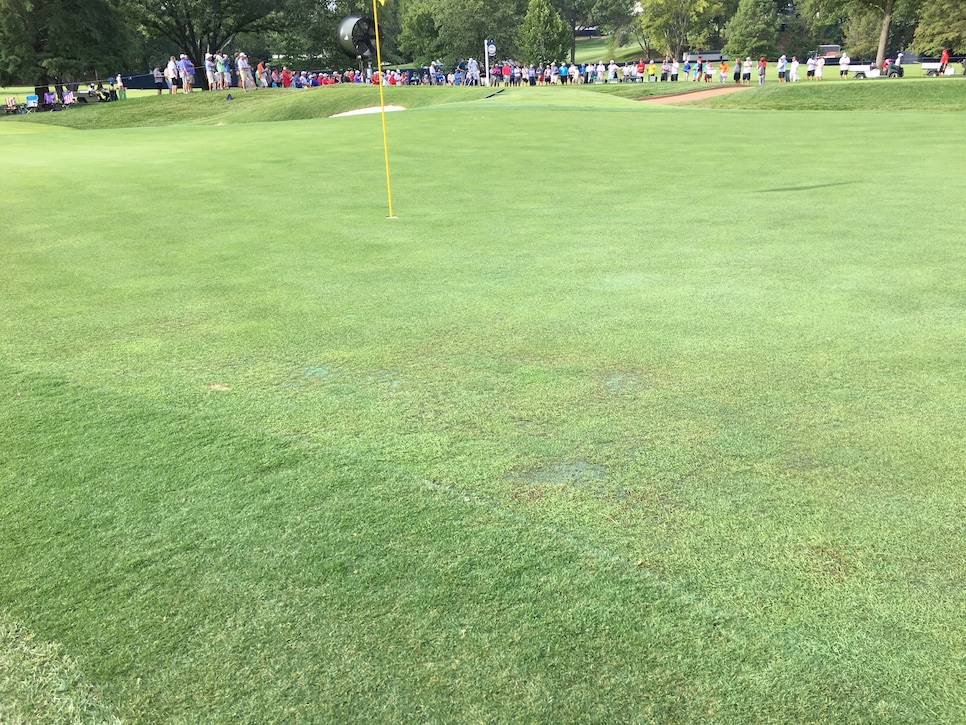 ST. LOUIS — A major is never short on storylines, both from the players and the field they compete on. Through three practice rounds at Bellerive Country Club, it's the latter that has resounded from the 100th PGA Championship.
There were whispers, some apparently first uttered back in 2017, that Bellerive's greens were falling short of the standards associated with hosting a premier golf event. While the greens this week are playable, there's an acceptance that, to a degree, the concern wasn't unfounded. Players and fans were greeted to newly sodded collars around Bellerive's putting surfaces, which transition to less-than-healthy A-4 bent grass on the greens' perimeters.
Additionally, to combat high temperatures and humidity in the area, the greens have been running slower during the practice rounds. The soft grounds have correlated to players tossing their approaches at pins without fear, no matter the club.
"There's not a lot of base underneath the grass and there's not a lot of root system," Rory McIlroy said. "So you're not going to see wedge shots spin a lot. You're going to see them stop dead, but you're also going to see a 6-iron stop dead."
PGA of America officials placed a notice in the locker room announcing these conditions to players, telling them to expect normal speeds once the tournament begins. A downpour on Tuesday, however, will keep the greens spongy throughout the opening rounds.
While acknowledging the challenges presented—"I don't think they're going to be the smoothest of greens that we played on," Tiger Woods said—players don't seem too concerned with their present, imperfect state.
"Everyone's got to play them," Woods said. "We're going to have some putts where we hit good putts and they're going to kind of wobble off line, but then again you can actually put some pretty good heat behind it as well and take out some of the break."
That includes the PGA of America's brass. Speaking to the media Wednesday, chief championship officer Kerry Haigh is confident Bellerive's conditioning won't be part of the narrative.
"Our hope and my hope, and I think the plan is, that the players are the story," Haigh said. "It is their major championship. We want to showcase the best players in the world on great golf courses. And I don't like being up here. I don't really want to talk about it because we are not the story."
Haigh confirmed the obstacles brought on by the weather. "As many of you know, growing grass in St. Louis in August is pretty challenging with bentgrass," he said. To preserve the health and integrity of the property, Bellerive members were forced to play on temporary greens throughout this summer.
"That is a sacrifice not many people know about or think about," Haigh said, "but we're honored that they were so helpful, so supportive of our championship."
Haigh also remarked that the collars were installed as recently as three weeks ago.
"Aesthetically, the difference in the grass color may not quite come over on TV quite as well, but the surface is [working] really well," Haigh said. "They've knitted in beautifully and could not be happier with them."
Despite the less-than-ideal optics, Haigh and his staff have conviction in the course. As for forecast, Haigh thinks Bellerive's set-up will facilitate its share of fireworks.
"My hope is that's the philosophy at any venue we play, which is to make it more enjoyable, make you think and, as I say, the best players hopefully will enjoy that," Haigh said. "Certainly, the rain has soften things up, but I look at that as a very positive because I think we could have one of the most exciting PGA Championships ever played. If you put 98 of the top 100 golfers in the world on a beautifully manicured golf course with soft greens and little or no wind, I certainly hope and expect we'll see a lot of birdies."