News
PGA Championship 2018: Justin Thomas' steep learning curve boosts chances to join Tiger as back-to-back winners of the PGA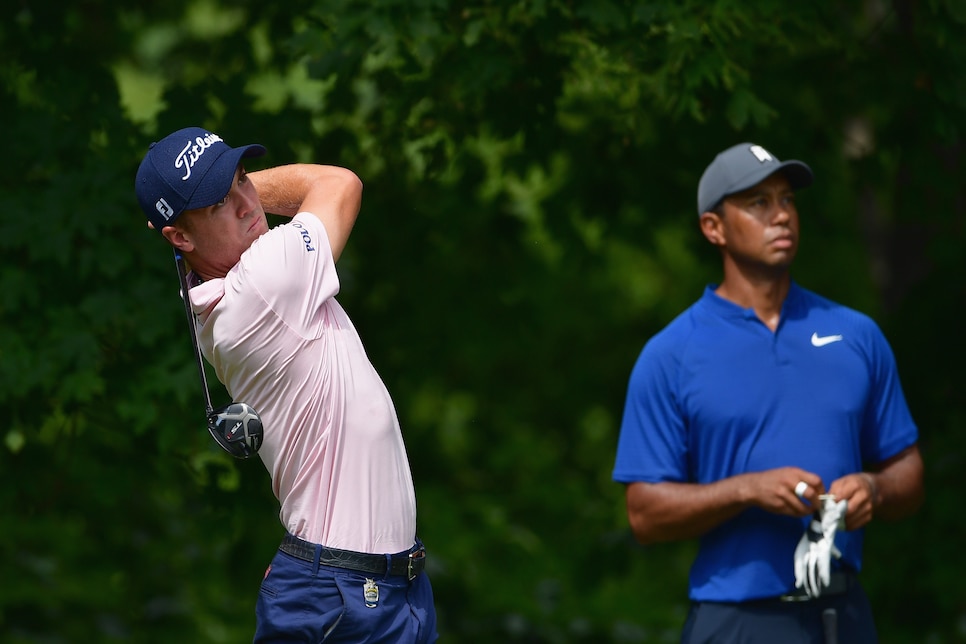 ST. LOUIS -- Justin Thomas was seven years old and watching on television in the clubhouse at Valhalla when Tiger Woods won the 2000 PGA Championship.
Everyone remembers Woods walking in a birdie putt and pointing at his ball as it fell into the hole in a playoff victory over Bob May. What else?
"I'm sure nothing really too intelligent was going on in my head," Thomas said. "But I do know that I recognized enough that I wanted to do that just from watching because of how cool it was."
Seventeen years later, Thomas added his name to the Wanamaker trophy alongside Woods'. The victory wasn't as suspenseful -- Thomas broke from the pack halfway through the back nine and went on to win by two strokes at Quail Hollow.
What's he remember about that first career major win?
"You can learn just as much from winning a major as I can winning in Akron last week or winning the Sony with a seven-shot lead on Sunday," he said. "You can learn as much as you want from anything. It's just the hard part is sometimes recognizing what you learned."
Consider it another step in the evolution of the 25-year-old.
At last year's PGA, a handful of players were tied atop the leaderboard late on Sunday when Thomas surged ahead with a 40-foot chip-in for birdie on the par-3 13th. Clinging to a one-shot lead over Hideki Matsuyama three holes later, he drained a nervy six-footer to save par and keep the lead.
Matsuyama bogeyed, meanwhile, and Thomas sealed it on 17 with a towering 7-iron from 220 yards over water to a peninsula green. He drained the 15-footer for birdie and that was that.
"I felt like, if I didn't make any mistakes coming in, a couple guys were going to make some mistakes and throw themselves out of it," he recalled this week at Bellerive, site of the 100th PGA Championship. "I just kind of needed to execute the shots when I needed to and just kind of sprinkle in maybe a birdie here or there. So that was something I learned from last year, just kind of staying patient and picking my spots."
Nearly a year later, the memory came in handy.
Looking for his third win of the season but his first since February, Thomas, despite a three-shot lead, found himself nervous going into the final round of last week's WGC-Bridgestone Invitational.
Then he thought back to last year at Quail Hollow when he played smart and picked his spots. He did the same at Firestone, shooting a pedestrian one-under 69. His lead was never less than two and he went on to win by four.
The victory might also not have come if it weren't for what he learned during a series of blunders in the second round of last month's Open Championship at Carnoustie, where he shot 69-77 to miss the cut.
Afterward, he met with his caddie Jimmy Johnson and his dad Mike -- who doubles as his coach -- about what went wrong.
"It was a lot of me talking and saying it's hard and it sometimes is uncomfortable because the smallest things affect us or bother us," Thomas said. "But at the end of the day, everyone in this team is in it for the same reason. They want us all to perform as well as we can and to win as many times as we can.
"I told Jimmy things that I wanted from him a little bit differently, and I wanted him to tell me things that he maybe wanted from me differently, and I told my dad things that I maybe wanted from him differently."
His hope from having recognized that?
Joining Woods as the only player to win the PGA back-to-back in the 60-year stroke-play era of the tournament, something that hasn't come up between the two and surely won't when they are paired for the first two rounds at Bellerive.
Holding the trophy again on Sunday would be all the recognition needed.