News
PGA Championship 2018: Deja vu for Tiger, as just like at Carnoustie he starts third round at Bellerive six back and in need of birdies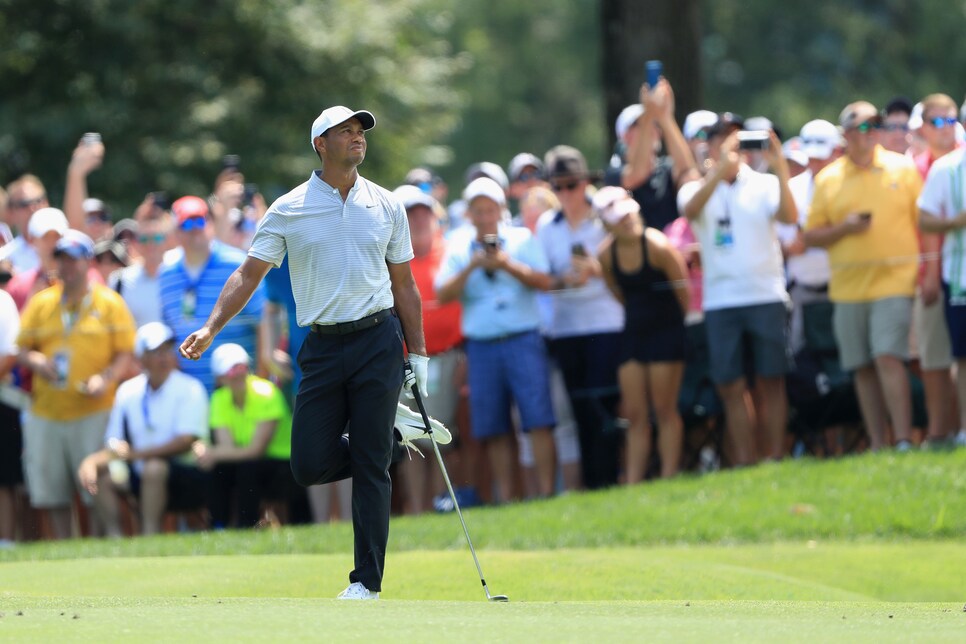 Sam Greenwood/Getty Images
ST. LOUIS — Tiger Woods showed he has enough of his arsenal to climb up the leader board in the shootout unfolding in the 100th PGA Championship, completing a four-under-par 66 Saturday morning at Bellerive Country Club.
Woods had three birdies and two bogeys in the 11 holes he completed in his second round, placing him T-19 and only six strokes behind 36-hole leader Gary Woodland. That's no farther back than his position through two rounds of the Open Championship last month at Carnoustie, where his conservative game yielded the outright lead with eight holes to play before stumbled in to open the door for Francesco Molinari.
In length and conditioning, Bellerive is not conducive to conservative strategy, so Woods has little choice but to play as aggressively as he can when he ventures out this afternoon for his third round at 12:21 p.m. CDT with Stewart Cink and Webb Simpson.
"I just have to make birdies," he predicted. "This golf course is stacked right now and everyone is bunched. And on top of that, if you hit the ball well enough, then you're going to leave yourself in the right sections. And there's not a single putt out here that you're afraid of that it's going to get away from you. The only thing is you have to hit, a couple putts, you got to hit harder than normal, and there might be a few little spike marks. But you can take a lot of the break out and be very aggressive. That's one of the reasons guys are making birdies from everywhere."
Helping the cause when he restarted his round at 7 a.m. CDT was that Woods birdied both par 5s, including a two-putt birdie at 17 after a perfect drive and a utility club that he curled onto the front of the green. His first hole of the day was completion of the par-5 eighth.
The card would have been clean had he not missed short par putts at the 10th and 12th hole sandwiched around a kick-in birdie at 11.
"I came right back out and made birdie from 69 yards. So it was a nice way to start the morning," he said. "I missed two putts there at 10 and 12 which I've been making, two little short ones there. From about oh, six, eight feet. And that basically kind of stemmed the momentum a little bit, but I got it back four under for the day or for the tournament. Hopefully this afternoon go out and shoot a low one, it's going to take that."
In a pairing with current world top-10 players Justin Thomas, the defending PGA champion, and Rory McIlroy, Woods held his own. But by the time he reaches the 18th hole later this afternoon, when the high temperature is expected to reach 90 degrees, he'll be playing his 29th hole of the day.
That's a lot of moving on moving day.
His preparation plans? "Go and eat. We got a long afternoon ahead of us. So just going to go eat and rest up a little bit."