News
PGA Championship 2018: Club pro is brutally honest on falling apart at Bellerive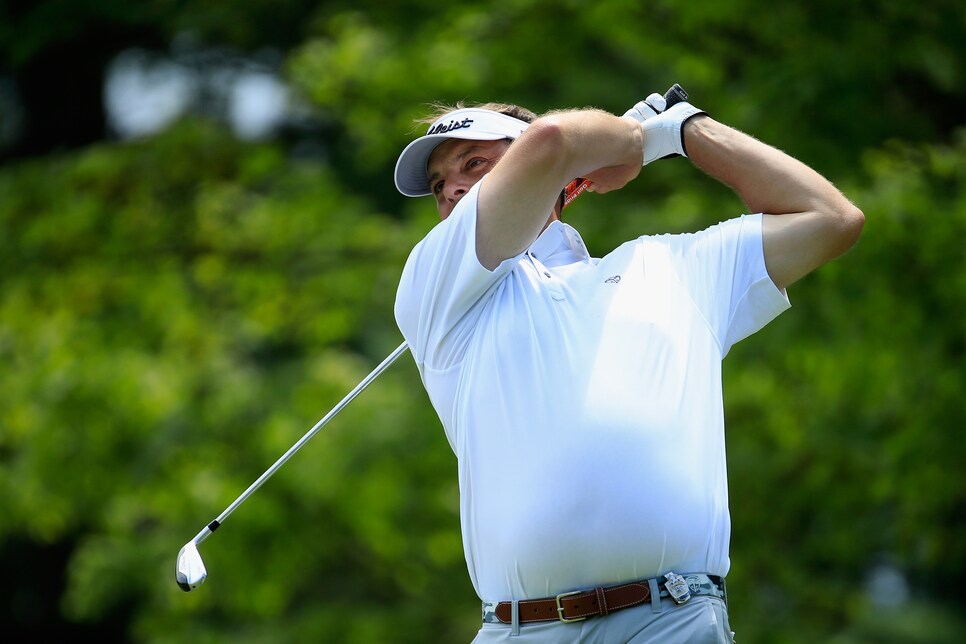 ST. LOUIS — Matt Dobyns is a legend among club professionals, qualifying for the PGA Championship five times in his career. He's also a funny, engaging interview. And, as he showed at Bellerive on Thursday, not adverse to self-flagellation.
It's a good thing the St. Louis course was saturated from rainfall on Tuesday, because the 40-year-old Dobyns' fiery start would have burned crisper confines to the ground. The head professional from Fresh Meadow Country Club in Lake Success, N.Y., birdied his first three holes to jump into second place in the early afternoon. Unfortunately for Dobyns, that standing would not last, carding a triple bogey at the fifth and and another triple at the 12th. While a 4 at the par-5 17th took the sting out of bogeys on the 14th and 16th, Dobyns stumbled in on the closing hole, putting his approach in a greenside bunker and proceeding to three-putt. The final damage was a six-over 76, a score that leaves Dobyns in a tie for 143rd.
Following his round, Dobyns was brutally honest on his ride off the leader board.
"I'm just thinking this is how it's supposed to go. This is how I'm supposed to be," Dobyns said. "And I know that that streak's not just going to keep going, but I played enough to know that—but I've been coming out of the gate really strong all year long. I hit a lot of good shots and good putts and, look, you start dreaming, you see your name up there, I'm two back of the lead, you never know. Feeling fine. What the hell? I could shoot five under. But it wasn't in the cards for me today."
But, as Dobyns was quick to point out, golfers always regress to the mean.
"Where that mean is, you don't know how long that wave's going to last," he said. "The key is to not go crashing off the wave and end up in the barrier reef, the key is to when you fall down to make a bogey and then regroup and try and put a tourniquet on it and make a par. And then try and get back that same momentum that you started with. And I wasn't able to do that."
A truth especially tough considering Dobyns almost went to four under on the fourth hole.
"I felt like—I know, I thought I was going to birdie them all at that point," he said. "But it was sad because I've gone the other end of the spectrum here, I've gotten off to bad starts here in this thing so many times and grinded like crazy to get back to a respectable score. And here I get off to a great start and then just spit the bit all the way home."
Dobyns knows he'll need a Herculean effort to make the cut—in his estimation, a 64. As for his stumble, Dobyns summed up the plight of golfers everywhere when asked if nerves had an effect.
"I'm trying to figure this out myself," he admitted.
PGA Tour pros are a different animal. But club pros are so much like us it hurts.