News
PGA Championship 2018: Adam Scott turns back the clock, but comes up short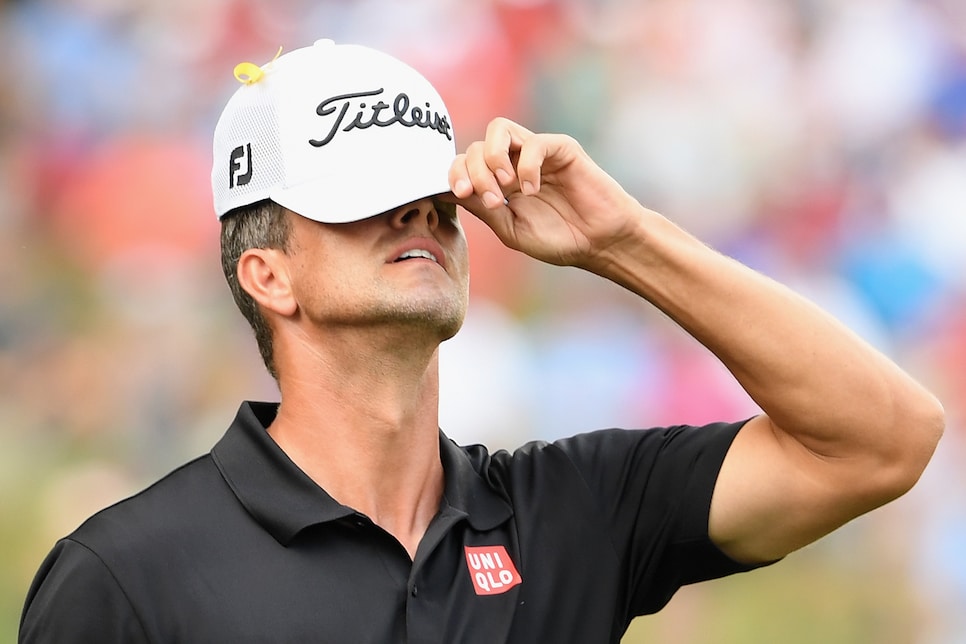 ST. LOUIS — Adam Scott was playing in the final pairing, but few paid heed. There were bigger names than him with bigger stories, although no one, even Tiger Woods, was playing for anything bigger. That Scott had returned from golf's wilderness was nice; it also didn't seem sustainable over the final 18 holes. And yet, for a brief window on Sunday at Bellerive, Scott was this close to pulling off the improbable.
Unfortunately for Scott, that improbable bid will remain just that.
"Just didn't have it the last couple of holes," Scott said. "I just didn't drive it up to what I would expect in this kind of situation to win."
Through six holes, that stated indifference was justified. Scott opened with a bogey, and followed with five pars. He admitted later he wasn't quite ready for the moment.
"I was not super comfortable early in the round," Scott said. "I wasn't hitting the best shots, but I scrambled where I had to."
The Aussie found himself four back of Brooks Koepka, and—with a certain 14-time major winner quickly becoming a factor—Scott also found himself off the broadcast until the par-5 eighth. But on that long par 5, stretched more than 610 yards on Sunday, the 38-year-old had an eagle attempt from just 13 feet. It didn't fall, but he did convert his second straight birdie. That got him into red for the day.
One problem: Koepka had also made his second straight birdie, and added another at the ninth. It appeared Scott would be serving as a ceremonial marker rather than challenger on the final nine.
And then a curious thing happened. While fans looked to Woods and Justin Thomas to stop Koepka from running away with the Wanamaker, Scott jumped back into the mix.
He birdied the 10th, one of the toughest Bellerive had to offer. He followed with a disappointing par at the gettable 11th, although a pain somewhat alleviated by a matching par from Koepka. Then Scott made a 13-footer on the 12th for bird, bringing the deficit to one. And before we could ask, "Hold on, is Scott really doing this?" the man already had the answer, dropping his tee shot on the par-3 13th to six feet. Scott holed the putt; coupled with a short miss from Koepka, the Aussie had tied for the lead.
Even with Woods continuing to put pressure on the leaders, Scott, while not in the driver's seat, was at least back in the cockpit. Koepka's back-nine stroll had turned into a struggle. That it was Scott doing the rattling was inconceivable.
After all, to be teeing it up at Bellerive, Scott needed a special exemption from the PGA of America. He had fallen outside the world's top 50, ranked 119th in the FedEx Cup points list. He hadn't recorded a top-five finish, on any tour, in two years. To be frank, that he made it to the weekend was notable.
And here he was, on the 14th hole, tied for the PGA Championship.
On the 15th hole, they both found the green—Scott 18 feet away, Koepka 10. It was an advantage Koepka capitalized on, making birdie to go back up one. On the 16th, a par 3 weighing in at 247 yards, Koepka nearly jarred his tee shot while Scott pushed his to the right. Scott almost chipped it in, the operative word "almost." Kopeka, up two.
On the par-5 17th, desperately needing an eagle, a missed drive forced Scott to to lay up, especially agonizing since Koepka put himself in position off the tee to go for it in two. However, there was light, as Scott threw his approach from 100 yards to six feet, with a poor chip from Koepka leading to a missed birdie attempt. Scott's six-footer could make the 18th matter.
But in a stroke that encapsulated his plight, and what's caused it since his 2013 Masters victory, Scott missed. Came up short, to be exact. Never had a chance. All weekend, people wondered when Scott's fickle short game—he ranks 192nd in strokes gained/putting this season, a career-worst—would rear its ugly head. It did, at the worst possible moment.
"I mean, I felt like I had a really great rhythm moving around the greens, reading the greens, and in my routine with my putting," Scott said. "I was quite calm at that point. I just didn't hit the putt hard enough."
He would ultimately finish third, three shots back, after a wayward drive on the last led to bogey. A finish that left Scott crestfallen.
"Look, at the moment, I'm pretty disappointed with myself that I couldn't play the last three holes better than I did," Scott said. "And if you just look at it, I mean, I hit a really great chip on 16. I had a putt to be one back on 17, and I think that really hurt that I missed that, just not to make it interesting up the last."
Still, it's been awhile since Scott's mixed it up at a major. An experience that was not lost on him.
"There was lots happening out there. Tiger was charging at times, and that was filtering back through the groups, certainly," Scott said. "Every leader board that changed, no matter what hole you were on … it's a really fun atmosphere to be in."
He was pleased with his play, although he admitted it was hard to rationalize it as such, particularly with where he stood with four holes to go.
But more importantly, Scott realized his play helped give a platform to Jarrod Lyle, his fellow Aussie who died this week. Scott mentioned Lyle has an inspiration on Saturday, and felt the departed tour player was very much with him inside the ropes.
"A lot of people were yelling out his name out there, so it was hard not to think of Jarrod, certainly, obviously all week for us all," Scott said. "And the people who knew him quite well that were playing this week … you know, golf was a little distraction, but probably now, as we get some time off and get to go home and be with our family, that will be able to celebrate him a little bit more."
Consider Scott's blast from the past part of that tribute.