News
PGA Championship 2017: What Jordan Spieth has in abundance, his rivals wish they had as well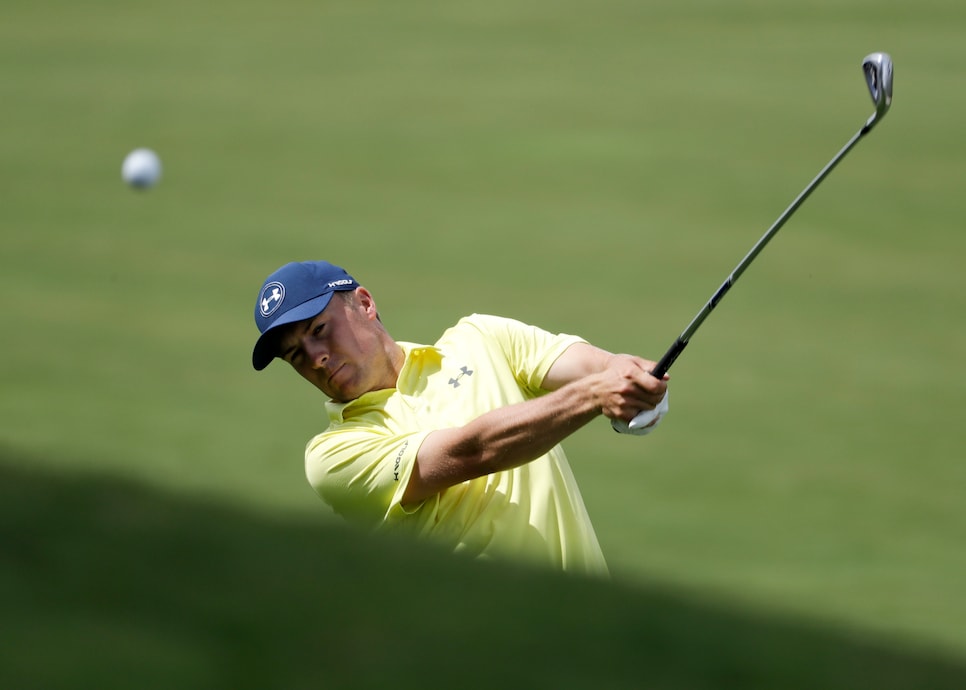 CHARLOTTE -- It was the opening round of last year's PGA Championship and Rory McIlroy had just missed birdie putts from close range on each of his first two holes of the tournament. His head dropped, shoulders slumped and he went on to shoot a disappointing 74 before missing the cut a day later.
A year later, McIlroy was sitting in the interview room at Quail Hollow extoling the golfing mind of Jordan Spieth, who this week at the age of 24 has a chance become the youngest player by six months to complete the career Grand Slam.
What stood out to McIlroy about Spieth's victory last month at Royal Birkdale was not just his great escape from the 13th hole but his ability to turn a negative into a positive, particularly in dire situations. "He has got that knack," McIlroy said. "I call it resilience."
A few weeks earlier, Spieth won the Travelers Championship in a playoff after driving into a tree, then hitting into a bunker before holing out from the sand for birdie and the victory.
"I don't know if there's a better word to describe what it is that he has," McIlroy continued. "But he has got this resilience where he gets himself in positions in tournaments where you don't think he can come back from, and he does.
"It's awfully impressive."
From where Spieth sits, it's also an awfully big confidence builder.
"You very rarely have parallel wins," he said. "They take different shapes, and so each one I can certainly take something out of."
At just 24 there's an awfully big body of work to draw from, too.
In his first career victory at the 2013 John Deere Classic, Spieth, just 19 years old at the time, jarred a bunker shot on the final hole of regulation to land in a three-way playoff he'd win on the fifth extra hole.
The following year, Spieth won a three-way playoff at the Valspar Championship by sinking a 30-foot birdie putt on the third extra hole.
A month later at the Masters, two shots still stand out. In the opening round, Spieth was cruising along when he suddenly found himself in trouble at the 14th, in the rough and with an obstructed view of the green. He carved his ball out of the rough, around a tree trunk and straight at the flag. It hit the stick and stopped three feet from the hole to set up one of nine birdies en route to a 64. Two days later, he escaped a certain bogey with an impressive up and down after short siding himself left of the 18th green. The par kept the cushion at four, the same margin he ended up winning by.
At the U.S. Open at Chambers Bay that same year, Spieth three-putted for double bogey on the 71st hole to go from two strokes up into a tie. He bounced back by reaching the par-5 closing hole in two and two-putting for birdie and what would be an eventual one-shot win.
It hasn't always worked for Spieth (the 2016 Masters, where he blew a five-shot lead with nine holes to play comes to mind), nor has every victory been so drama-filled (five of his 11 wins on Tour, including this year's British Open, were by three strokes or more). But a memory bank of Houdini acts leave Spieth never feeling that he is out of a shot, a hole, a round, a tournament.
Long before Spieth reached the 13th at Royal Birkdale, he was already trying to adapt after a couple of early three-putts and technical thoughts creeping into his head. His focus shifted to the speed of his putts rather than the mechanics of his stroke and on the 13th he "stole" one, saving bogey from the driving range with a putt that he thought would break and maybe even miss but went straight into the hole.
"It kind of freed me up," Spieth said, recalling the moment on Wednesday. "Sometimes it takes something like that; an imperfection in a way that still was beneficial. It caused me to drop the stress level, to kind of sit back and play a new tournament, almost feel like a new golfer at that point in time."
He followed with three birdies and an eagle over his next four holes and it was game over.
"It's a mental thing," McIlroy said. "You can stand and hit the shots that he was hitting for those last five holes at the Open on the range, no problem. But being able to do it under those circumstances, under the pressure, that's what makes him so good, being in those situations.
"Yeah, resilience, mentally tough, strong, whatever you want to call it. That's his biggest asset. Being able to forget about a bad shot and move on to the next one, that's his greatest weapon."
It's a beautiful (golf) mind. Spieth knows it, too.
"I've already had enough not go well that I've almost accepted, OK, if this doesn't work out, then it doesn't work out; I'm going to have more chances," he said. "That kind of freedom allows me to take the fear away of any potential bad situation. I've gone through what will probably and hopefully be the worst loss of my career in the most public eye that golf has. So everything else that could happen is much lesser and therefore, has probably helped me since then to focus then and only see the positive that could come out of a situation.
"When any other thoughts come into play is when the potential for bad comes in. And I'm not saying that you can't focus and then just mis-execute, because that certainly will happen. But the chances go up that something beautiful could happen."