News
PGA Championship 2017: Steve Stricker's got a headache brewing with the Presidents Cup and Phil Mickelson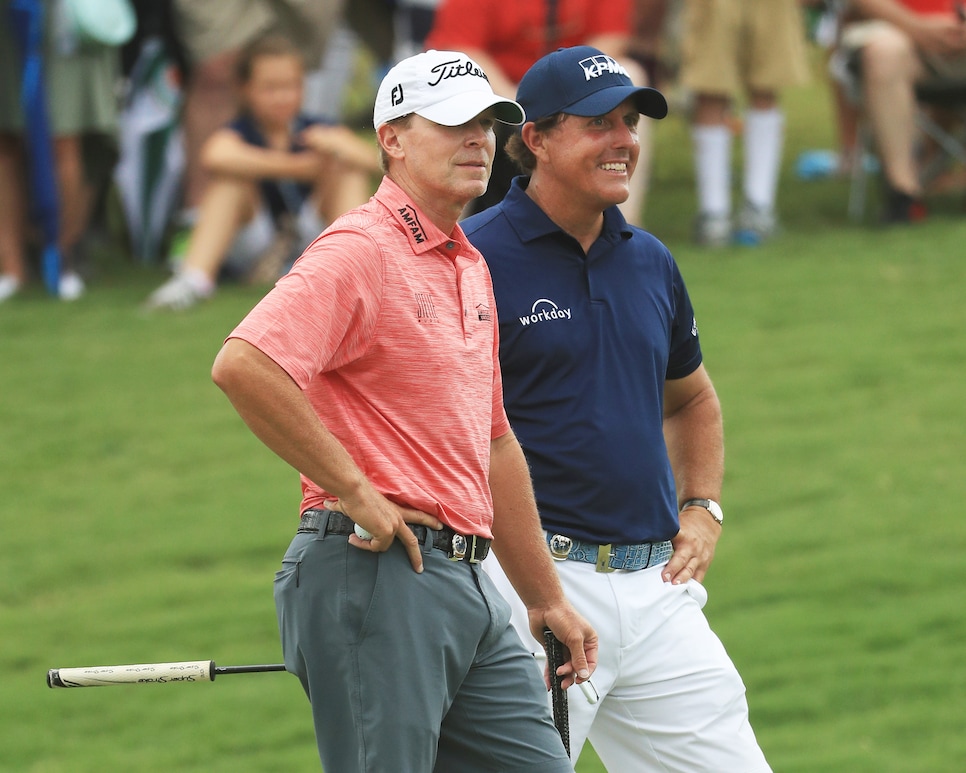 Mike Ehrmann/Getty Images
CHARLOTTE — Steve Stricker, the U.S. Presidents Cup captain, has found himself in a bit of a quandary as the finish line for team qualifications appears on the horizon.
Phil Mickelson has played for the Yanks in each of the 11 editions of the biennial competition against an International Team comprised of players everywhere in the world outside of Europe. Further, the five-time major champion hasn't missed a Ryder Cup or Presidents Cup competition since 1993. That's 11 of each competition, a record, of course.
But the left-hander came into the 99th PGA Championship in 17th place in the U.S. points standings, and he didn't help his cause at Quail Hollow Club, missing the cut at 11-over 153, the second year in a row he has missed consecutive cuts in the majors after falling short in the British Open last month at Royal Birkdale. He also didn't compete in the U.S. Open because he opted to attend his oldest daughter's high-school graduation ceremony.
The top 10 American players on the points list after the conclusion of the Dell Technologies Championship on Sept. 4 qualify for to play in the matchs, Sept. 25-Oct. 1 at Liberty National in Jersey City, N.J. Stricker then will make two captain's picks to fill out the 12-man team.
Stricker, 50, couldn't help but laugh at himself recalling the conversation he had with the popular left-hander at last week's WGC-Bridgestone Invitational in Akron, Ohio, where Mickelson ended up T-39.
"He told me he wants to be on this team more than anything," Stricker said Friday at Quail Hollow Club. "I would love to see him on the team. But just like anybody else, I have got to see who is playing well at the time. I know he's struggling a little bit right now, but … I told him I would like to see him play well here on out to show me something basically. And that doesn't sound right coming from a guy like me talking to Phil. 'Hey, show me something.' That doesn't sound right. That's basically what I said. Show me that you are playing good at the end of the year. Because I would love to have him on the team."
Stricker, by the way, thanks to a late rally, carded a one-under 70 Friday for three-over 145 to extend his cut streak in majors to a world-best 26 dating back to 2010 (11 more than the next best player).
Providing Stricker a certain latitude was Jay Haas, the 2015 U.S. captain. Mickelson was 30th on the points list two years ago, but Haas saw the value in having the veteran on the team. Mickelson responded by scoring 3½ points, tied with Zach Johnson for best on the team, at Jack Nicklaus Golf Club Korea as the U.S. squeaked out a one-point victory.
But Stricker, an assistant captain under Haas in Korea and for Davis Love III during last year's U.S. Ryder Cup victory at Hazeltine National, won't be making the decision in a vacuum. He'll rely on his assistant captains, including Tiger Woods and current Ryder Cup captain Jim Furyk, and other players who are already a lock.
"Really, we need the best guys playing the best at the end of the year going forward," he said. "That's what we're going to be looking at. It's going to be a team decision with all the assistant captains. I have been on teams where the captain got the whole team involved in these couple of picks or three or four picks. I think it's important to get the whole team vested in those other two players that we're going to pick. I'll for sure run it by, all our assistant captains are going to have a say. We're all going to be on the same page in who we're going to pick."