News
PGA Championship 2017: One of the game's hardest workers, Hideki Matsuyama is close to one of its biggest prizes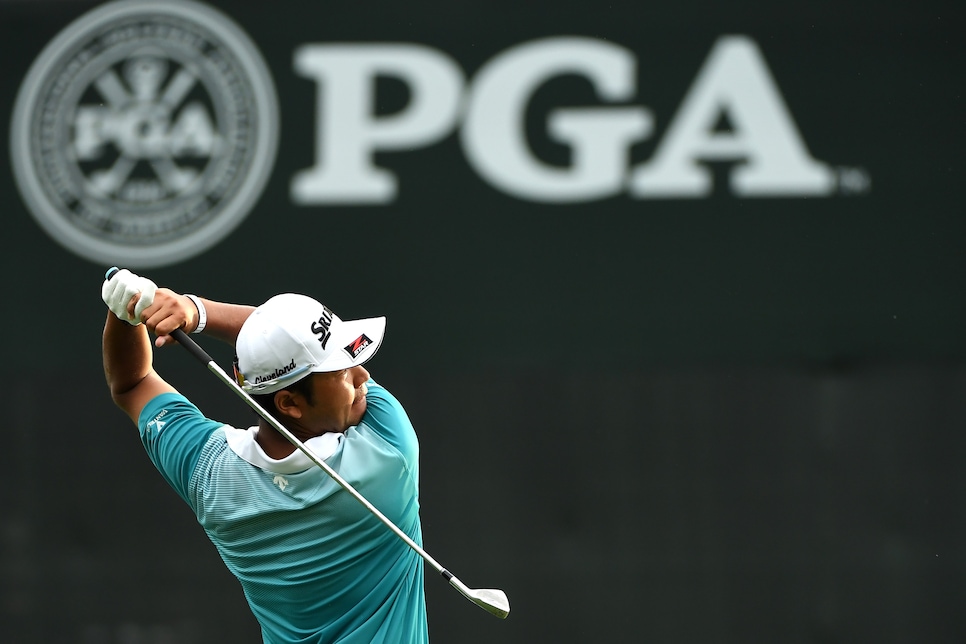 CHARLOTTE -- After Hideki Matsuyama dusted the field at last week's WGC-Bridgestone Invitational with a final-round 61 to win by five, Jason Day sent the Japanese star a text.
Day doesn't speak Japanese but the message was understandable in any language. It read, simply, "Congrats, mate. Unreal playing. See you next week." Matsuyama, whose English is improving, replied, "Thank you, JASON, see you at Quail Hollow."
The two have played a lot of golf with one another, both on tour and as teammates in two Presidents Cups (and soon to be a third later this year). What impresses Day most about Matsuyama is his ball-striking. It's obvious to anyone who has seen him hit a shot, with his rhythmic tempo, crisp strikes and pure power.
But in rising to No. 3 in the world and a share of the lead with Kevin Kisner through 36 holes of the PGA Championship following a bogey-free 64 on Friday, the 25-year-old has shown to have in a him a little bit of Ben Hogan, who notoriously often beat balls until his hands bled.
"It just looks like that guy right now has his priority set on playing good golf," said Day, who trails Matsuyama by two and will be paired with him and Kisner on Saturday. "Last week when he was winning that tournament, or even before he was winning that tournament, he's on the range and he's the last guy to leave. He's always putting. He's always doing something. He's working hard. And I feel like he's the hardest worker out here right now, just because he wants to win."
No player from Japan has ever won a men's major championship in golf.
The best finish by a Japanese player was a runner-up by Isao Aoki in the 1980 U.S. Open at Baltusrol, where he entered the final round tied with Jack Nicklaus and finished two back of the Golden Bear, who shot a 68 on the last day.
Aoki had five top-10 finishes in majors, second only to countryman Tommy Nakajima's six. Nakajima was tied for the lead on the 17th hole in the third round of the 1978 British Open at St. Andrews when he putted off the green into the Road Hole bunker, took four shots to get out and made a quintuple-bogey 9. His best finish in a major came a decade later at the PGA Championship at Oak Tree, where he finished third.
Matsuyama isn't sure what it would mean to become the first player from Japan to win a major.
Despite a stretch of golf that has netted six wins in his last 20 worldwide starts, including three this season, he's also not sure what effect his impressive play of late will have on his opponents going into the weekend at Quail Hollow.
"I don't know if the other players should be nervous or not," Matsuyama said with a shy smile that was anything but Hoganesque following seven birdies, including five in his last seven holes to pull even with Kevin Kisner atop the leaderboard.
Matsuyama isn't sure how he'll feel, either. It's the first time he has held the lead in a major championship.
"Being a new experience, maybe I'll be a little nervous," he said. "But on the other hand, I'm looking forward to the weekend and seeing how I do."
Though Matsuyama has a half-dozen top-10 finishes in majors, he has performed his best this year, trailing by just two strokes after two rounds of the U.S. Open at Erin Hills before finishing second for his best result in a major.
This week at Quail Hollow, he has hit 18 of 28 fairways, 25 of 36 greens and perhaps most importantly taken just 54 putts in what has long been the area of his game that he has struggled with the most.
"For him to realize that, you know, one of his weaknesses was his putting, and being able to strengthen that to where it is right now not only through what he's done but through the sheer hard work that he's put in, that's very impressive," Day said. "To be able to change that weakness into a strength now is why that he's so dominating right now in this current period that he's in. That's been impressive to see that."
It's all that work that might finally lead to Japan's first major champion.
As for how significant that would be?
"It's difficult to answer that," Matsuyama said sitting in the interview room on Friday night. "But hopefully, come Sunday, I can come back and visit you all here."
And if he does there will be plenty of messages waiting for him on his phone.