News
PGA Championship 2017: Kevin Kisner has the perfect response to everyone who says Quail Hollow is a bomber's course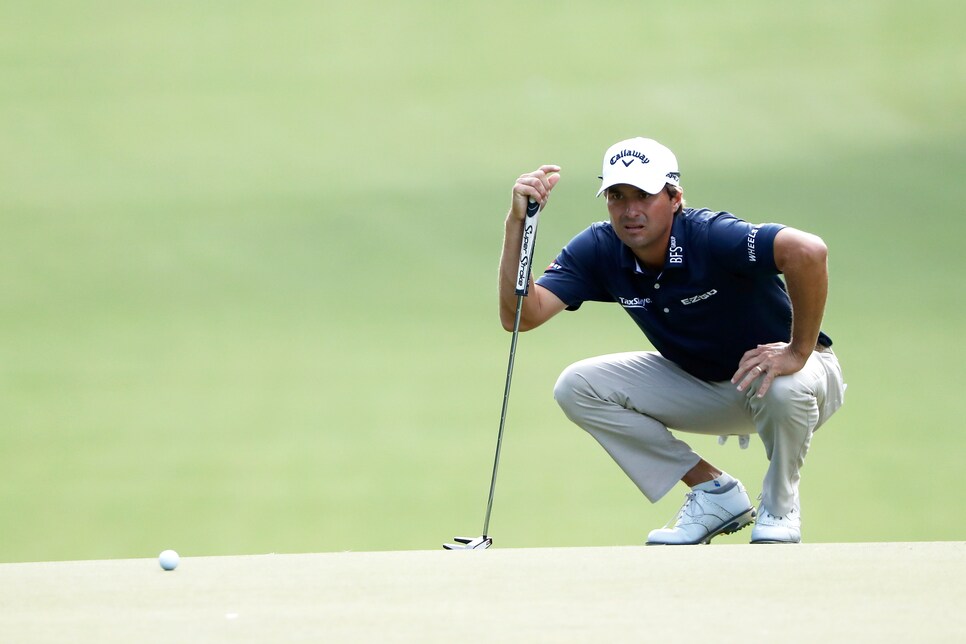 Sam Greenwood/Getty Images
CHARLOTTE — Kevin Kisner knows he's not one of the longest hitters on the PGA Tour. The 33-year-old from Aiken, S.C., also knows he has one win, six top-10 finishes and only three missed cuts in 22 starts in this his sixth full-time season on tour. Oh, and he's ninth on the FedEx Cup points list and 25th in the World Ranking.
It's why if you're surprised that he's tied for the lead after 18 holes at the PGA Championship, he certainly isn't.
The University of Georgia grad long ago came to terms with giving up distance (he ranks 127th on tour with a 288.3 yard average) for accuracy off the tee (15th at 68.2 percent). That was the strategy on Thursday at Quail Hollow Club, where Kisner had one goal in mind: hit the fairway. From there, he could try play the four holes he considered birdie holes (Nos. 7, 8, 14 and 15) and settle for pars on the rest.
Sure enough, he birdied all four, plus the par-4 sixth and par-4 18th. Save for bogeys on the fifth and 13th holes, Kisner considered it close to a perfect afternoon, posting a four-under 67 to catch Thorbjorn Olesen for the Day 1 lead.
"I felt confident," said Kisner, making his third start in the PGA Championship, his best finish a T-18 last year at Baltusrol. "I was hitting the driver nice starting out."
Growing up in nearby South Carolina, Kisner has a soft spot for Bermuda greens and rough, which is why he has taken a particular liking to the revamped Quail Hollow.
"I think it's great for the golf course," Kisner said. "I think it makes it play more difficult. The firmness [of the greens], you're going to be able to keep it more firm, especially this time of year. But I love putting on the surfaces. They are pure. … I just feel so comfortable, I don't feel like I have to read it and over read it. I can stand up and putt like I've grown up doing."
Conventional wisdom says the change in grass has rendered Quail Hollow a bomber's course. Kisner had to laugh when he heard that.
"I'm going to say every course we play is a bomber's course, anymore," Kisner joked, mindful of his skills.
What Kisner knows, however, is that length doesn't help if your ball has settled in the gnarly Bermuda rough. "It's brutal. I don't care how far they hit it," he said. So when he hit 10 of 14 fairways and 15 of 18 greens, plus needed only 24 putts, his 289.6 yard driving average on the day was plenty.
Kisner insists he'll have the same plan the rest of the week: Hit fairways, try to birdie the big four and play for pars on the rest of the holes. He'll takes his chances that come Sunday, he'll have the last laugh on everyone.