News
PGA Championship 2017: Gary Woodland is taking his emotional year in stride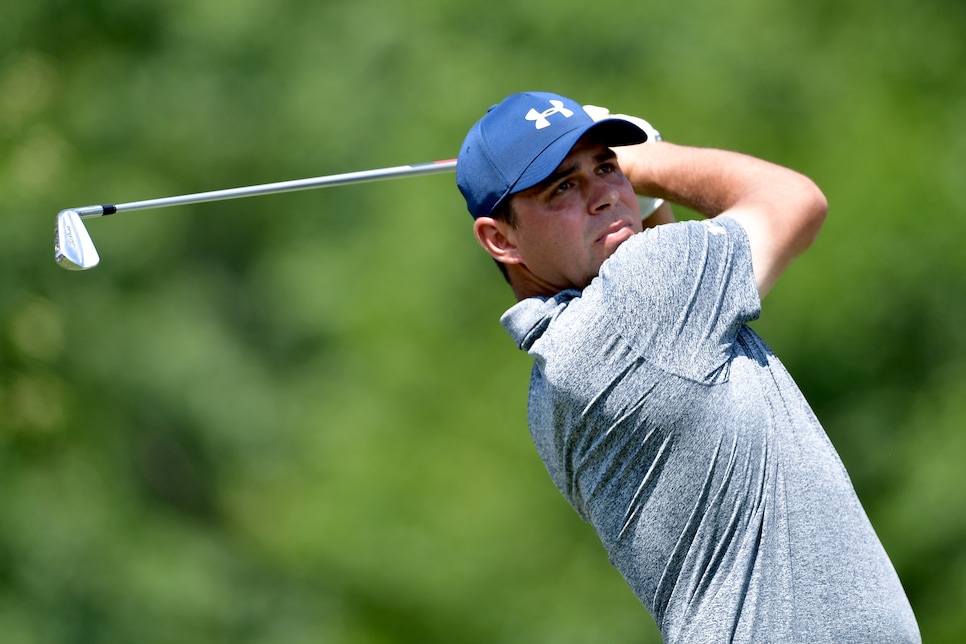 Stuart Franklin/Getty Images
CHARLOTTE — Gary Woodland calls this year the hardest of his life. Given what he and his family have gone through, one can understand why.
The 33-year-old and his wife, Gabby, were expecting twins but lost one of the babies in a miscarriage, forcing Woodland to withdraw from the WGC-Dell Match Play in March and take a step back from golf. In June, the couple welcomed the one-month-premature baby boy, Jaxson Lynn, who is healthy but needs constant treatment. Now after golf each day, Woodland has a new routine—Facetiming his wife while he's on the road so he can talk to Jaxson.
Woodland will talk to his family Thursday afternoon with a smile on his face following an opening-round three-under 68 at Quail Hollow Club. And Woodland talked to the media about his trying year briefly after his round.
"The struggles my wife has had to deal with, it's been hard for me to leave home," Woodland said. "It's a huge relief just knowing he's safe. For so long, we didn't know if he was going to make it before he was born."
Jaxson is now out of the hospital but is hooked up to a device at home to monitor the baby's breathing. Next week, he needs a surgery on a hernia. Woodland credited St. Luke's Hospital in Kansas City for delivering Jaxson successfully, and most especially Gabby for being with their newborn son each step of the way.
"It's a big relief on my wife having [Jaxson] home," Woodland said. "And it's tough for me because I want to be home."
Here's the photo Woodland shared when Jaxson was born.
No one could blame Woodland for his struggles on the course this year. The big-hitting Kansas native hadn't finished inside the top 40 since April until a fourth-place finish two weeks ago at the RBC Canadian Open. He credited finding something with his putter -- and he continued to work on site at Quail Hollow, seeking some advice from Brad Faxon and Steve Stricker earlier in the week.
Woodland credited a session with Stricker for freeing up his stroke, which translated to the stellar round at Quail Hollow that puts Woodland just one off the early lead.
"I've worked with [Stricker] a couple of times, [we talked about] a lot of setup stuff," Woodland said. "The day before a major, it's all about freeing it up."
So was Woodland surprised to play so well on Thursday? Given his track record on the George Cobb layout, which includes a T-4, T-18 and T-24 finishes in the past three years, Woodland was excited for this week.
Based on his family life straightening itself out, there's relief now for Woodland on the course. And so far, it's showing.