News
Pettersen spends time with Norwegian kids
When a crazed gunman went on a rampage that took the lives of over 70 people at a Norwegian youth camp outside Oslo on July 22, world No. 3 Suzann Pettersen was in the middle of playing the Evian Masters in France. She finished the event with a "broken heart" and a black band around her arm, and spoke of the devastation and she felt for her hometown and country. This week, Pettersen got to tell the golfing youth of Norway in person.
Seven years ago, Pettersen and the Norwegian Golf Federation launched the Suzann Junior Championship, an annual national tournament for boys and girls between the ages of 13 and 16, with the primary goal of developing junior golf in Norway. The two-day stroke-play finals of this year's event took place Monday and Tuesday at Pettersen's home course, Oslo GC, and the LPGA star was there to meet with the players and hand out trophies. "I really hope I can help inspire the kids to work hard and enjoy golf," she said. "Oslo GC is is probably the leading Norwegian club when it comes to working with juniors, which is great to see."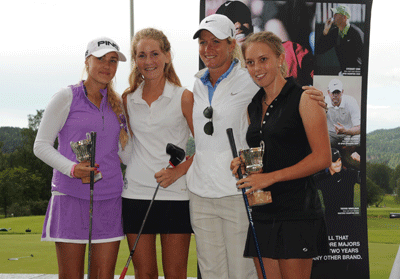 Pettersen, fresh off a convincing win at the Ladies European Tour's Ladies Irish Open last Sunday, is often credited with single-handedly making golf popular in her home country, and the Suzann Junior Championship is the cornerstone of her success. She's added some unconventional touches to the event that no doubt keep any talk of golf being a stuffy sport at bay (for instance, a disc jockey plays music on the course during and after play, taking song requests from the participants). Despite the recent national tragedy, all such light-hearted elements were kept in place to lighten the mood at this year's finals, and the galleries were larger than those at the last Norwegian LET event.
Pettersen, who will lead the European team in her sixth Solheim Cup next month at Killeen Castle in Ireland, the same course at which she won Sunday, says she hopes her efforts will ultimately result in more Norwegian girls earning spots on the Solheim team in years to come. "Hopefully I'm helping them see that you really can succeed," she said. The top two female players in the Suzann Junior Challenge received an invite to visit Pettersen at her home in Florida in the off-season and practice with her for a period of time.