News
Peter Uihlein's victory in Web.com Tour Finals opener gives him PGA Tour exemption ... and options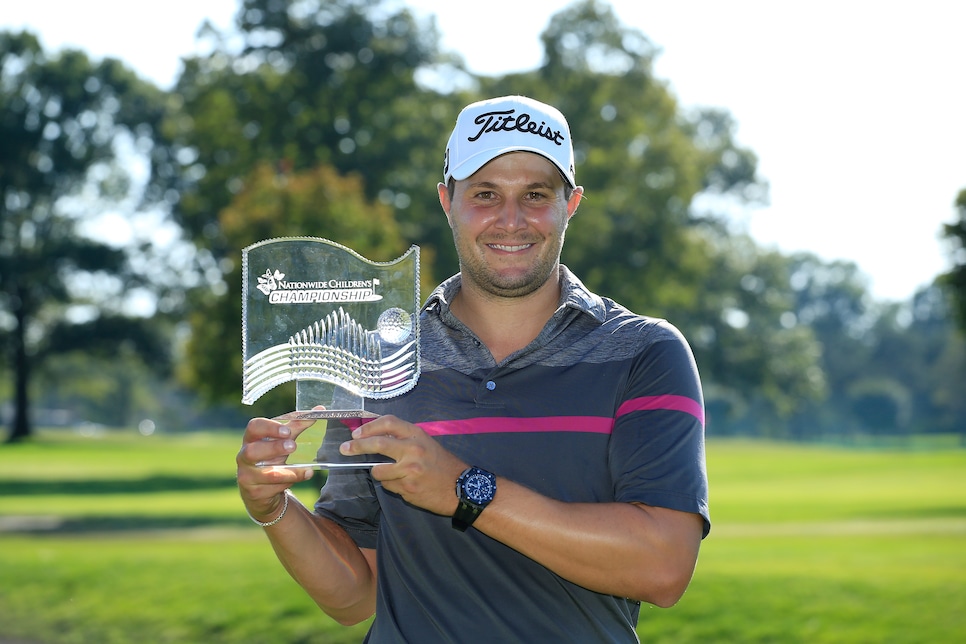 COLUMBUS, Ohio — The professional golf odyssey of Peter Uihlein didn't end Sunday with his victory in the Nationwide Children's Hospital Championship. It only became more complicated.
Which is a nice problem to have.
Destined for the PGA Tour since an All-American career at Oklahoma State and a victory in the 2010 U.S. Amateur, Uihlein finally earned his exempt status with a one-stroke triumph over local favorite Ryan Armour in the Web.com Tour Finals opener at the Scarlet Course at Ohio State University Golf Club.
And he had no idea how he was going to use his newfound status.
Uihlein, who turned 28 last Tuesday, has competed primarily in Europe since he turned professional in 2012. And in the immediate aftermath of his third professional title, he wasn't inclined to alter his plans of another autumn abroad.
"I have to sit down and really look at the schedule," Uihlein said after firing an "efficient" six-under-par 65 to blaze past Armour, a former Buckeyes golfer, to finish at 14-under 270. "There's so many good events now in Europe. The Rolex Series they created … phenomenal. So many events you don't really want to miss, because there's countries I love going to, events I like playing, courses I really enjoy over there. It's really tough. I just don't know. I don't know next year's schedule in Europe. I haven't looked at the PGA Tour schedule. I don't know where I'm going to be playing, but I know I'm going to try and do both and we'll see what happens."
Thanks to three top-25 finishes this season in seven tour events, Uihlein earned enough FedEx Cup points to qualify for the Web.com Tour Finals as a non-member. Bryson DeChambeau took the same route to a tour card last year when he captured the DAP Championship in Cleveland.
The top-25 money winners from the four-event finals earn PGA Tour cards for the 2017-'18 season. With his $180,000 first prize, Uihlein is a lock after he overcame a four-stroke deficit to nip Armour with an impeccable round in which he missed just one fairway and one green. Still, he needed a little help, which Armour supplied when he bogeyed the 72nd hole after missing a 40-footer.
Uihlein, who had previously competed in this event twice as an amateur, still was digesting the ramifications of the victory. Additional finals starts could ensure a high priority ranking in the coming PGA Tour season, and the winner of the finals earns a berth in the Players.
Not that he was planning to use his exempt status much this fall.
The only PGA Tour event he envisioned entering is the WGC-HSBC Champions in Shanghai, China, in late October, which also is an official event on the European Tour. "That'll count for both," he said. "[But] I haven't even looked at next year's schedule. Like, I have no idea when the last [finals] event is. I don't know when the first event is [on the PGA Tour]. I don't have a clue. I don't know anything."
Well, he does know he is ready for some American cooking. At least part time.
The epiphany struck him after competing in the Shell Houston Open, where he finished T-23 and then flew home to Jupiter, Fla., in time to watch his beloved Boston Red Sox—Uihlein is a Massachusetts native—play the New York Yankees.
"Yeah, this is the first year I've really, really wanted it," he admitted. "First time in my professional career I was home on a Sunday night after playing on a Sunday. Never once have I done that. You kind of like to sit back and be like that's pretty convenient. Boys are doing it all the time. That kind of hit home a little bit. So, I was like, I really kind of want to at least get my PGA Tour card so I can have moments like that when I can spend a little time at home with my girlfriend and two dogs."
Ah, but the world still beckons. Uihlein, the son of Wally Uihlein, longtime CEO of Acushnet, parent company of Titleist, feels like a more grounded individual thanks to the frequent-flyer miles he's accumulated the last five years.
"I've been very fortunate with my upbringing and who my father is, the opportunities I've had," Uihlein said. "Bradenton in high school [at the IMG Academy] I was in a bubble. I go to college at Oklahoma State, you're in a bubble. All of a sudden my first event as a pro, I end up on a plane to India. You go there for the first time, really not leaving the country very rarely, and all of a sudden you go to India, totally different. It's a different world, different cultures. Just a different environment. You get to see things I never would have seen if I didn't leave America. Like I said, it's just some places that are just phenomenal.
"We play an event this year in China where you can see the Great Wall of China. Incredible."
So, what's next? Well, it could be Boise, Idaho, in two weeks for the second finals event. No walls, but great potatoes. Uihlein wasn't sure, but it's all gravy. Golf's renaissance man hasn't done much domestic reconnaissance, his mind programmed for the Alfred Dunhill Links Championship at St. Andrews followed by the Italian Open on the European Tour.
But again, he's in an enviable position. And after recovering from surgery for a ruptured ligament in his left wrist in May 2016 and retooling his game to commit to hitting a fade—after playing a draw most of his career—he believes he has the game for wherever he ventures next. Beating a quality field on a tough track is "nice validation," he said.
"This year in particular, with the way I've tried to change my game, I've become a lot more consistent," Uihlein said. "It's a good feeling to know that I can play golf just hitting it in one direction and eliminate one side of the golf course, which is something I've been just absolutely hammering. I really like where my game is headed."
And that's the most important direction of all. No maps or compasses needed. His game is headed upwards.