The Loop
Peter Uihlein's road less traveled paying off
Peter Uihlein took the road less traveled, but it was longer than the one, say, Jordan Spieth took to the PGA Tour. Spieth went to the University of Texas before turning pro halfway through his sophomore year and in less than a semester locked down full exempt status for the 2014 season. He didn't have to travel much beyond Pebble Beach or Hilton Head to get full playing privileges in his home country.
Uihlein, 23, went to Oklahoma State, won the 2010 U.S. Amateur, and instead of going the sponsor-exemption route, got his passport and took off on a European Tour work-study program to places like India, Kenya and Kazakhstan. This was the same path Adam Scott took from the suggestion box of the same people who advised Uihlein.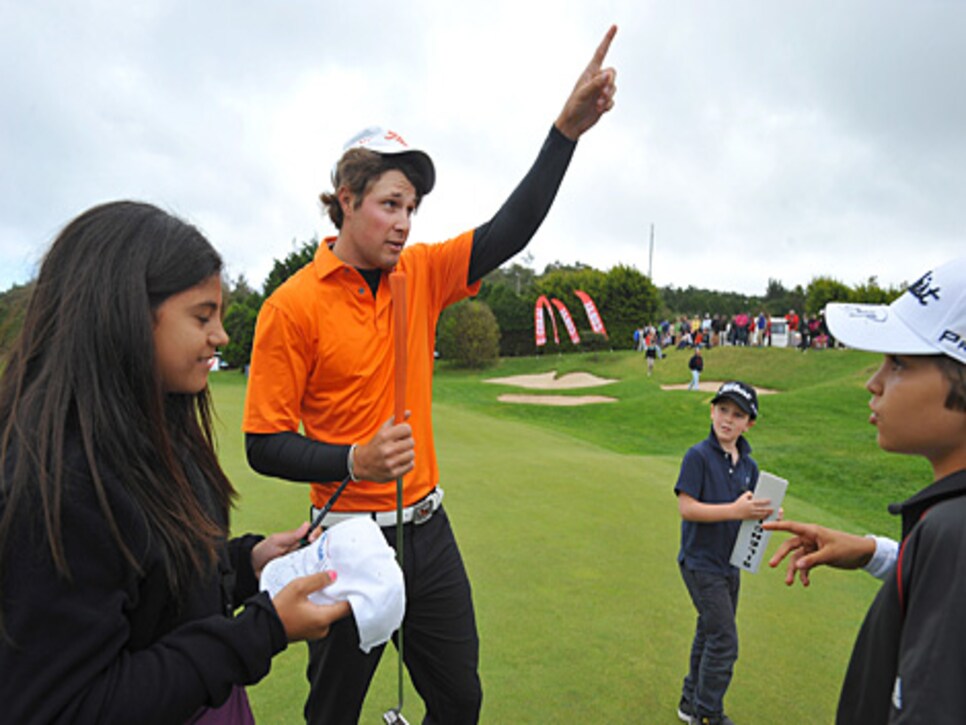 Butch Harmon, who has been teaching Uihlein, and Peter's dad, Wally Uihlein, CEO of the Acushnet Company, who signed Scott to a Titleist deal when he turned pro in 2000, presented the idea. The famed European agent who signed Uihlein, Andrew (Chubby) Chandler, mapped out a schedule.
Uihlein, who won the Madeira Islands Open yesterday, was all in. Just as Scott believed it paid off before his Masters victory, so too did Uihlein before his first pro win. "It's hard not to listen to guys like that who have been around the block," Uihlein said before going out to celebrate with Brooks Koepka, with whom he shares an apartment in Florida. "I think it made sense even before I won today. Look at all the guys who started over here. It's just different being an American and doing it."
There were stumbling blocks early on, none worse than a trip to Morocco in March 2012 for the Trophee Hassan II that ended after an opening-round 83. Uihlein took nine weeks off during which he spent three weeks at Harmon's home in Las Vegas with Butch and wife Christy. "I really believe a young guy who comes out has it too easy on the U.S. Tour," Harmon said. "To go and play on the European Tour where the weather is bad, the courses different and the travel difficult, you become a better, well-rounded player in the long run."
The win gets Uihlein into this week's BMW PGA Championship at Wentworth and with a European Tour card secured, it has him looking at sponsor exemptions in the U.S. this summer. It also gives him bragging rights on Koepka, the Florida State graduate who won a European Challenge Tour event on May 5. They share an apartment in Palm Beach Gardens with Matt Broome, who is playing the Minor League Tour.
From his American base, Uihlein works out at PGA National with the same trainer as Stacy Lewis (Dave Donatucci) and works on his game at Floridian with Claude Harmon III and Old Palm GC, where Chandler has an office.
"This was quite a big win," Chandler said from his home in England. "He's been brave enough to do things differently when he could have had a lot of starts in the States, but he stuck to his plan. The idea was to learn the game before tackling the PGA Tour."
The road may have been less traveled, but it's leading Peter Uihlein back where he belongs.