The Loop
Peter Senior's long-iron clinic has him in front at Harding Park
SAN FRANCISCO -- During the Charles Schwab Cup Championship, not on Twitter, it felt like "Throwback Thursday" listening to Peter Senior describe how he shot a first-round 63.
At TPC Harding Park, a par 71 of 7,127 yards for the 50-and-over set's season-ending tournament, the long iron was alive and well in the fine opening salvo by Senior, who at 5-feet-6 is far from a power hitter.
Senior, a 54-year-old Australian still looking for his first Champions Tour victory, had nine birdies, an eagle, three bogeys and five pars Thursday to take a one-stroke lead over David Frost with Fred Couples another shot behind. Three of his birdies came after 4-iron approaches; two others after requiring a 3-iron to reach the green.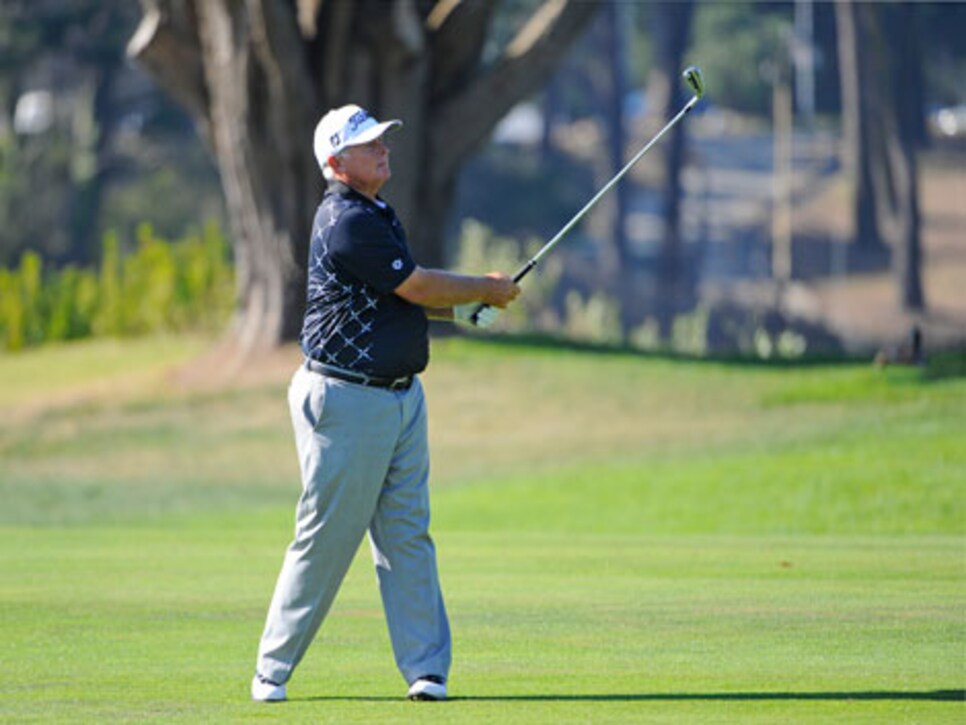 It was no surprise, then, that Senior said it was "probably the best round of golf that I've played this year" as he tries to recover the consistent form that had left him in recently. "The last couple of months have been pretty poor."
Despite having not won yet on the Champions Tour, Senior has two victories against younger competition since he turned 50. He won the 2010 Australian PGA Championship and the Emirates Australian Open last year. He will journey from California to Queensland for the Australian PGA next week.
"It's only 10 minutes from my house," Senior said of the Australian PGA. "I arrive on a Wednesday and tee it up on a Thursday. I'll be a little buggered, but I always enjoy playing tournaments at home. [The travel] is nothing we haven't done before. Australia and South Africa are always the same -- they've got their tours at the end of every season and if you want to go home and support your own tour that's what we've got to do."
Senior, who has averaged 268.2 yards off the tee this year, said the venues Down Under have negated the length of his stronger foes. "You have no idea how far they hit it past me," Senior said. "But [the tournaments] have been on courses where length doesn't matter. Last year at the Aussie Open, at The Lakes, these guys would have been hitting irons off tees, and I'm just blazing away with my driver, so there wasn't as much of an advantage."
As for the rest of the tournament at Harding Park, Senior knows his long irons will be busy.