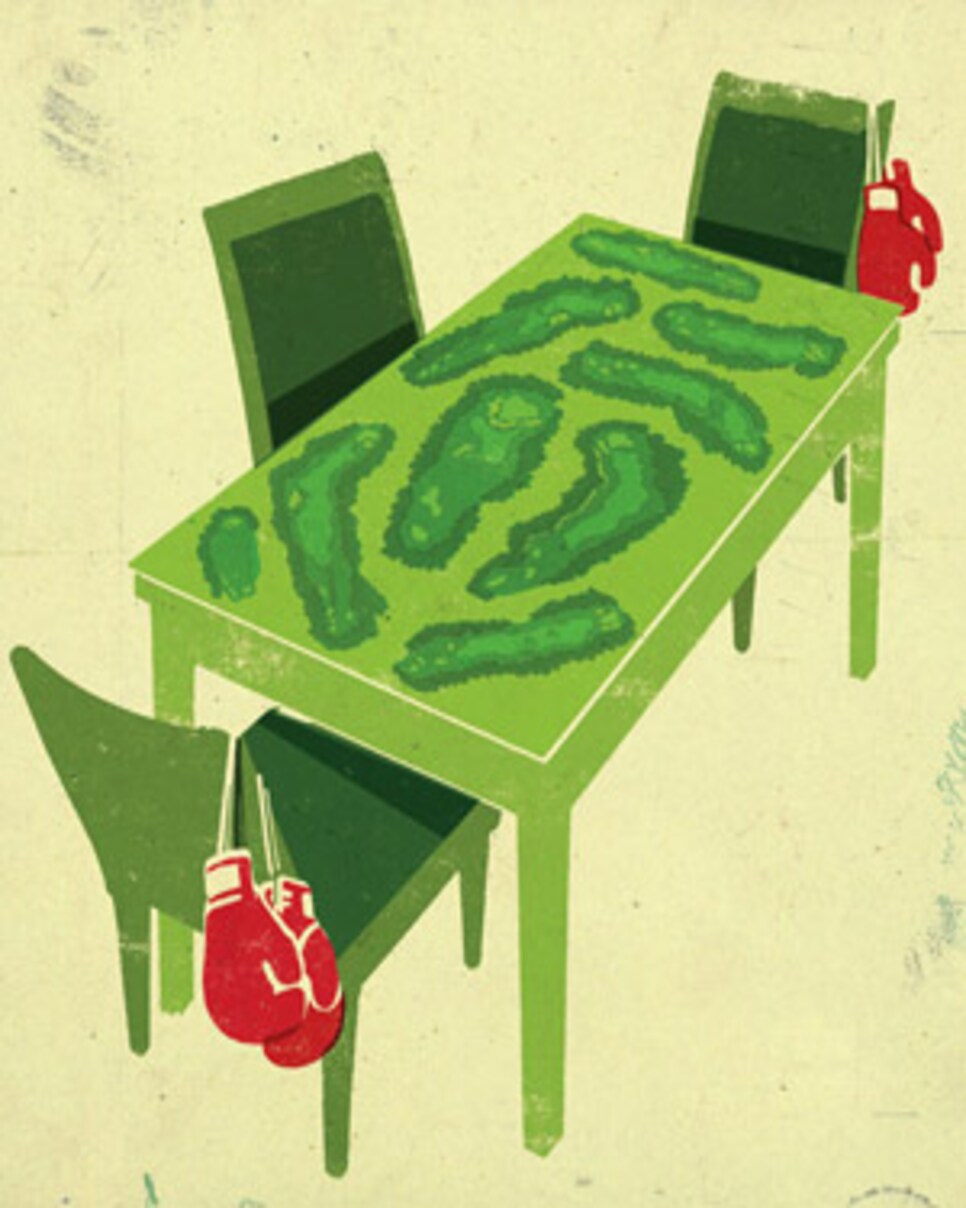 As golfers we're responsible for knowing and following the rules of the game. We're even supposed to call violations on ourselves. This spirit of fairness and integrity allows golf, unusual among sports, to be played almost entirely without referees or other supervision.
Then we step off the course and back into the real world.
Here, the rules are much more ambiguous and the spirit of the game, such as it is, seems to be "win at all costs." No wonder so many golfers and golf-related businesses are tangled in bitter disputes these days.
The last three or four years have brought a "dramatic increase" in golf lawsuits, says Michelle Tanzer, a Florida attorney who has specialized in golf-industry law since the late 1980s. "When the economy took that terrible turn, to some extent the golf industry suffered even more than most. The timing of the recession and the supply of golf intersected in a way that sparked more conflicts." She describes the battle lines as "across the board," with people squaring off over "construction contracts, management and operator contracts, members versus club disputes, developers versus clubs and members..." Connecticut attorney Rob Harris has started a blog about these conflicts, golfdisputeresolution.com. Here you can look up skirmishes by type of dispute, whether it's "country club membership" or "injuries" or "quirky and unusual," or by region. In 2011 and 2012, he has reported on conflicts in 43 states, Washington, and nearly 20 international locales.
The pinnacle of legal disputes in golf right now is the Club at Cordillera. Members of this high-end Colorado club sued owner David Wilhelm in 2011, claiming they paid $8 million in annual dues because of his promises to open all four of its courses. Instead, he opened only one and laid off some 40 staff members. Wilhelm in turn sued the club's property-owners associations and a few individual members. His argument: They are trying to run him out of business. The case is scheduled for trial next spring. The club filed for Chapter 11 bankruptcy protection in June.
On top of all that, Fitch Ratings this spring downgraded the Cordillera Metro District's debt, citing the ongoing lawsuit and the fact that the property owners account for about 20 percent of the district's general government revenue. So in addition to infuriating members and hammering area real-estate values, the dispute is likely to add to the local government's borrowing costs.
Rob Harris and Michelle Tanzer belong to a small group of lawyers trying to eliminate ugly, drawn-out disputes like this--or at least reduce their number. They've joined with the American Arbitration Association to create a special panel on golf-industry dispute resolution.
Their chief goal is getting more people in the golf business to consider alternatives to court battles, starting with mediation and arbitration. "Part of the thinking was, Let's get some people involved who know the game," says Kent Frandsen, an Indiana attorney who helped write the group's recommended best practices. "Otherwise you could get an arbitrator who doesn't know the difference between a hockey stick and a golf club."
In mediation, the parties in a dispute hire a neutral person to help them reach an agreement that satisfies both. The mediator generally plays no role in deciding what the settlement should be. In arbitration, the neutral person hears both sides of the argument (much like a judge or jury would) and makes a ruling that is usually binding. It cannot be appealed. Unlike a court settlement, arbitration proceeds are confidential and not a matter of public record. There are costs associated with using a mediator or arbitrator, but it's usually far cheaper than going to trial. And far faster, often taking months to resolve when a typical court case can take years.
Henry DeLozier, principal in the consulting firm Global Golf Advisors, is sold on it. He envisions a day when most clubs require mediation or arbitration in all documents, including member bylaws.
"Think about the attitude of golfers," adds Tanzer. "We don't attack the other guy. We play the course. Why attack the other guy in a dispute? Our message is, let's sit down at a mediation table and see if we can come to a resolution of our problem. It's at the core of golf."
Alternative dispute resolution, or ADR to its fans, has helped reach settlements in some notable recent golf disputes. These include the four-year battle between Las Vegas entrepreneur Bill Walters and the investors who bought his Stallion Mountain Golf Club; an elderly woman with Lou Gehrig's disease who was injured on the steps outside California's Crosby National Golf Club; and golf pro Dave Stockton, who won the right to the domain name stocktongolf.com.