News
Pete and Alice Dye's new 18-hole putting course consists of replicas of their famous holes—for a good cause
The legacy of Pete and Alice Dye will be their tremendous contributions to championship golf-course designs both through their own work and their mentorship to many of the game's great modern architects. To continue their legacies, the Dyes are proud to announce their newest course -- an 18-hole putting course that will open at the Indianapolis Children's Museum next March.
This project, the Pete and Alice Dye Golf Experience, is a featured part of the Riley Children's Health Sports Legends Experience opening up in downtown Indianapolis next spring. The project also features contributions from the Indianapolis Colts, the Indiana Pacers and an Indy 500 track in what the museum hopes to be a national model for youth and sports.
Access to the golf course will be $12 to $35 for regular admission, $2 per person for Indiana families who receive qualifying state assistance and free for any residents from the surrounding six inner-city neighborhoods.
"This is one of our biggest challenges and greatest joys because I know we're creating a legacy of family togetherness and love of the game that drove and inspired us throughout our entire life together," Pete Dye said. "Alice and I have figured out how to build golf courses in cornfields, meadows, on edges of cliffs, in swamps and in coal country, but we've never built on concrete with environmentally sustainable turf in the middle of a city."
Each hole at the Golf Experience is replica of a hole at one of the Dyes most famous course designs, including the par-3 island 17th hole at TPC Sawgrass, The Ocean Course at Kiawah Island, Harbour Town, Whistling Straits and others. Though the longest hole on the course is 110 feet (modeled after No. 6 at The Honors Course, No. 32 on Golf Digest's 100 Greatest ranking), each hole is meant to model the original with hazards imitated by artificial turf -- even colored blue for water and the color of sand for bunkers.
Here's the layout of the course: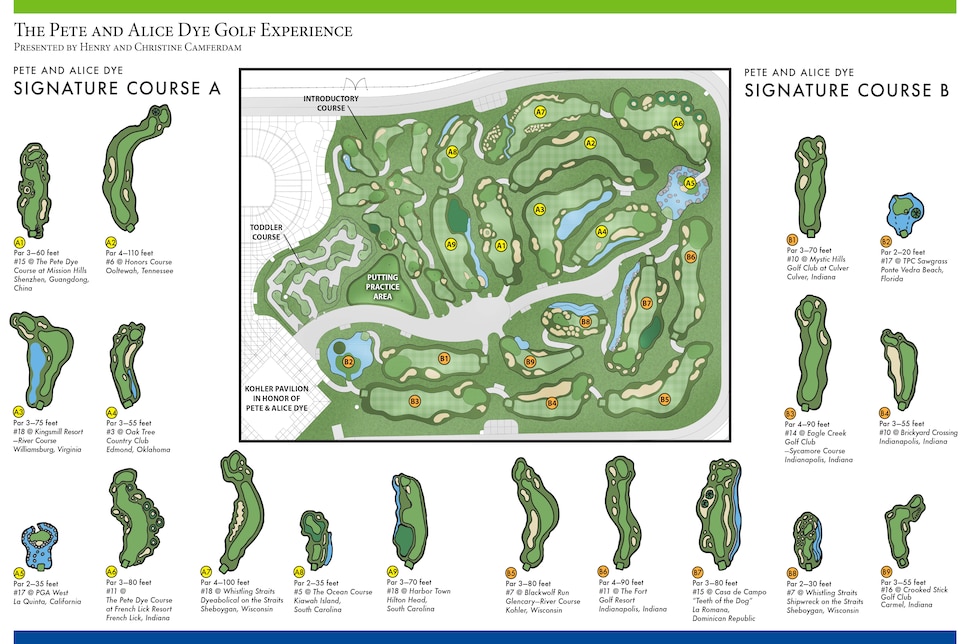 There will also be Pete and Alice Dye bronze statues included amongst other Indiana sports legends, along what the museum has dubbed the "Avenue of Champions." Other legends to be honored are Larry Bird, Reggie Miller, Hank Aaron (played for the Negro League's Indianapolis Clowns), Wilma Rudolph, Oscar Robertson, Reggie Wayne and Wayne Gretzky, who started his career with the Indianapolis Racers of the World Hockey Association.
Sitting across seven-and-a-half acres, the entire project cost $38 million from start to finish. The golf course sits on about a quarter of the land.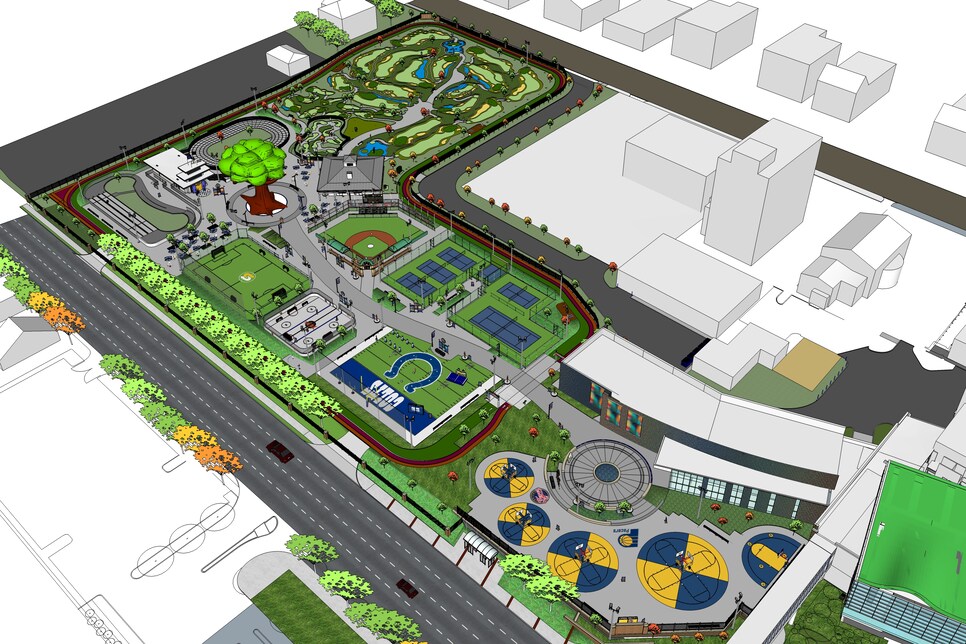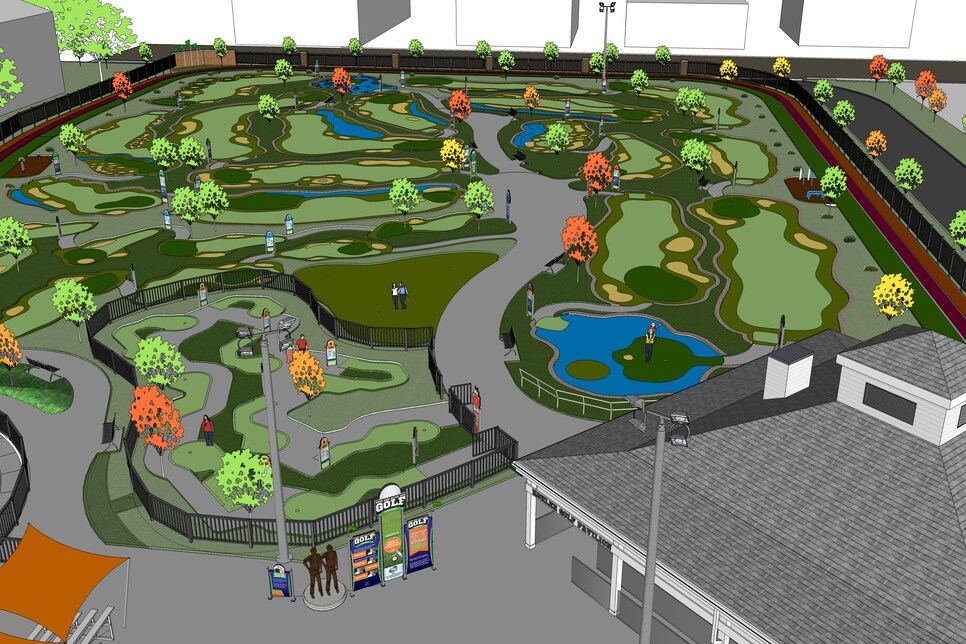 As Alice Dye said: "This course is something I think all of us are promoting—family togetherness in a sport in which families can grow together. The Children's Museum will be the first of our courses to have holes that are focused on putting and are accessible to people of all ages and abilities."
And we have this classic photo of Pete and Alice high-fiving each other on the golf course.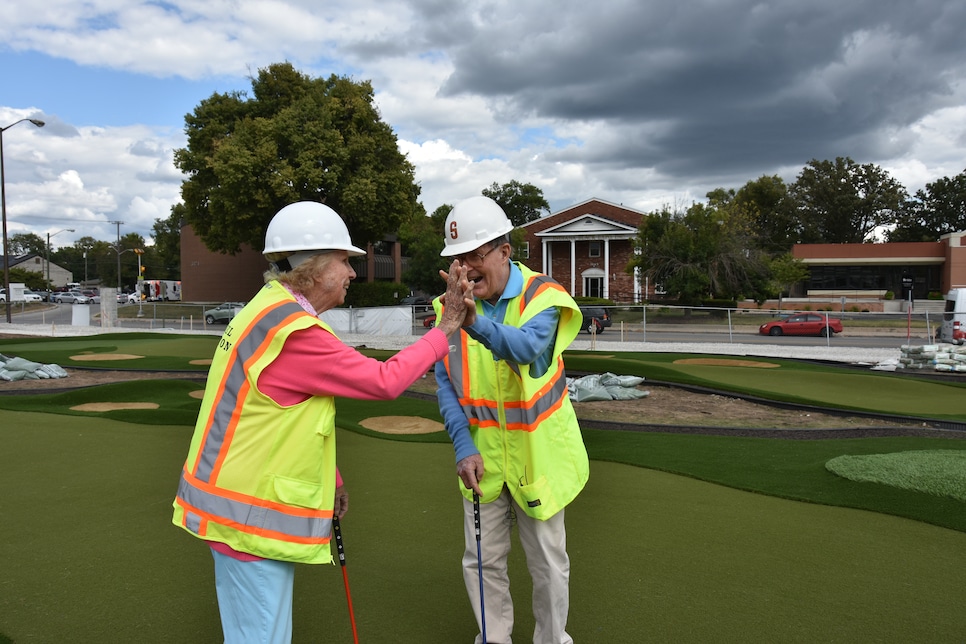 You can watch drone footage of the facility here.