News
Pernilla Lindberg does the improbable, beats Inbee Park on eighth playoff hole to win ANA Inspiration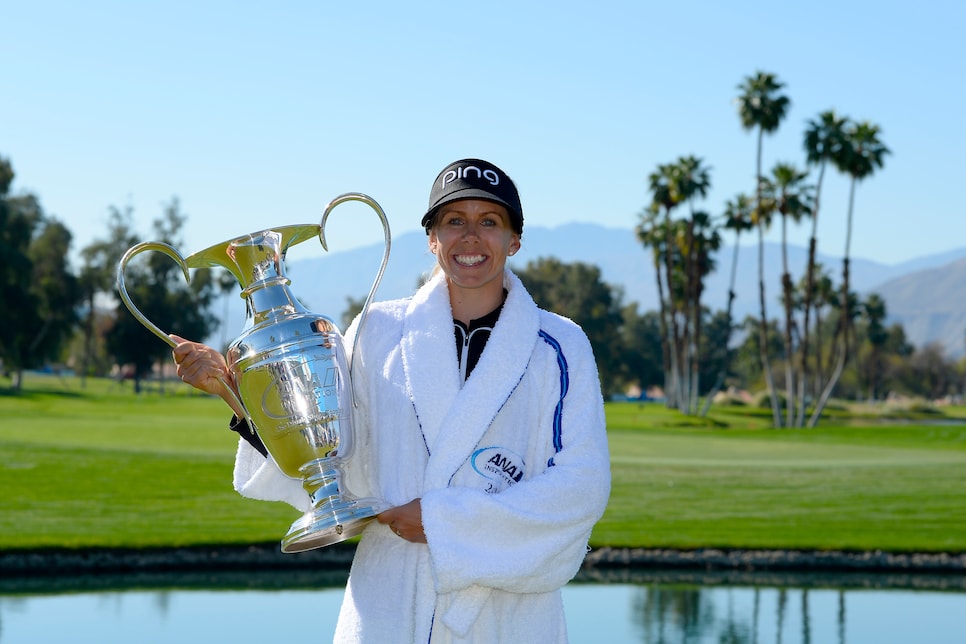 RANCHO MIRAGE, Calif — This was a 16 seed defeating a one seed, a Y.E. Yang felling Tiger Woods, the improbable — the impossible? — dream that contributes to the mystique of sports. On any given Sunday, as it goes, or in this case on any given Monday.
On this Monday, a warm, sunny morning in the California desert, a Swedish upstart, Pernilla Lindberg, winless as a professional, ranked 95th in the world, did what was unimaginable, defeating one of the best in the game, potentially in history, Inbee Park, on the eighth playoff hole to win the ANA Inspiration.
"I remember writing some goals probably right when I got to high school," Lindberg said, "writing about the dream scenario, and it would be to obviously win a major championship and leave a mark in history. But at the same time it felt like too big of a dream to come true, but it has."
Lindberg, 31, turned it into reality with a sustained exhibition of putting prowess as good as any in the history of the this tournament, notably on Sunday. She holed seven straight par putts, none of them tap-ins.
"Today she's the best four to five-foot putter I've ever seen," Judy Rankin said on Golf Channel on Sunday evening.
On the sixth playoff hole, the par-3 17th on the Dinah Shore Tournament Course, she holed an eight-foot par putt to stay alive.
Then the coup de grace, on the 10th green, the eighth hole of a playoff that began on Sunday and was suspended by darkness after four holes. Lindberg's 30-foot birdie putt hit the back of the hole and dropped, eliciting a fist pump. Moments later, Park, one of the best putters on the LPGA, missed her 20-foot birdie attempt to prolong the playoff.
"The putt Pernilla made on the last was a champions putt," Park said. "You really can't beat that."
Park has first-hand knowledge of that. A winner of 19 LPGA tournaments, seven major championships and an Olympic gold medal, Park was an overwhelming favorite to dispatch Lindberg early, but she was unable to shake her.
"I just know I'm a grinder," Lindberg said. "I said yesterday, I just felt this is mine. I'm going to do this. I just knew I could, and I just kept fighting away. I couldn't believe when that last putt went in.
"But the first thing I said when I holed that last putt was I know Inbee's going to hole hers too, so I started thinking about the 17th hole [the next on the playoff-hole rota] again, but she didn't. It was mine."
Journeymen aren't supposed to topple legends, aren't supposed to win majors, much less lead them. Yet Lindberg either led or shared the lead after each of the four rounds.
"I just looked at every day as the same thing again," she said. "And today, even though it was a playoff, I just felt like I went out, did my same routine, and every night I've just been doing my routine. I just felt so calm. I felt like this could be mine."
Perpetually optimistic, she discarded the fact that she had played 250 professional events on the Symetra Tour, the Ladies European Tour and the LPGA and never knew victory.
She does now, memorably and dramatically introducing herself to it here on Monday morning.