The Loop
Peggy Kirk Bell 'used golf beautifully'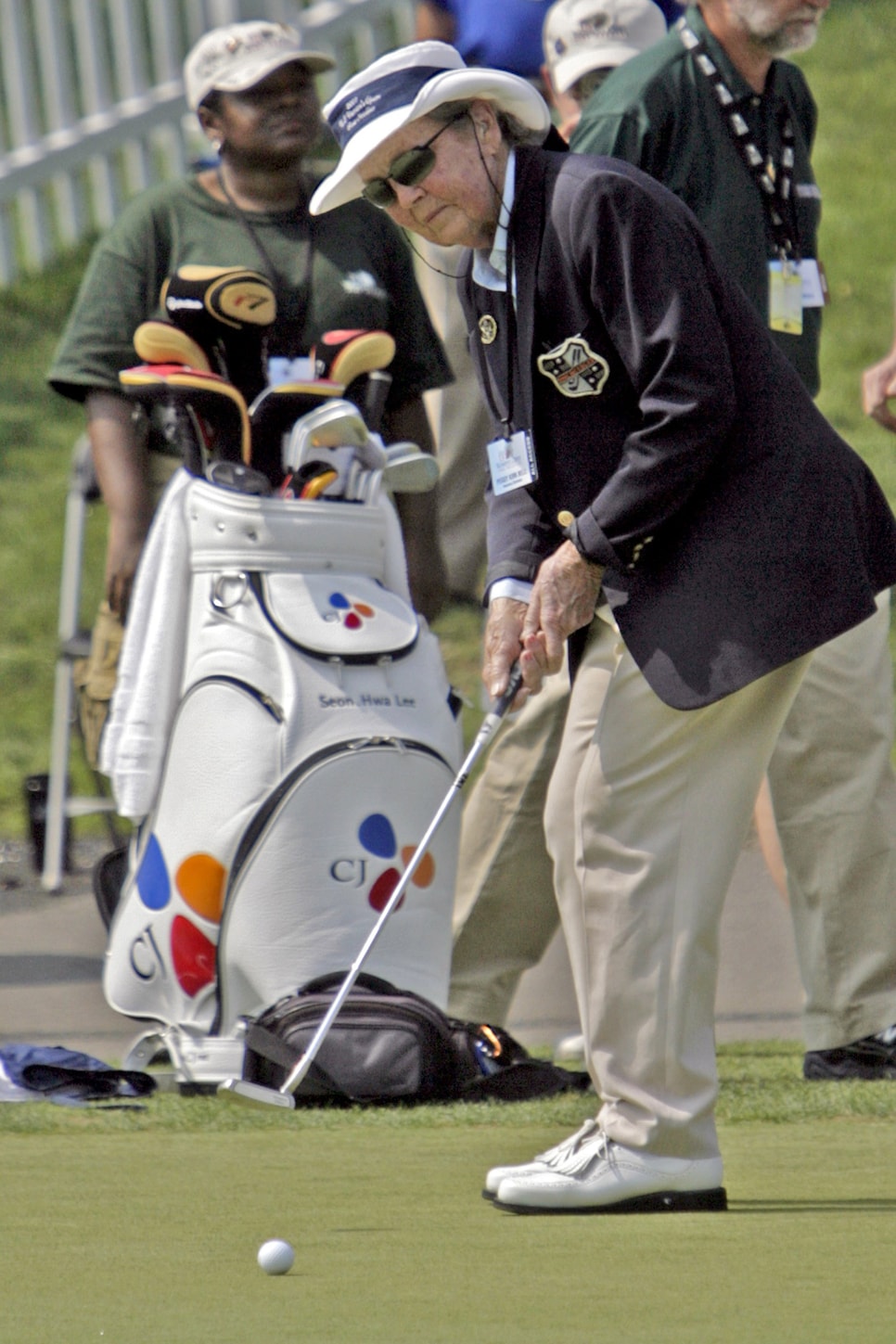 Peggy Kirk Bell was of a special breed, a minute number of those from her orbit who believed that golf gave them far more than they could ever repay in kind. She even dismissed the notion that she was worthy of a legacy, citing a playing record that was good, but not great.
She was wrong, of course, as the outpouring of sympathy in the wake of her death on Wednesday showed.
"So sad to hear the passing of Peggy Kirk Bell. She was an extraordinary lady, passionate golf instructor & caring friend. #legend," Annika Sorenstam Tweeted, this, perhaps, as good a summation as 140 characters allows.
"Pioneer" and "ambassador" were the words most often associated with Kirk Bell, who was a tireless advocate on behalf of golf generally and women's golf specifically.
"One of the women [who] truly set the standard that we have tried to follow for 66 yrs," LPGA Commissioner Mike Whan Tweeted.
Kirk Bell was 95 and relevant virtually until the end, still making rounds and offering advice at golfaris, as she called her golf schools for women, safaris of golf, at the Pine Needles Lodge and Golf Club she owned in Southern Pines, N.C., since she and her late husband Warren Bell purchased it following their marriage in 1953.
An Ohio native, Kirk Bell initially made her mark as a competitor, whose first notable victory came in the International Four-Ball in 1947, when she partnered with Babe Didrikson Zaharias.
"I was nervous," Kirk Bell told Dr. Kendra Brown, "and, in a practice round, Babe asked what was wrong. I said, 'you have won the last seven tournaments you played in and I don't want you to lose this one with me.' Babe said, 'I can beat any two of them without you. I'll let you know if I need you.'"
Kirk Bell also won the North and South Women's Amateur and Eastern Amateur, was a three-time Ohio Amateur champion, and was an amateur when she won the Titleholders Championship, a women's major championship, in 1949. She also was a charter member (though not a founder) of the LPGA.
It was through her instruction that she had her greatest impact. Included in the seven Halls of Fame in which she's been enshrined are the LPGA Teacher and Club Pro Hall and the World Golf Teachers Hall.
"Bell was the personal embodiment of the history of golf," Luke DeCock of the News & Observer in Raleigh, N.C., wrote. "She knew everyone, lived through everything, quickly earned the respect of everyone who met her, the kind of person who knew Donald Ross and could talk about offhand comments Herbert Warren Wind used to make – about her."
Wind, she said, once told her, "You've used golf beautifully."
Her career spanned seven decades through which her friends ranged from Didrikson Zaharias and Ben Hogan to Arnold Palmer and Jack Nicklaus and to Annika Sorenstam and Cristie Kerr, the latter two winners of two of three U.S. Women's Opens held at Pine Needles.
Hogan, incidentally, taught her a proper grip, which became the foundation of her instruction. Ultimately, the game had a proper grip on her and never let her go.
Call it even, then. Golf gave her her life and she gave her life to golf.