News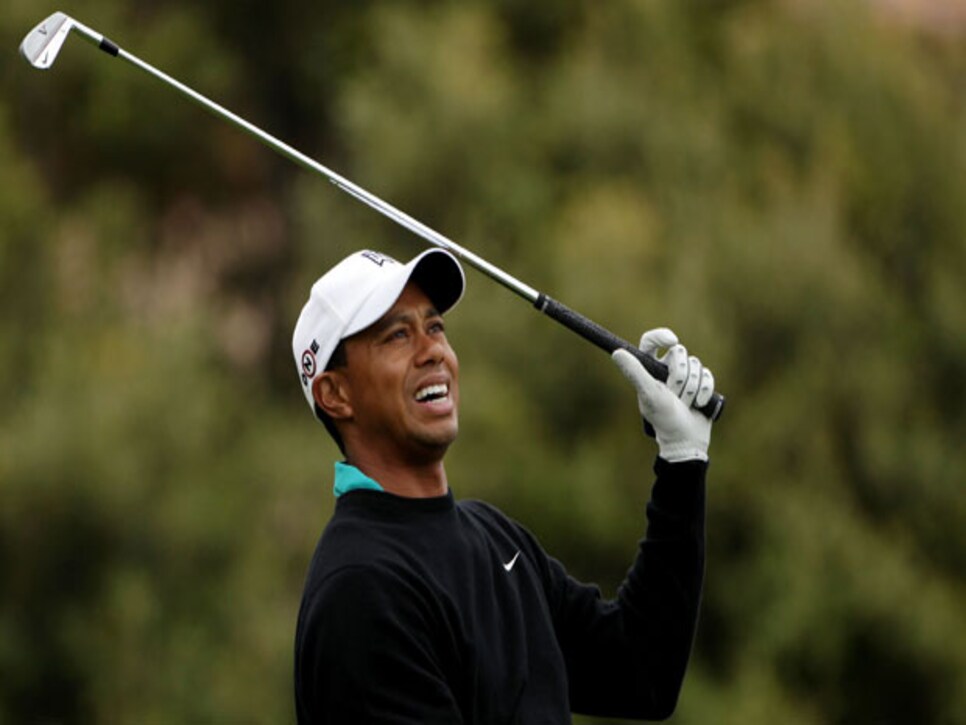 Woods has looked frustrated at times during his first two rounds.
PEBBLE BEACH -- If body language came with captions, television would have had one long expletive deleted when showing Tiger Woods' second round at the U.S. Open. Or, at the very least, the broadcast would have had to carry a warning stating: "Caution, What You Are About to See May Bum You Out." There are never a lot of yuks at a U.S. Open, but Woods walked the course Friday as if he were on his way to root canal.
Tiger was, at various times, angry, frustrated and confused as he fell seven strokes off the pace with a lackluster 72 that put him at four-over-par 146 after 36 holes. As odd as it is to say, even as Woods stepped to the tee on his final hole of the day -- the treacherous ninth with a fairway that hugs the edge of the Pacific -- there was a haunting sense of doom that he was still only one bad swing from missing the cut.
On the plus side, Tiger has managed his game extremely well through two rounds at Pebble Beach, avoiding the kind of costly mistakes that are always lurking at a U.S. Open. On the negative side, his iron play has been inconsistent and his putting has been less than ordinary. Most concerning on slick U.S. Open greens, Woods' stroke has a tentative nature to it that seems to scream: "Please don't leave me with a five-footer coming back."
Teeing it up shortly after 8 a.m. under cool, overcast skies with no wind while dolphins broke the surface of Stillwater Cover and dove for their breakfast, Woods was aware conditions were right for him to make waves of his own. This was an opportunity to throw some fear at the field by putting up red numbers early.
On Thursday, Woods had birdie putts on the first 10 holes and was one over par thanks to a lot of squandered opportunities -- putts that never even scared the hole -- and a three-putt bogey on No. 9. So on Friday, when he missed the green on the first three holes and was one under par, thanks to a chip-in for birdie on No. 11, his second hole, it seemed as if he might make a charge up the leader board. That feeling didn't last long.
"We knew there was a good round to be had because there was no wind early," Woods said after his round. But he never found any momentum. Woods followed the birdie on No. 11 with a bogey on No. 12 when he plugged his tee shot in a bunker on the par-3 and grunted a frustrated "Argh" when all he could do was blast the buried ball to 20 feet to give back the birdie with a bogey.
Woods made another birdie with a six-footer on No. 14 -- the longest putt he had made up until then -- but gave that back with a bogey on No. 17 when he missed the par-3 green well to the left. When Woods began walking after his par putt on 17 virtually the instant it left the club face the body language seemed to be screaming, "I haven't a clue on these greens."
Any chance to gain ground was squandered when he made back-to-back bogeys -- the first when he was forced to lay up from a fairway bunker on No. 2 and the second after an unplayable lie penalty on No. 3. There was one more birdie -- from 10 feet on No. 7 -- but his chance to build on that was frittered away with an exceedingly weak effort from 20 feet on No. 8.
"I'm going to have to make a few more birdies," Woods said when asked to assess his chances going into the weekend. "I think I only made, what, three in the first two days. I'm going to have to make a few more over the weekend to win."
Another bit of body-language dialogue going on involved the interaction between Woods and his caddie of 11 years, Steve Williams — which was not a lot. There were times when it seemed as if neither knew what to say to the other, almost as if Williams were dealing with a player with whom he is not familiar -- which may very well be the case. Woods is not playing like Woods.
On No. 14, while the threesome of Woods, Lee Westwood and Ernie Els was waiting in the fairway of the par-5 to play their second shots, Woods engaged in conversation with Westwood and his caddie. Williams, meanwhile, stood 20 yards away with his back to his boss, staring silently straight ahead.
Asked if he was happy with his position, Woods said: "Absolutely. I just need to keep progressing and keep moving up the board. It's a long haul. The U.S. Open is not going to get easier as the week goes on, especially on the weekend."
That seemed to be Woods' way of saying, "I've been here before. I've won three of these suckers. I know how to get this done" That may be what the words are saying, but it is not the message of his body language. Tiger Woods looks like he's waiting somewhat impatiently for a tardy friend to arrive. In this case that would be his A game, the kind of game that wins the U.S. Open.