News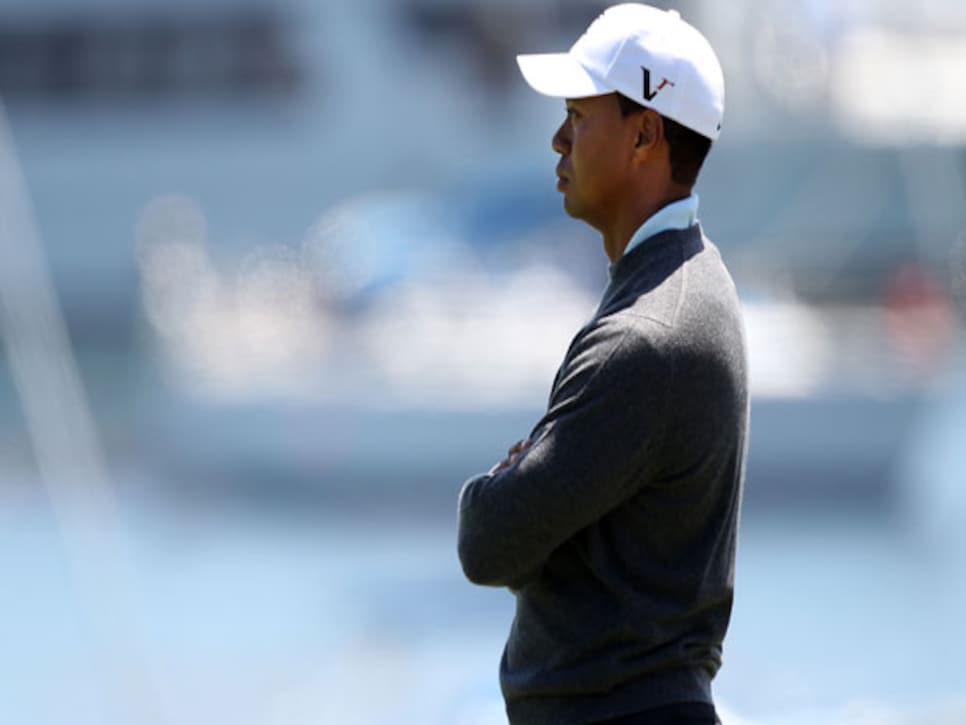 Woods heard some heckling during his 3-over par 74.
PEBBLE BEACH -- Imagine if it were New York. It could have gotten really ugly. After Tiger Woods drove to the ninth fairway at Pebble Beach on Thursday in the first round of the U.S. Open, California mellow was apparently drowned in a late afternoon ocean of alcohol, and the best and most embattled player in the world became the target of the worst heckling incident since his return to competition at the Masters in April.
"It is our business Tiger," a male voice called out in apparent reference to Woods' marital issues. "You made it our business." A couple people booed the heckler, but most just stared at Woods in fascination, waiting for his reaction. Woods gave no indication he heard the hateful words, but after starting his round with eight consecutive pars, he made a three-putt bogey on No. 9 and closed his round with two more bogeys in the last three holes to post a three-over-par 74, five strokes off the lead.
"I heard it," Woods said when asked later about the heckler. But when asked if the incident contributed to the three-putt he said, "No, God, no."
Woods' opening round was nine strokes higher than the 65 he shot in the first round of the 2000 U.S. Open at Pebble Beach on his way to a record 12-under-par and a record 15-stroke victory. This is clearly a very different Tiger Woods than that version a decade ago, playing not with aggressive abandon, but rather with the goal of defensively managing his round.
Woods performed well and was never in serious trouble, but he putted poorly and when it came time to close out the round, made a three-putt bogey on No. 16 and another bad bogey from the middle of the fairway on the par-5 closing hole. Magic was in short supply. In fact, it was totally missing.
"I three putted twice and laid up in a bunker," Woods said, assessing his round. "Those are mistakes you just can't afford to make. I felt like I played very consistent, very patient, and I hit a lot of shots how I wanted to hit them. And I placed the ball in the correct spots."
The entire threesome of Woods, Ernie Els and Lee Westwood -- all considered contenders for this title -- played at low energy and far from form, Els shooting a 73 and Westwood a 74. There was not a lot of chatter in the group and even fewer birdies. Woods, in fact, made none, although he had several very makeable looks at birdie on the front nine.
But as the round went on, Woods became even more tentative, several times leaving putts short and low as if he were living in fear of the 4-footer coming back. You could almost see the lack of confidence in his hands as he was over the ball.
Woods, who has been wild with the driver in all four of his tournaments this year, dealt with that problem by taking the big stick out only four times. But at barely more than 7,000 yards Pebble Beach is a layout Woods -- and most players -- can handle without resorting to the driver much more often than that.
This performance by Tiger had very much the feel of someone who was trying not to lose the tournament on the first day by making any bad mistakes. In that regard, it was a successful effort. The 74, while certainly disappointing, in no way played him out of the tournament. And the fact that two-under-par 69 was the best anyone could muster indicated the field is going to remain tightly bunched all four days.
Back in 2000, there were many who left Pebble Beach on Thursday feeling the U.S. Open was already over. That's how dominating Woods' performance was. Now, instead of imposing his will on the golf course and making birdies, he seemed, instead, to be wishing for pars.
There are two cautionary tales that were told during Woods' round Thursday and they whispered of flaws in his game that started to surface last year, well before the events of Nov. 27 put his personal like on a public stage.
One of those cautionary tales involves the fact that putts that for 13 years had been finding the bottom of the cup are now staying out. And the other involves Woods' very un-Tiger-like inability to close out rounds. Remember at Bethpage last year when late bogeys in both the first and fourth round sabotaged his chances? Remember the PGA Championship when Y.E. Yang outplayed him down the stretch?
As Woods walked away from the 16th green Thursday with a three-putt bogey, it was impossible not to flash back to that same green in the final round of the 2000 U.S. Open. With a 13-stroke lead, Woods rammed in a 15-foot par saving putt and punctuated it with a demonstrative fist pump. He said later that putt mattered so much to him because he had set as his goal for the day to make no bogeys, a device he said he created so that his focus wouldn't fade with such a big lead.
On Thursday on No. 16, he left a 20-foot birdie putt four feet short and then missed the par save. As the second putt curled low of the hole, Woods angrily swiped his putter over the ball and proceeded to mutter to himself.
On the next hole, his 12-foot birdie try straight up the hill never had a chance. And on No. 18, after driving to the fairway with an iron, he hit his layup into the bunker, played his third over the green, chipped poorly and missed an 8-foot par putt. Not the way we usually see Woods finish off a round. Or at least not the way we used to see him.
Is Tiger Woods out of this U.S. Open? Not by a long shot. But he is going to have to make a lot more putts over the next 54 holes than he made Thursday, and he is going to have to build his confidence by closing out the next couple of rounds strong.
One thing Woods does not want to have on his mind Sunday should he find himself with a chance to win is the memory of a series of late bogeys. And who would have thought we would ever say that about Woods?
Perhaps this isn't the same Tiger Woods who won here in 2000. But, for entirely different reasons than then, he is still one of the most fascinating athletes to watch. In many ways, after what we saw Thursday, if Woods hoists the trophy on Sunday it may be an even more remarkable accomplishment than the miracle he performed here a decade ago.