News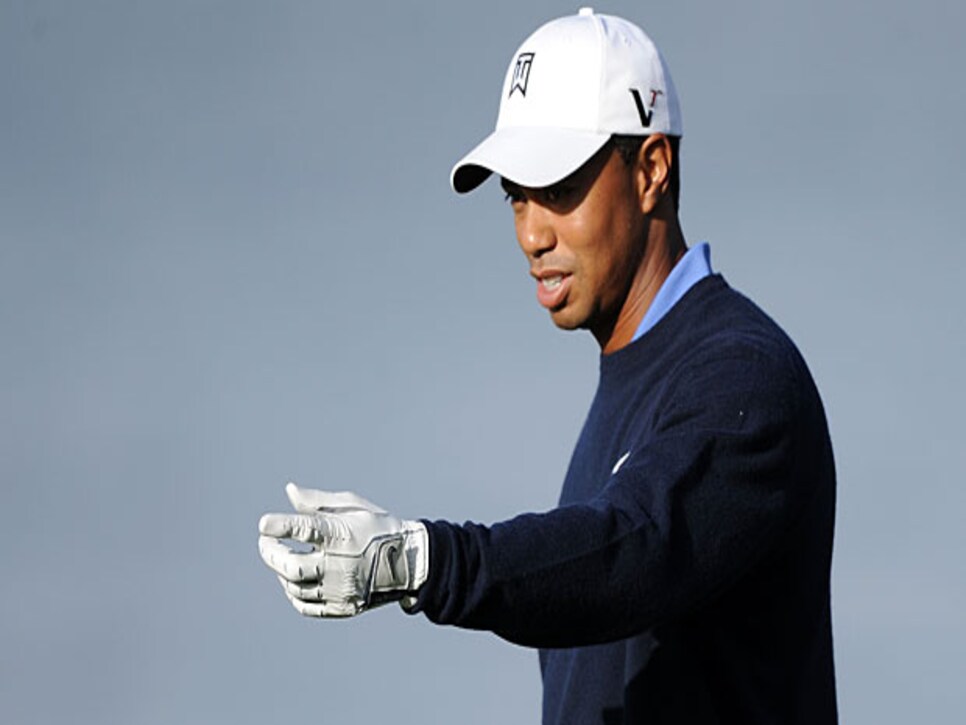 Woods hasn't looked close to the same player who won the 2000 U.S. Open at Pebble Beach by 15 shots.
PEBBLE BEACH, Calif. -- In the history of sports, there are few performances that compare. Bill Walton's 21-for-22 shooting in the 1973 NCAA Championship basketball game, perhaps, or Sandy Koufax striking out the last six batters in his 1965 perfect game. But part of what makes championship golf special is that greatness must be achieved not on one magical night but over four grueling days.
That's why what Tiger Woods did here in the 2000 U.S. Open stands out as one of the most remarkable in the history of sports. That effort comes into clearer focus -- and takes on even more meaning -- when placed within the context of where Woods' game stands as we go into this year's national championship.
What Woods did a decade ago on this seaside links that clings to the Monterey Peninsula is even more mindboggling now than it was then. The numbers in the record book appear almost as if a misprint: 12 strokes under par, 15 shots clear of anyone else in the field.
In golf, you have to go back to the 1870 British Open at Prestwick to find anything comparable. That's when Young Tom Morris toured 36 holes in 149 strokes to defeat David Strath and Bob Kirk by 12 strokes. Over the next 20 years in which the British was still competed at 36 holes, no one came closer than six strokes to that 149, despite constant improvement in equipment.
And when the format changed to 72 holes in 1892, it took until 1904, and an entirely different golf ball, until Jack White posted a 296, the first score to break the 298 Young Tom's score would project to over four rounds. That is the standard against which Woods' 2000 effort at Pebble needs to be judged.
Interestingly, and perhaps even unfairly, 2000 is also the standard against which Woods will always be judged. In addition to the record-setting performance at Pebble Beach, he won the British Open at St. Andrews by eight strokes and the PGA Championship at Valhalla in a dramatic playoff over Bob May, becoming the only male other than Ben Hogan in 1953 to win three majors in the same season.
In a way, Woods was like Orson Welles writing and directing "Citizen Kane" when he was 26 years old or Bob Dylan writing "Blowin' in the Wind" at 22. Woods painted his masterpiece at the age of 24. It was and likely will remain his single greatest season. That reality takes on even more meaning now when you consider the question marks surrounding Woods' game as he comes into this U.S. Open.
On the Monday after the Memorial two weeks ago -- the last tournament in which Woods played -- TigerWoods.com, the guy's official website, blared this headline: "Tiger Snares Tie for 19th at The Memorial." My, how the bar has been lowered.
After a series of efforts that raised questions about the mechanics of Woods' swing, the health of his body and his mental ability to focus in the light of the personal distractions swirling around him, the man who has always said he plays to win was content just to play four rounds.
Tiger's fourth-place finish in his return at the Masters in April now appears in the rearview mirror to have been the product of an adrenaline rush fueled by the excitement of being back after five months away from competition. The new reality of his life likely didn't sink in until his next tournament -- the Quail Hollow Championship.
Woods missed the cut -- badly -- at Quail Hollow and then, well out of the hunt, quit on the seventh hole of the final round of the Players, citing a neck injury. At the Memorial, he continued to play erratically, especially with the driver, missing nearly half the fairways -- occasionally with a 3-wood.
That is not the way you want to come into the U.S. Open. The way the rough is this week at Pebble Beach it is going to be difficult to contend if you don't drive the ball in the fairway. That is made especially true by the typically fast greens, unusually firm fairways and many shaved collection areas that are going to make up-and-down par saves extremely difficult.
So this thought crosses the mind: Is it actually the case that Tiger Woods is coming into the U.S. Open with a better chance of missing the cut than winning the championship? Based on what we have seen from him over the last three tournaments, the answer seems to be yes.
That said, there are few athletes in any sport who find motivation in as many places as Woods. Yes, his swing mechanics are off, but he possesses more physical skill than almost anyone one else who has played the game. And yes, while it may be an overstatement to say Woods is fighting demons, he is dealing with distractions. But in this area, too, he has special skills.
Standing near the third tee at the Players last month, I watched as Woods hooked his tee shot into a bunker on the par-3. Over my shoulder, a British colleague said into my ear with classical English erudition: "Well now, it's like watching just any other player, isn't it? Nothing special here." Those words have resonated in my head ever since.
They are an accurate assessment of the situation, and they are a large part of the reason why this could be an extremely compelling U.S. Open. Woods won here in 2000 playing at his best -- playing as well as anyone has ever played. In many ways, it would be even more remarkable -- and an even greater testimony to his ability -- if he could win playing the way he has since returning at Augusta National.
Nick Faldo once told me: "Golf is not about the quality of your good shots, it is about the quality of your bad shots." What he meant is that it's easy to score well when you are playing well, the real challenge is to score well when you are struggling. That's the challenge Woods faces this week. If he meets it, this could rank as one of his greatest achievements -- truly Young Tom Morris-like.