News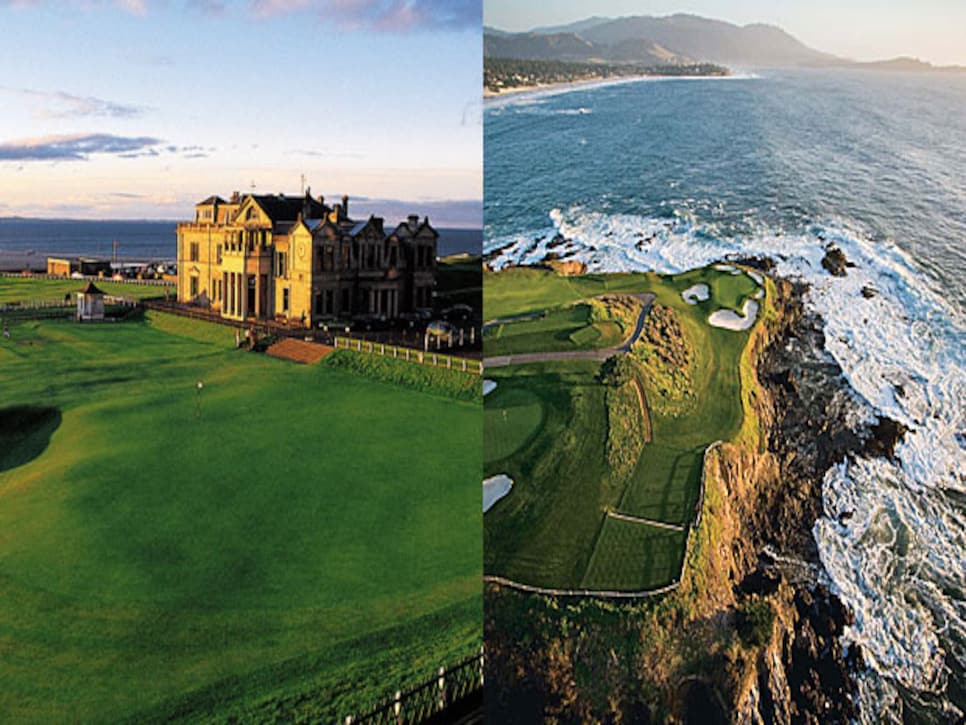 2010 will see St. Andrews (left) host the British Open after the U.S. Open is staged at Pebble Beach (right).
Was it cosmic coincidence or tacit orchestration? What does it matter? We should simply rejoice that over the next two months, the two greatest public golf courses in the universe are the hosts of the two greatest golf championships. In the middle of June, it's the U.S. Open at Pebble Beach Golf Links on the Pacific coastline of California. Six weeks later, it's the British Open at the Old Course of St. Andrews, Scotland, up against the North Sea. It's a double triumph for everyone who plays the game as a passionate recreation. We start a new century comforted by the fact that the two courses deemed the best tests for the game's greatest players are also open to lesser golfers like us.
OK, so neither course is truly accessible these days. Pebble requires a reservation a year in advance and a small bank loan for the green fee. The Old Course rations out tee times via a lottery, and its green fee is rapidly approaching three figures, sterling. But both are achievable dreams, rare Open venues from which ordinary people can actually take divots.
What's fascinating is that these two layouts have so much in common. Both are products of Mother Nature, with bits of assistance from designers better known for their playing skills than their artistic ones. Both are old-school out-and-back routings with the 12th tee box farthest from the 18th green. Both are constantly exposed to sea breezes that can become ocean gales at the drop of a flagstick. And both have figured prominently in the career of the greatest golfer of all time. Jack Nicklaus collected two majors at Pebble: the 1961 U.S. Amateur and the 1972 U.S. Open. He also won two majors at St. Andrews: the British Opens in 1970 and 1978.
Both courses have vocal critics. Many scoff at St. Andrews' fishhook design, with every hole parallel to another, with three-quarters of its trouble on the right and the rest dead ahead, hidden from view. Still, the architecture of the Old Course has been studied for generations. It's a textbook in alternative routes, with every hole offering at least two avenues. The safe left-hand route normally leaves an awkward approach, while taking dead aim down each fairway is fraught with peril but abundant in rewards. Its design is so insightful that the Old Course has been the taproot of nearly every course built in the 20th century.
Pebble Beach also has its share of detractors. Many think the course possesses a satanic routing: six great holes, six ordinary ones and six bad ones. Take away the stunning Pacific Ocean setting, some say, and Pebble Beach becomes rubble. Those opinions have less credence this year, given that one par 5 will play as a stern par 4 and a new Nicklaus-designed beachfront par 3 will see its first U.S. Open competition. Pebble Beach now has nine out of 18 holes right on the ocean, and the Pacific Ocean isn't going anywhere except inland, at the rather alarming rate of three inches a year.
In some regards, the courses are polar opposites. Golf has been played on St. Andrews' turf for more than five centuries; Pebble is only 81 years old. The Old Course has more bunkers--112 compared to Pebble's 92--but far fewer greens, just 11 instead of the customary 18, with seven enormous ones doing double duty (only the first, ninth, 17th and 18th holes have their own green). Pebble's 18 greens, by contrast, are uniformly tiny. Pebble is all panorama and Technicolor, and a single round on it leaves an indelible memory. The Old Course is sepia toned, and a round on its pancake terrain is usually one of frustration, beset by quirky bounces and hidden bunkers.
So it raises the question: Which of these two marvelous Open sites is truly golf's supreme public course? We could simply observe each championship this summer, then draw a conclusion. But that would involve some unacceptable variables, such as poor weather, lucky putting and a fluke winner.
We prefer to pit the two courses against one another, an architectural match play. St. Andrews has the honor, for it is customary to recognize age before beauty.
• __The first hole__at St. Andrews is a 376-yard par 4 with a ridiculously wide fairway, but the approach must carry Swilcan Burn, just six feet wide but edging the front of the green--a testy shot when the wind and flagstick are both up. Pebble's first hole is five yards longer, and hemmed in on both sides by guest quarters. Not many spectators will see opening shots at Pebble. The whole auld grey town of St. Andrews can watch the action on its first tee. St. Andrews therefore goes 1 up.
• Second. A routine par 4 at St. Andrews, no hidden pot bunkers within the fairway, just gorse along the right. The second at Pebble Beach is a weak par 5 that'll be a strong 484-yard par 4 for the Open. Pebble's is better. Match is even.
• Third. Short par 4s at both courses. Halved; match remains even.
• Fourth. At 464 yards, this is the longest par 4 on the outward nine on the Old Course. Pebble's 331-yard fourth has lots of bunkers and a tiny green, but is basically a clambake. The hole goes to the Old Course. St. Andrews, 1 up.
•__ Fifth.__ One of just two par 5s at the Old Course (the other is the 14th, which runs parallel in the opposite direction). It's 568 yards, with the game's original Spectacles Bunkers squinting from a hillside 100 yards short of the truly massive green. The fifth at Pebble is just 18 months old, a Jack Nicklaus-designed 188-yard par 3 with a postage-stamp green perched near an ocean cliff. Two completely different holes. But both can be easy birdies or easy bogeys. Halved. St. Andrews remains 1 up.
• Sixth. Blind shots here at both courses. At Pebble, it's an uphill second shot on a 524-yard par 5. At the Old Course, it's a blind tee shot over a ridge of gorse. Neither hole is particularly fearsome for an Open. Halved. St. Andrews still 1 up.
• Seventh. This hole at Pebble Beach is the game's most diabolical short par 3, the longest-playing 106 yards ever encountered. It was here that Tom Kite missed the green, then holed his pitch for a birdie in his final-round march to the 1992 Open title. The seventh at St. Andrews is a 388-yard par 4 curving to the right, the only true dogleg on the course, but rather harmless. Pebble wins. Match is all square.
•__ Eighth. __The second leg of Pebble's beachfront assault, and simply the best par 4 in America. At 418 yards, it's blind and uphill off the tee to a plateau fairway, then over an ocean chasm to a well-bunkered green. The eighth at the Old Course is clever but no match, a 175-yard par 3 (just one of two par 3s on the course), where only the top half of the flag can be seen from the tee. Pebble goes 1 up.
• Ninth. This hole at Pebble gets overshadowed by the eighth, but it's an even more rugged par 4, with 466 yards over heaving cliff-top terrain, the Pacific hard on the right, a series of bunkers hard on the left and a green that lists toward the sea. St. Andrews' ninth is a bewilderingly featureless drive-and-pitch (or putt) par 4. A roller coaster versus a bowling lane. No contest. Pebble, 2 up at the turn.
• __10th.__The last of seven consecutive oceanside holes at Pebble, a fine 446-yard par 4 with a fairway that tilts sharply to the right and a small crag fronting the right side of the green. The 379-yard 10th at the Old Course is named for Bobby Jones, who won the 1927 Open at St. Andrews and had far more personality than this bland par 4. Pebble, 3 up.
• 11th. Pebble turns inward and uphill here, a par 4 of 380 yards. It's no match for St. Andrews' classic 11th, the often-imitated 174-yard Eden par 3, demanding a shot between the Hill and Strath bunkers to a green with exaggerated contours. Like Pebble's seventh, this one can be a pitching wedge or a long iron, depending upon the wind. Hole goes to St. Andrews. Pebble, 2 up.
• __12th.__This hole at the Old Course is 314 yards, with a fairway that's a minefield of hidden pot bunkers, so even an iron off the tee can find trouble. Pebble's 202-yard 12th is an underrated par 3. Both holes present more than what first meets the eye. Halved. Pebble stays 2 up.
• 13th. A 430-yard par 4 at the Old Course. It shares a green with the fifth that's claimed to be the world's largest. An 80-yard putt is possible (but unlikely). Pebble's 13th is a straightforward, 406-yard par 4. The Old Course prevails. Pebble now 1 up.
• __14th.__A 581-yard par 5 at St. Andrews, dominated by the massive Hell bunker, 718 square yards of sand blocking the fairway some 140 yards short of the green. The brave (and foolish) try to squeeze a shot between Hell and an out-of-bounds wall on the right. The rest play far left, even into the adjacent fifth fairway. Pebble's 573-yard, par-5 counterpart is relatively benign until its small green, which has two distinct levels and a giant clamshell of a bunker on the front left. These are equally engaging par 5s. Hell claimed Jack Nicklaus in the '95 British Open, when he took a 10. An old pine to the right of Pebble's 14th once swatted Arnold Palmer down, and he took a 9. (That very evening, lightning swatted the pine down. Hell bunker, meanwhile, still exists, proving Arnie is more powerful than Jack.) Halved hole. Pebble still 1 up.
• __15th.__This hole at the Old Course has a new back tee, so it now measures 456 yards, but it's still a rather ordinary hole. So, too, is Pebble's 15th, 397 yards down a slight hill to a catcher's-mitt green. Both holes have out-of-bounds all along the right. Halved. Pebble remains 1 up.
• __16th.__Another hole at St. Andrews with a new back tee, making it 424 yards and bringing more into play the Principal's Nose, a cluster of three bunkers in the center of the fairway that must either be carried or skirted. Pebble's 403-yard 16th has most of its hazards poorly positioned. Hole goes to St. Andrews. The match is even.
• __17th.__The dreaded Road Hole at St. Andrews is a 455-yard, straightaway par 4 that many play as a double dogleg. The bold drive is blind over a corner of the Old Course Hotel property, and the smart approach is at the right-front edge of the diagonal green. The green is shaped somewhat like an hourglass, with its left side funneling into the Sands of Nakajima, the infamous Road bunker so-named at the 1978 Open, where Tommy Nakajima hit the green in two, putted into the bunker, then took four swings to get out. Doug Sanders also putted into that bunker in 1970, and his double bogey eventually cost him the title. A parallel macadam road to the right of the green, and the stone wall next to it, cost Tom Watson the '84 Open when he failed to get up and down after overclubbing his approach. It's no longer possible to putt from the road onto the putting surface, as the bank behind the green is now shaggy turf. The green at Pebble's 208-yard 17th is an even more precise hourglass shape, and its location on a rocky promontory exposes it to gusty winds. This is where Tom Watson holed from the rough for a birdie to clinch his only U.S. Open victory, in 1982. Both are outstanding holes, but St. Andrews' 17th is considered one of the finest in the world. The Old Course goes dormie.
• 18th. The final hole at St. Andrews is perhaps the shortest-playing 357 yards in championship golf, as Open competitors routinely go for the green from the tee. It has no bunkers, and its only defenses are out-of-bounds along the right and the deep Valley of Sin swale on the left front of the green. Far more players putt for eagle here than on the 543-yard 18th at Pebble Beach, perhaps the most gorgeous par 5 in creation. Some critics claim this boomerang par 5 is a boring three-shotter, but it's not just Tiger Woods who can reach the green in two. When he won the U.S. Open in 1992, Tom Kite hit the 18th with his second shot in the third round. So, for beauty as well as drama, Pebble's 18th outshines St. Andrews'. And after 18, the match is all even.
Hey, we can't have a tie. We should head to each course's respective 19th hole to settle the score. But Pebble Beach doesn't really have one. It doesn't even have a clubhouse, just a resort lodge with a bar and some cafes and restaurants.
St. Andrews doesn't really have one, either. The massive stark clubhouse of the Royal and Ancient Golf Club is a private establishment, off-limits to strangers trudging off the 18th green. The new public clubhouse is well appointed, but it's beside the second hole, a 10-minute walk away. Luckily, there are dozens of pubs within a block or two that substitute nicely.
So the bend of an elbow serves as our tiebreaker. We declare the Old Course the winner, the greatest public golf course in the world. By the tiniest of margins -- a pint or two.