News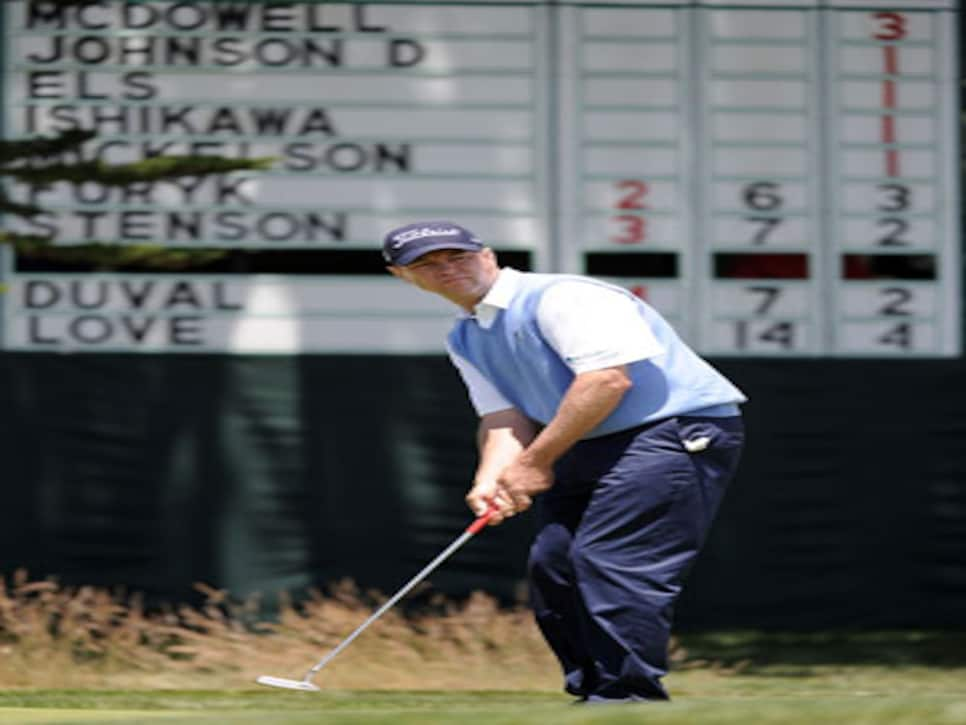 Love moved up the leaderboard with a 68.
PEBBLE BEACH -- Mike Davis, the brains behind the course setups at the U.S. Open can realign fairways, move around tee markers and make greens run like your kitchen floor, but the ultimate challenge presented by this tournament would exist whether the venue is Pebble Beach or any muny in America.
The weekend at the U.S. Open brings with it a special kind of pressure for this one unalterable reason: It is the weekend at the U.S. Open. The nerves jangle as if each player was handed a jackhammer on the first tee, once solid putting strokes tremble with trepidation and the rhythm of a well-tuned swing become a sad imitation of itself.
While Saturday is known as "moving day" in other golf tournaments -- the day to climb the leader board and position yourself for a run at victory on Sunday -- at the U.S. Open it is all about treading water. By simply standing still you can gain a lot of ground.
Take Davis Love III, for example. He shot a 68 early in the third round -- one of the few not named Tiger Woods to handle Pebble Beach on Saturday -- and five hours after he hit his last shot his name appeared on the leader board for the first time. Meanwhile, most of those among the dozen best scores going into the third round made a hasty retreat from contention.
The biggest winners on Saturday were Dustin Johnson and Woods, who found something missing since his return to competitive golf in April at the Masters, and pulled a spectacular 66 out of his considerable bag of skills. Starting the day four over par and tied for 25th place, Woods fired a breathtaking 31 on the back nine and ended at one-under-par 212, alone in third place.
Nothing in his play over the first 36 holes foreshadowed this -- nothing except the fact he is Tiger Woods.
Now Woods goes into Sunday with the opportunity to move one major championship closer to Jack Nicklaus' record of 18 professional major titles. If Woods hoists the trophy here at the end of play it would be his 15th major, first since he won the 2008 U.S. Open on a broken leg at Torrey Pines and first victory since, well, all that other stuff happened.
Meanwhile, as Woods was fist-pumping his way into contention, from a group of names that included Ernie Els, Phil Mickelson, 18-year-old sensation Ryo Ishikawa, Paul Casey, K.J. Choi and Ian Poulter, the unlikely duo of Dustin Johnson, who matched Woods' 66, and Graeme McDowell found itself atop the scoreboard going into Sunday's final round.
Johnson, the 24-year-old bomber who began his run to the top when he drove the fourth hole with an iron and made an eagle, finished birdie-birdie to be at six-under-par 207, three strokes ahead of McDowell, who staggered to an even-par 71 with a 38 on the back nine. Behind Woods are Els and Gregory Havret at even par 213. Mickelson is in sixth place -- and still very much in the tournament -- at 214.
Oddly, and totally consistent with his playful manner, Davis actually shortened Pebble Beach for the third round. The tee on No. 3 was moved up 34 paces and on No. 4 it was moved forward 40 paces, making both par-4s drivable. No. 7 played at 99 yards -- the shortest hole in modern U.S. Open history. All this did was mess with the heads of the players by giving them more decisions to make.
Check out these scores from players who started Saturday's play among the top 12: Jerry Kelly 81; Poulter, Choi, Casey and Brendon de Jonge 77; Soren Kjeldsen and Ishikawa 75, Alex Cejka 74, Mickelson 73 and Els 72. One of the few to move into contention on Saturday from outside the top 12 was Havret with a 69.
So if Saturday at the U.S. Open is such a pressure cooker, what is Sunday like? Woods knows, he's won this tournament three times. Els is familiar with it, having two U.S. Open trophies at home. Mickelson has finished second five times -- and a victory Sunday would make all those near-misses a huge plus on the resume rather than appear as squandered opportunities.
Can Johnson hold up? Well, not only does he have three PGA Tour victories, two of them have been right here at Pebble Beach in the AT&T National Pro-Am tournament the last two years. But then there is that whole thing about the pressure of the U.S. Open. This is, after all, only his seventh career major championship -- half as many as Woods has won.
And McDowell? The 30-year-old from Northern Ireland has won four times on the European PGA Tour. His best finish in four previous U.S. Opens was T-18 last year. His reputation is that of a guy who puts himself in position to win often and closes out the deal not so often.
Can Woods spot Johnson five strokes and chases him down? If he plays like he did on Saturday, he will. Can Els and Mickelson, who will be playing together, chase down their old nemesis and leapfrog over Woods? Imagine what it would mean to them if they did?
Those are among many compelling questions that will be answered Sunday, another day expected to be sunny, cool and with just enough wind to confuse club selection. But the biggest factor Sunday will be simply this: It will be Sunday at the U.S. Open, Sunday at the national championship. And that seems to suggest the winner will be a familiar face. Which one is the question.