News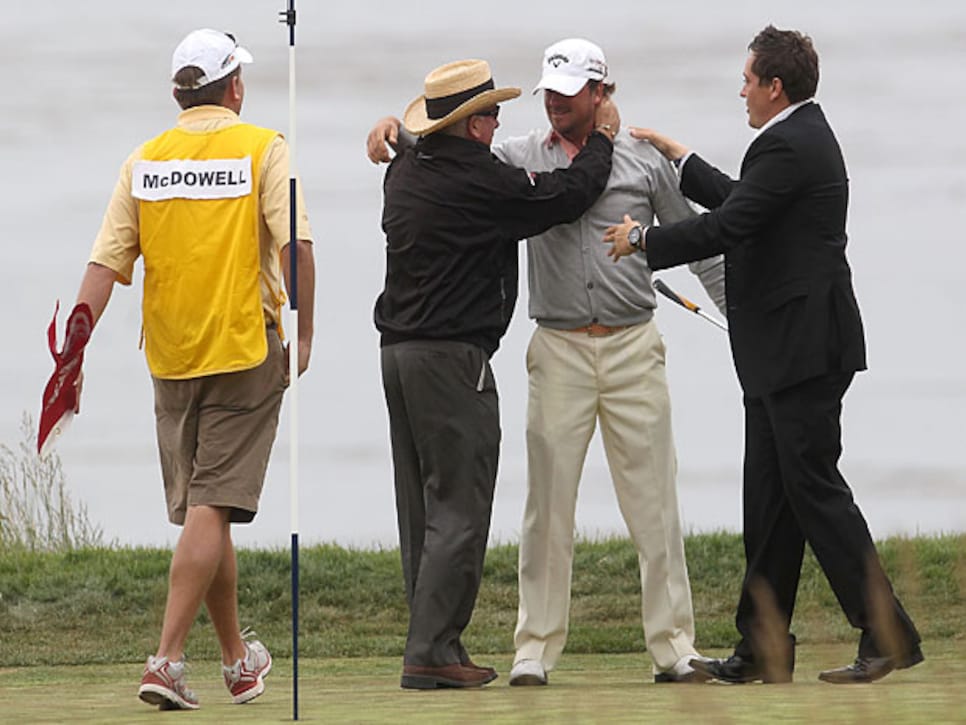 McDowell became the first European to win the U.S. Open in 40 years.
PEBBLE BEACH -- Even the champion himself could hardly believe what he had done. Graeme McDowell -- that's right, the Graeme McDowell -- somehow managed to outplay Tiger Woods, Phil Mickelson and Ernie Els and join Jack Nicklaus, Tom Watson, Tom Kite and Woods as winners of a U.S. Open at Pebble Beach. He did it with the highest final-round score in an Open (74) since Andy North in 1985 and a lot of help from 54-hole leader Dustin Johnson, who imploded with a final-round 82.
"I don't think this will sink in, maybe ever," said McDowell, who became the first European since Tony Jacklin in 1970 to win the U.S. Open. "To think that someone has given this trophy for me to take home ... If it's a dream, I hope I never wake up."
McDowell, who led after 36 holes of this 110th U.S. Open but needed to rally from a three-stroke deficit to win, was largely unfamiliar to galleries at Pebble Beach. Born to working-class parents in Portrush, Northern Ireland, he grew up near one of the UK's greatest courses, Royal Portrush. Because of that and the fact his dad was an avid golfer, McDowell says it was inevitable that he would gravitate to the game. He began playing at age 8, along with his younger brother, Gary, and dad, Kenny, and very quickly he was hooked. By age 15, McDowell won his first big junior tournament, and four years later he came to America to attend and play golf at the University of Alabama-Birmingham. McDowell won six of 12 tournaments for UAB and the Fred Haskins Award in 2002 as the most outstanding collegiate golfer in the U.S. That's when he turned pro.
In Sweden that summer, McDowell won the '02 Scandinavian Masters in just his fourth professional event. And with the more than 300,000 Euros he earned for that win, he made good on a promise to his mom, Marian McDowell, who only a few years ago was diagnosed with multiple sclerosis. Marian watched her son's U.S. Open victory from Spain, where she's spending a few weeks in warm weather to improve her health.
"When he was a wee boy, he told his mum he'd buy her a house with his first check, and he did that," said Kenny McDowell, a retired I.T. tech worker who left his job at his son's request shortly after McDowell won the Barclays Scottish Open in 2008.
"After he won in Scotland, he said he wanted me to be out here with him, so I retired," said Kenny.
Following a nearly two-year winless drought, McDowell suddenly has two wins in two weeks. The first one came at the Celtic Manor Wales Open, on the same course where he'll play for his second Ryder Cup team this fall. Now he has a major championship, too, giving him six wins in just over eight years as a pro. His impressive record in majors includes top 20s in the Masters, U.S. Open and PGA in 2009. He's 5 for 5 in cuts made at the U.S. Open, and he finished tied for 11th the last time the British Open was played at St. Andrews in 2005.
"The U.S. Open has always been a tournament I feel my game is most suited to," says McDowell, whose first memory of watching one of these was Ernie Els' victory at Oakmont in 1994. "To win at Pebble Beach and to join the names Jack Nicklaus, Tom Watson, Tom Kite, Tiger Woods, me. Wow!"
Now that he has a major, and enough money to guarantee a card on the PGA Tour, McDowell expects to play a few more tournaments in the U.S. than he's played in recent years. He talked about the inspiration he gained during the final round from thinking about first-time major champs Y.E. Yang, Lucas Glover and Zach Johnson. "I was thinking if those guys could do it, I could, too."
His father, who had told Graeme earlier this year that all he wanted for Father's Day was a U.S. Open victory, wasn't sure as the final round unfolded that it could actually happen.
"You don't think he's going to win a major with all of those names up there," Kenny said, pointing to Woods, Mickelson and Els on the scoreboard behind the 18th green. "But miracles do happen, don't they."
Kenny McDowell was retelling the story of Graeme buying the family a home when he was asked what he thought his son would be treating them to this time.
"Happiness," he said. "We don't need anything else."