Pro-Am Style
Our favorite looks from the 2022 AT&T Pebble Beach Pro-Am
*All products featured on Golf Digest are independently selected by our editors. However, when you buy something through our retail links, we may earn an affiliate commission.*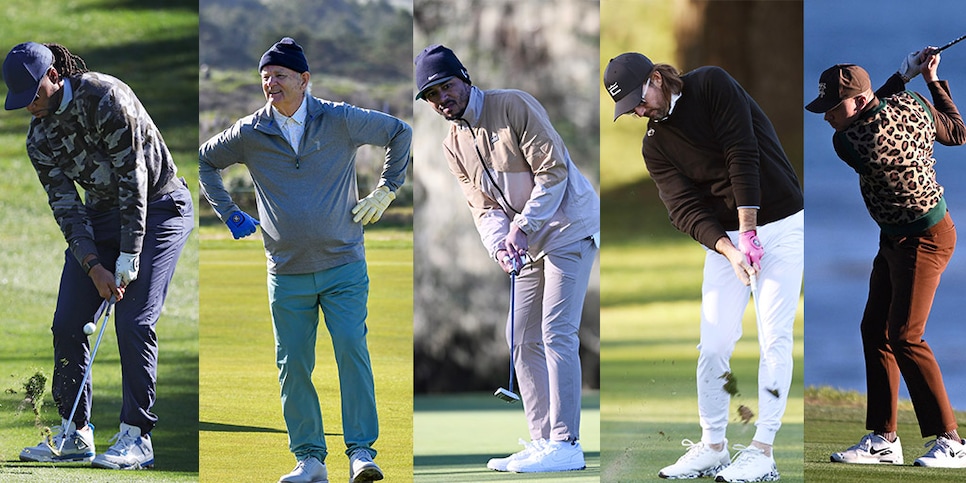 The AT&T Pebble Beach Pro-Am is a great opportunity to see some of your favorite celebrities play golf with some of your favorite pro golfers. Beyond the who's who of golf and entertainment, it's also a who's who of golf apparel brands that the celebrities decide to wear on the course. Here's a few of our favorite looks from the week so far.
Macklemore
After teasing his apparel line Bogey Boys at Pebble Beach in 2021 just before the brand's launch in March, Macklemore returns to the Pro-Am wearing pieces from the newest collection. The rapper wore a cheetah-print sweater vest over a brown long sleeve shirt and pants during the practice round on Wednesday. The vest is already sold out on the Bogey Boys website, but the pants and brown hat he accessorized the look with are still available.
RELATED: Macklemore created a line of golf clothes that pushes the boundaries of on-course style
Macklemore
During the first round of the tournament, Macklemore debut two limited edition pieces from the line that were made in collaboration with the Monterey Peninsula Foundation. All proceeds of the five-panel cap and striped polo shirt he wore will go to the foundation.
Mooke Betts
Baseball player Mookie Betts' tan ensemble is from golf apparel newcomer Blackballed Golf. He paired the tech-y drawcord khaki pant with an ultra-styling matching chevron jacket. Simple white Nike shoes and a black beanie pulled it all together for an athletic-yet-modern first-round look.
Larry Fitzgerald
NFL wide receiver Larry Fitzgerald wore a Greyson hoodie during the preview round with what looked like a pink polka-dot golf shirt peeking out from underneath. Fitzgerald is a brand ambassaor for Greyson who is known to pull off a golf shirt buttoned all the way look expertly. Pairing the buttoned-up look under an upscale hoodie is a great way to keep a golf ensemble refined while adding a ton of personality to the look.
Jake Owen
Also in Greyson, musician Jake Owen put on a masterclass on how to wear white joggers on the golf course. He paired the bold pant with a simple black crewneck sweatshirt and a bright pink G/FORE glove for a pop of color in the primarily monochromatic outfit.
Canelo Alvarez
Professional boxer Canelo Álvarez's cap is a limited edition version from his merchandise line. It's a play on the original hat the brand sells that reads "no boxing no life." His brand was also logoed on a golf shirt from Oahu Golf Apparel with a retro license plate print.
Bill Murray
A mainstay at the Pebble Beach Pro-Am, Bill Murray wore apparel from his brand William Murray Golf, a hat from Linksoul's Goat Hill Park and two different colored G/FORE gloves. Known for his bold and colorful looks, his first-round outfit was fairly muted with the gray pullover and solid cap balancing out his green pant and printed golf shirt.
ScHoolBoy Q
Rapper ScHoolboy Q's vintage-inspired sweater jacket by Malbon Golf that he wore during the Wednesday practice round was a great way to add a layer of warmth without sacrificing style. He followed up the look with a green short-sleeved cable-knit sweater during the first round of the tournament. Both looks were expertly paired with a dark pair of pants and simple accessories to let the statement-piece shine in the outfit. ScHoolboy Q is an avid golfer regularly tees it up with Malbon co-founder, Steven Malbon and is frequently seen wearing the brand on the course.