We'll be honest. It'd be a stretch to call Paulina Gretzky an avid golfer or fitness fanatic. Her last name is familiar because of her dad, The Great One, Wayne Gretzky. Her mom, Janet Jones Gretzky, is a movie star you might remember for starring alongside Matt Dillon in "The Flamingo Kid" in 1984. Wayne and Janet are definitely avid golfers, and now that Paulina, 25, is engaged to golf superstar Dustin Johnson, she's quite smitten with the sport herself.
You were raised in a golf family. How much have you played since you were a kid?
I didn't appreciate golf as much when I was little, probably because my mom put us in tennis camps and golf camps. My mom has a video of me when I was really young where I'm saying, "Daddy, don't go play golf anymore." I just wanted to spend time with him.
Oh, I've definitely played. I walked all 18 holes in my dad's tournament. Felt like the longest day of my life, but I stuck through it. The truth is, I was a total tomboy and loved sports. Dad always says I was his best athlete. I played softball until the sixth grade, and that's when I said, "Dad, stop. I'm a girl."
Do you ever play with Dustin?
I'll go with him to the range every once in a while, but mostly I just love being with him and watching him play.
As it turns out, that was the smartest thing I've done with golf. Posting that video showed people that I could actually play. Shortly after that, TaylorMade called to ask if I'd do a commercial. And now I'm getting this opportunity with Golf Digest. I should have listened to my mom and become a golfer.
What would make golf more fun?
Golf isn't something that comes naturally. It's like when Dustin asks me to go fishing. I've never been taught how to fish. I don't know what I'm doing, and I don't want to look dumb. It's the same with golf. People think they're going to look dumb. The first swing I took in my dad's tournament, I whiffed it in front of 30 people. It was probably the best thing that ever happened to me because I'm really competitive like my mom and dad, and it made me want to keep trying.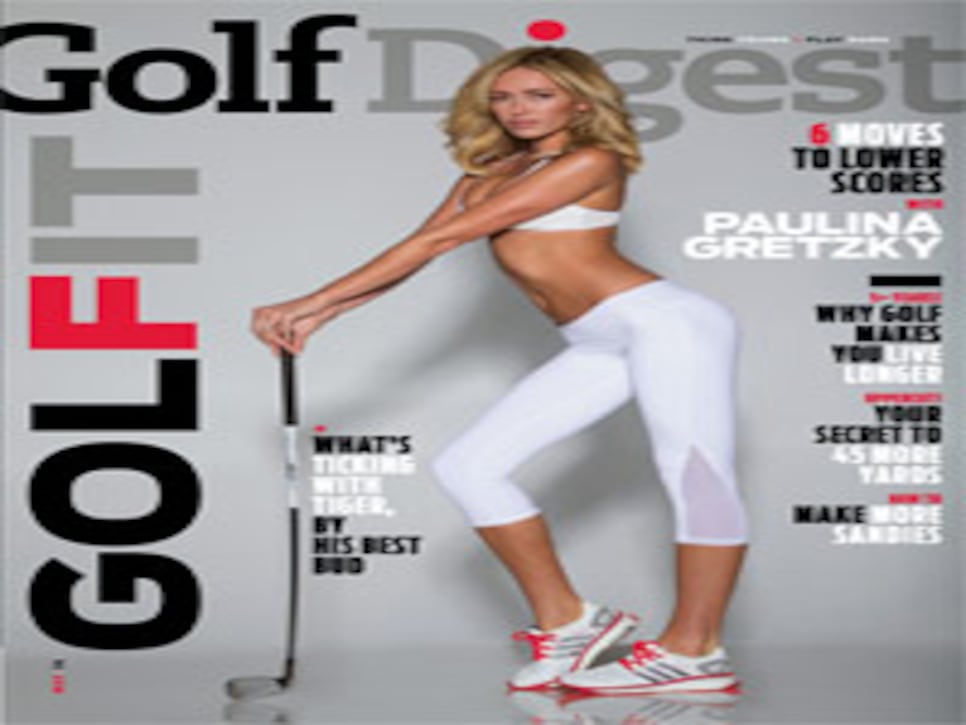 At the end of 2011, my mom played with Dustin in the Wednesday pro-am at Tiger's tournament at Sherwood. She told Dustin about her daughter, blah-blah-blah, and invited him to the house that night. I'm sure he was rolling his eyes, and so was I when my mom invited me over to meet this golfer she had just met. So I show up looking like a complete ragamuffin, and here's this really cute guy. I didn't stay long, but he was such a gentleman, so endearing. He's always been that way to me. We exchanged numbers, and here we are.
Engaged. Is there a date?
Wow! The big question. We wanted so badly to do it this fall, but with his schedule and all it's been hard to set a date. It'll be our special day, and we just want it to be right and to fit.
__You recorded a hit song that was featured on the show "Laguna Beach," you have four film credits, including a part in "Grown Ups 2," and you've modeled on magazine covers. Which of those pursuits is most important to you? __
The most important thing for me right now is my relationship with Dustin. It's what makes me happiest, and I don't think there's anything wrong with that. It's important for people to realize it's OK to be happy in love. If you don't want to give up something, that's OK. But if you're in love and have to give up something, that's OK, too.
You were born four months after your dad was traded from Edmonton to the L.A. Kings. Growing up, did you know he was The Great One?
Totally! I went to games with my mom all the time, especially in New York. One thing I get from my mom is this constant need to support the person that you're with. In this athletic world, I see how hard it is for Dustin sometimes.
You're the face of Golf Digest's fitness issue this month. How do you stay so physically fit?
First of all, I was blessed with incredible genes. Look at my parents! But it's really 70-percent diet and 30-percent working out. It's all about fitting in some exercise wherever you are.
Are you in the gym several days a week?
I used to run every day, and I absolutely loved it. It was like meditation for me. I also loved kickboxing. What really kept me in great shape was dancing. Lately, I've been constantly on the go, so I don't get to run much anymore. Now I'm doing workout videos every day. If you don't want to go to the gym and would rather work out alone, all you have to do is find a workout on YouTube.
It's as simple as Everything in Moderation. I'll eat pizza and cheeseburgers, but I won't do it every day.
The fitness moves pictured here ...
Those were hard! And I was pretty sore the next morning.
Most of those exercises involve deep stretches.
Stretching is one of Dustin's main things. People tend to forget about stretching and underestimate how important it is when working out. For men and for women.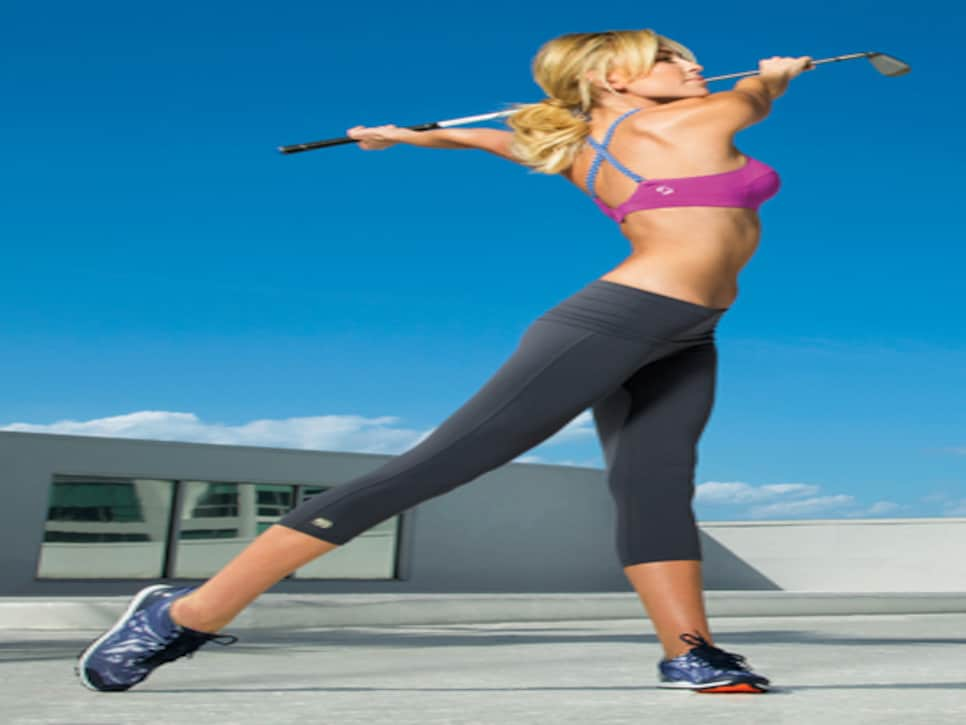 What makes a golfer look sexy?
With Dustin, it's his pants. It's all about the fit. I like that he doesn't wear things that say Look at me; look at me. He wears what makes him feel comfortable, and it shows.
What's a fashion look you see at golf courses that definitely doesn't work?
I'm not sure there are fashion looks that don't work. I used to think I needed to wear a polo shirt to be in the clubhouse, but now I've realized it's not like that, and I can wear my workout clothes and just dress so I'm comfortable. Being on the course at tour events is exercise for me. I get to power walk. If people enjoy getting dressed up, I'm all for it. But if people want to slum it out and wear workout clothes, that's totally OK, too. If you have respect for the game, so what? The jean thing I understand. I've worn jeans while watching Dustin play, but I'm not sure playing in jeans is the best idea.
Who are the coolest golfers on tour?
I love Matt Kuchar, and I love Keegan. All of the guys who live in the vicinity of Dustin in Jupiter [Florida] are just really great people. Rickie is awesome. Kid Rock has become a huge friend, and he's in Jupiter, too. He's just adoring golf.
My mom and dad have been friends with Kid for a long time. My dad finally introduced Dustin to Kid because Kid said he didn't have anyone to hang out with in Jupiter. Finally he and Dustin got to play golf together, and now Kid's totally on this golf train.
You must get a lot of interesting looks and comments while walking outside the ropes.
Sometimes I feel like a zoo animal out there. People think I can't hear them—but I can definitely hear you. If anything, just come over and talk to me. I'm not someone people should be afraid of. Everyone is usually very sweet, and there hasn't been a bad moment for me. But I do feel more comfortable if I'm walking with someone. Of course sometimes I just want to watch Dustin play golf, and I hope people respect that. And you know what? They always do.