The Loop
Paulina Gretzky has a baby, Bubba Watson makes an NBA Finals cameo, and the lamest viral video ever
Welcome to another edition of The Grind, where we're pretty sure this year's U.S. Open will have more drama than the 2017 NBA Finals. Instead of a dominant super team, golf fans are keeping an eye on a super dad, a super-sized course and some super-thick rough. Yes, we're super psyched. Sorry, those basketball games go really late.
Daniel Berger: Move over Elvis, there's a new King of Memphis! Talk about a horse for a course, Berger won the FedEx St. Jude Classic for the second consecutive year thanks to a pair of 66s over the weekend. This on the heels of a 77-78 finish at the Players. Either TPC Southwind is made for his game or he is a machine that runs on Memphis BBQ.
Ariya Jutanugarn: A week after it appeared Ariya had ascended to No. 1 in the Rolex Rankings only to learn of a computer snafu, she made sure to take the top spot by winning her first event of the season at the Manulife Classic. And she did it in thrilling fashion by holing a 25-footer for birdie to beat Lexi Thompson and In Gee Chun in a playoff. All hail, Ariya.
Reactions to Erin Hills' rough: From Kevin Na's rant:
To Lee Westwood's comedic directing debut:
To Pat Perez's photo-shop skills:
There's been a lot of reaction to Erin Hills' rough/fescue. Keep it coming, guys!
Stephan Jaegar: Golf's other Mr. 58 guaranteed he'll tee it up on the PGA Tour next season with his second Web.com Tour win of the year. Also, his caddie is awesome:
Seriously, what's the point of winning a trophy if you can't drink from it?
Phil's chances of playing in the U.S. Open (For now): Phil Mickelson has not withdrawn from the U.S. Open, his daughter's high school has not changed the graduation ceremony schedule, and yet somehow, he still thinks he can get there in time for a 2:20 tee time. "I need a four-hour delay," Mickelson said -- before probably installing another weather app on his phone. Here he is doing some aeronautic calculations: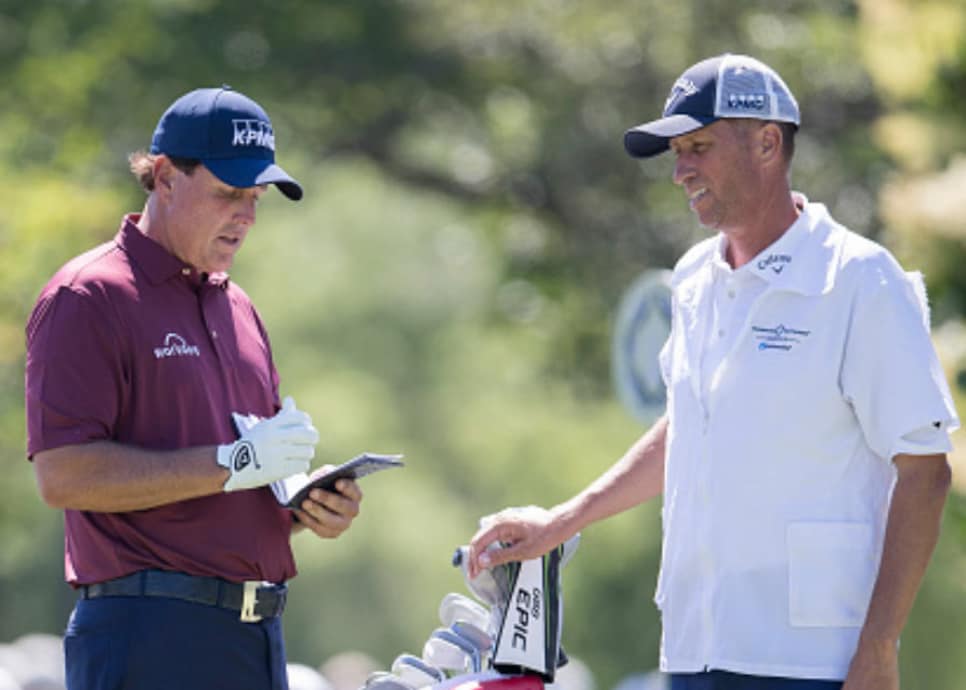 We say "for now," though, because the forecast seems to be getting worse and worse (better and better for Phil). In other words. . .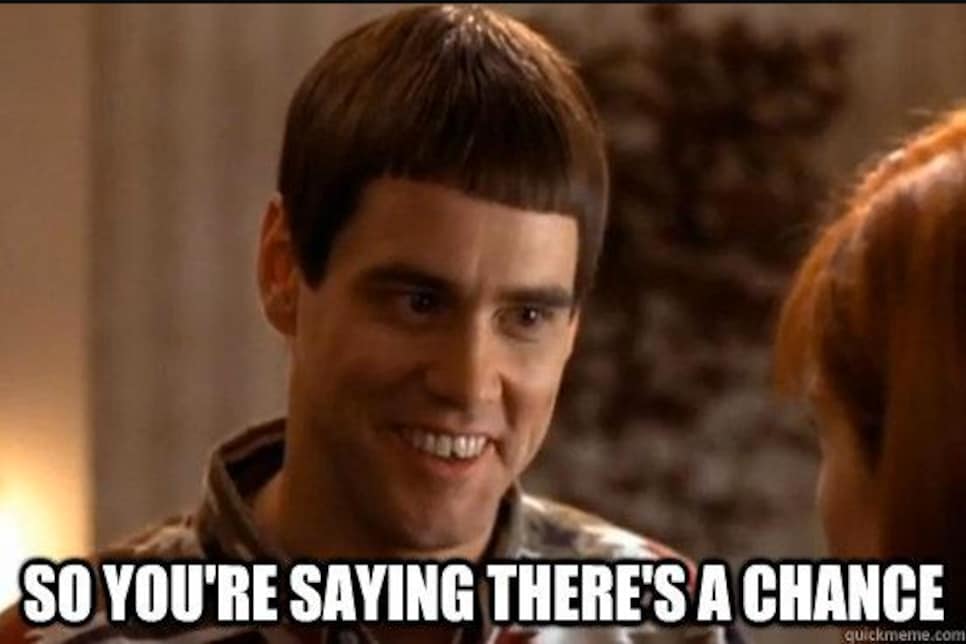 Charles Barkley's nervous twitch: We're not doubting Barkley has a nervous twitch on the golf course, we just wish it wasn't this way. The NBA Hall of Famer opened up about his struggles and blamed them on a nervous twitch he thinks came from getting "his wires crossed" after decades of lessons. "I ain't always been a bum on the golf course," he said. "I'm a bum now, but I used to break 80 all the time." Hang in there, Chuck. There's still time to find your game again.
Coaching injuries: Padraig Harrington had to withdraw in Memphis after being hit in the elbow by a golfer who he was helping at an outing. No, it was not Charles Barkley. We don't think.
No good deed goes unpunished, Paddy.
Revealing golf news on Undisputed: This was a colossal waste of time:
The PGA Tour heads to Wisconsin for the first-ever U.S. Open at Erin Hills. The course is laid out over 652 acres(!) and at 7,741 yards, it's officially the longest course in U.S. Open history.
Random tournament fact: Judging by some of those videos posted by players, a lot of that acreage has never been touched by a lawnmower.
RANDOM PROP BETS OF THE WEEK
-- Phil Mickelson will make his first-round tee time: 10-to-1 odds (Actual odds)
-- A golfer will get lost in Erin Hills' rough: 100-to-1 odds
-- A lot of golf balls will get lost in Erin Hills' rough: LOCK
Great pic, but does Jack Nicklaus really need Jim Nantz to get his family out on a golf course? He's JACK NICKLAUS!
Bubba Watson strolled onto the court following Game 3 of the NBA Finals and interrupted Stephen Curry's interview:
And since his team needed just five games to win another championship, Curry can now watch Watson in person -- and interrupt his post-round interviews -- if he pleases.
VIRAL VIDEO OF THE WEEK THAT WE'RE NOT SURE WHY IT WENT VIRAL
OK, so we've got a pretty good idea why it went viral. But seriously, this looks like me trying to juggle a golf ball. NOT impressed.
"I can't wait to beat him on the golf course!" -- Stephen Curry on teammate Andre Iguodala, just moments after the Golden State Warriors won their second NBA title in three years. Glad to see Steph has his priorities in place.
THIS WEEK IN BELEN MOZO MAKING US FEEL BAD WITH HER TRAINING (AND POSING IN A BIKINI)
Who even thinks of this stuff?
And Belen shared the obligatory post-workout bikini pic:
THIS WEEK IN DUSTIN JOHNSON-PAULINA GRETZKY-TATUM PUBLIC DISPLAYS OF AFFECTION
Aww. The couple also welcomed their second kid into the world on Monday, according to ESPN's Ian O'Connor, who had DJ's grandfather as his source:
Congratulations and great timing! This could be another Father's Day to remember for DJ.
UPDATE: Paulina shared this photo of Tatum meeting his new brother, River(!):
Former NFL All-Pro wide receiver Sterling Sharpe made a valiant effort at qualifying for the U.S. Senior Open. Correct, that's U.S. Senior Open. Man, I'm getting old. . . . Long-drive pro Maurice Allen said long drivers are the best athletes in the world. "Crazy old Maurice," as they say in "Beauty and the Beast" (Yes, I saw it. Come at me.) . . . And finally, congrats to my wife, Michelle, for doing something I thought was impossible: Make a better ice cream cake than Carvel.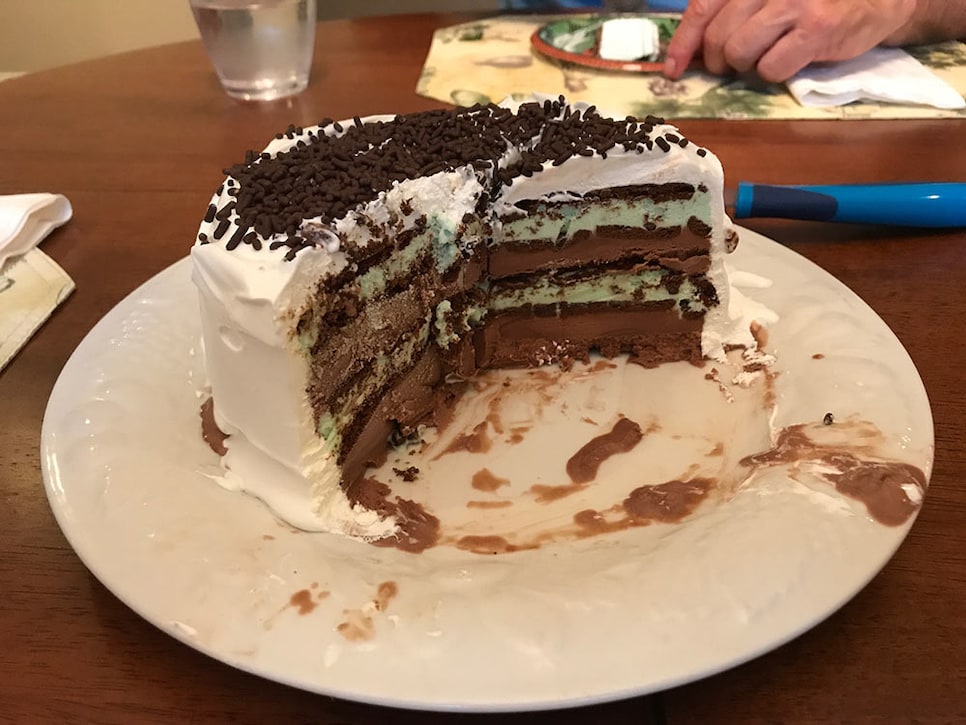 The best part? It's fat-free. . . Kidding!
RANDOM QUESTIONS TO PONDER
What will the winning score be at Erin Hills?
How long is Amanda Mickelson's graduation speech?
How competitive is the ice cream cake business?