Golf & COVID-19
Paula Reto was knocked out of the Olympics by an apparent false positive COVID test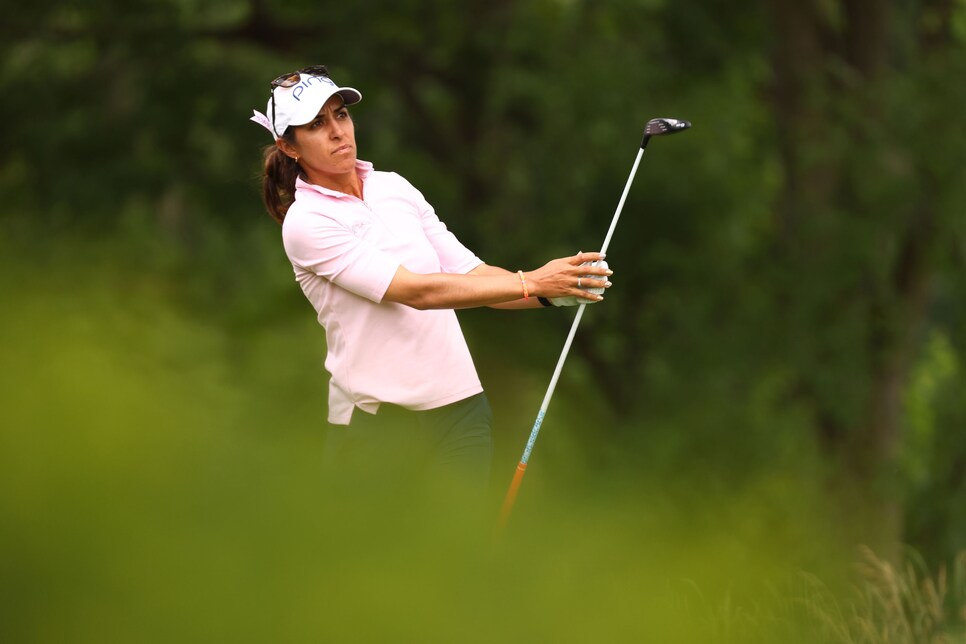 As she was leaving the ISPS Handa World Invitational on Sunday, Paula Reto was a tour pro with no place to play.
The 31-year-old South African, a seven-year veteran of the LPGA Tour, had just finished T-17 at Northern Ireland's Galgorm Castle and was supposed to be traveling to her home in Florida before flying to Japan to compete in the Olympics next week. But plans changed when she tested positive for COVID-19 after the third round of the Amundi Evian Championship.
The thing was, Reto said she had no symptoms of the illness and took three tests afterward, all of which came up negative. But the positive test forced her to withdraw from the Evian before the final round and ultimately led to a withdrawal from the Olympics.
"It's so unfortunate how everything unraveled for me," Reto said of the apparent false positive test.
Reto was a late addition to the Olympic field, gaining entry on July 19 when South Africa's Ashleigh Buhai decided to pass. Reto took a test on Saturday afternoon at Evian and was asked if she wanted that to be a pre-Olympic test as well. Reto said she told officials yes.
In the wake of the positive, Reto took subsequent tests, needing two negative tests separated by 24 hours to be allowed to leave France without quarantining. When she got them, under LPGA guidelines she was eligible to compete again. LPGA doctors cleared her, so she took her spot in the field in Northern Ireland, getting there Wednesday and competing without playing a practice round.
However, Reto had told a South African golf official of the positive test, and that message was relayed to the International Golf Federation. If Reto had to quarantine in France, it would be unlikely she'd be able to then take subsequent COVID tests in the prescribed time frames to be able to play in the Olympics, plus there would be issues with travel directly from France to Japan rather than going back to Florida.
Meanwhile, waiting out the negative tests to see if she could leave France at all meant likely keeping another player from being able to take her spot, go through the COVID protocols and get to Japan in time to practice at Kasumigaseki Country Club. So Reto said agreed to withdraw from the Olympics, deciding it was best to do that rather than try to see if there was some last-minute way to get back in the field.
"I didn't want to leave somebody just a couple days and then try to get to the Olympics," Reto said. "So I said, 'Let me do the right thing.' "
Seemingly, Reto was in the same boat as Jon Rahm, who tested positive for COVID ahead of the men's tournament despite having already had COVID (Reto told Golfweek that she had the illness in March and has also received the vaccine) and took subsequent tests that came up negative, but had little recourse for appeal to get back into the Olympics.
As disappointing as missing out on playing in Japan, Reto having to withdraw from the Evian with one round to play was a big blow, too. Reto is outside the top 100 in CME points (111th to be exact) and fighting to keep her LPGA card; she was tied for 40th entering the final round, and a strong finish in a major could have gone far to help her cause. She is not in the field for the upcoming Scottish Open or the AIG Women's British Open. Her next LPGA start is the Cambia Portland Classic in mid-September, but she is going to return to Scotland in two weeks to try final qualifying for the British Open.
"I'm trying to battle for two things I really, really want," Reto said. "I want to play in the Olympics, and I want to play on the LPGA full time. And then the positive test comes in and it's like 'Oh my god.' The positive test knocked out two things."