The Loop
Lawrie sees a dramatic improvement on the greens, surges into contention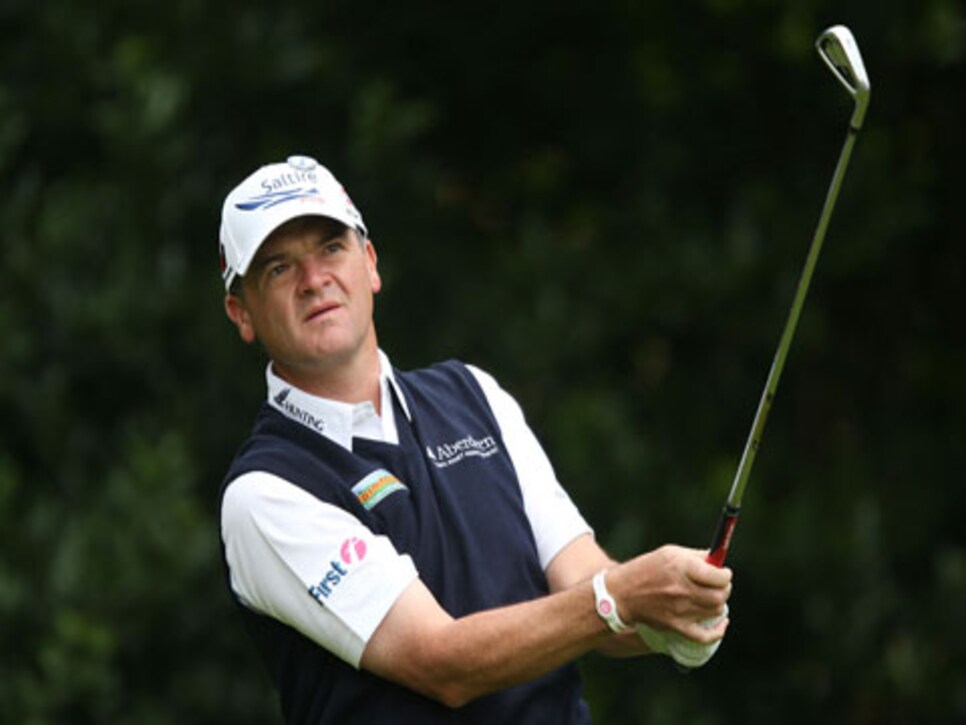 Photo: Richard Heathcote/Getty Images
LYTHAM ST. ANNES, England -- Back in the 1960s, former British Prime Minister Harold Wilson was first to point out that a week is a long time in politics. So it's safe to assume that the right honorable gentleman -- despite being a non-golfer - would have clearly understood the dramatic transformation in Paul Lawrie's putting over the last six days. After taking 33 putts in a second round of 69 at Castle Stuart in last week's Scottish Open -- where he missed the halfway cut by two shots -- the 43-year old Scot used the shortest club in his bag only 24 times en route to an opening round of 65 in this 141st Open Championship.
Lawrie, of course, has what it takes to win one of these things. His victory at Carnoustie in 1999, in fact, remains the last by a golfer from Great Britain in any of the four major championships. He is also a consummate links player, to the point where he prefers to play wearing a waterproof jacket rather than in shirtsleeves. Brought up in Aberdeen, close to the grey waters of the North Sea in Scotland's North East corner, Lawrie numbers a Dunhill Links Championship amongst his seven European Tour titles. So, on paper at least, Royal Lytham is a place where he would expect to do well.
The opening morning of this Open -- Lytham's eleventh -- wasn't "proper" links golf though. This was the Baltimore Ravens minus Ray Lewis. This was the old Boston Celtics without Bill Russell. This was the New York Yankees playing with an injured Derek Jeter. Soft after weeks of rain and bereft of wind, the proud Lancashire links was all but defenseless and there for the taking.
And Lawrie was one who needed no second invitation, although the route he took to three under par on the seventh tee was somewhat less than orthodox. Twice -- at the third and fifth -- the man known as "Chippy" lived up to his name by holing out for birdies with a club other than his putter, a feat he followed up by getting down in one from the fringe of the sixth green to save par.
"That was a very strange start," said Lawrie. "Probably the strangest of my career. I didn't really hit any good shots and I was three-under par. I'm not complaining though. I get enough bad luck, so it's nice when things go my way now and again."
Thereafter, Lawrie reverted more to type, completing the next 12 holes in a steady two-under par, his play marked by more than one laser-like approach. Only once did he drop a shot, at the 416-yard eighth, where he was bunkered by the green and, for once, failed to make birdie or retrieve par. And he finished with a flourish when his 7-iron to the final green pulled up less than three feet from the cup.
All of which will do Lawrie's quest to make a second European Ryder Cup side no harm at all. With only just over a month of qualifying to go, he lies third of the five automatic qualifiers from the European points list. One more solid finish -- a feat he has noticeably failed to achieve since his controversial decision to skip last month's U.S Open -- will see him safely over the finishing line and on the plane to Medinah in September.
"It's a great start," he said in reference to his five-under par score. "I've been playing really nicely obviously and have built up a bit of confidence over time. So let's hope I can keep this going. There's a long way to go, but if I'm in this position (one off the lead) with nine holes to play I'll know I've had a great week.
"As far as the Ryder Cup goes, I've still got a wee bit of work to do. I'm not guaranteed a place yet. So I need to make the most of this start and play as well as I can."
More immediately, the big story of Lawrie's day was, of course, his putting. That nine-stroke improvement since his last competitive round was a timely reward for much hard work over the last few days.
"I worked hard on my putting over last weekend," he revealed. "I putted as poorly as I can remember last Friday at the Scottish. So I went home and spent many hours on my indoor practice green. It's a perfect pace, maybe 12 on the stimpmeter.
"My big problem on the greens has always been coming 'up and out' of my stroke and so missing putts both short and right. It's an old habit. I want to look up too quickly and I end up pushing my putts. So I worked on staying down and releasing the putter a bit more."