The Loop
Is a Jordan Spieth lookalike the golf world's best chance at taking down Jordan Spieth at St. Andrews?
ST. ANDREWS, Scotland -- Despite his relative anonymity until Sunday, Paul Dunne has had plenty of people recognizing him all week. People that think they recognize him, that is.
Dunne is young, in good shape, and spends most of his time in public decked out in grey Under Armour gear. Sound familiar?
"When I put my head down people just see the hat and I get asked for a few autographs," Dunne told the Belfast Telegraph of being confused with Jordan Spieth at St. Andrews. "Then I lift my head and they are disappointed!"
But after Sunday's 66 to grab a share of the 54-hole lead at the Open Championship, there will be plenty of fans clamoring for a Paul Dunne signature. And if the 22-year-old amateur shoots another 66 on Monday? The recent University of Alabama Birmingham grad might want to loosen up his wrist -- not that he's getting ahead of himself.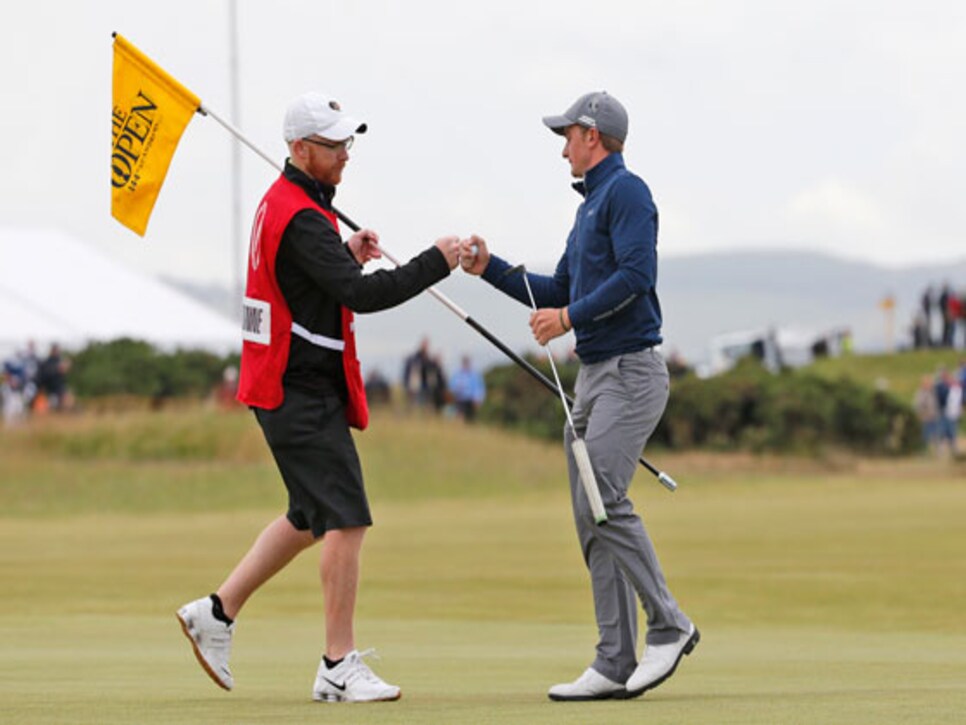 "I'm not really going to think about winning or where I'm going to finish until the last few holes," Dunne said. "If my strategy needs to change a little bit. But yeah, I can't control what other people do. Everyone could go out and shoot 63 or everyone could shoot 75. All I can do is control committing to my shots and hopefully that leaves me in good stead at the end of the day."
Spoken with the calculated tone of a man who just received a finance degree.
Dunne could also wind up having the number 82 in common with Spieth, who will join him in the 22 club later this month. A victory would make Dunne the first amateur to win a major in that many years (Johnny Goodman at the 1933 U.S. Open). Spieth's win at the 2013 John Deere Classic made him the first teenager to win a PGA Tour event in 82 years.
Dunne, who has UAB coach Alan Murray caddying for him this week (think that will help recruiting at all?), would also be the first amateur to win the British Open since Bobby Jones in 1930. That explains why the native of Ireland was listed at 1,500-to-1 odds to win at the start of the week -- longer odds than John Daly and Tom Watson combined. Now Dunne has positioned himself as a surprising challenger to end Spieth's pursuit of the calendar Grand Slam.
After Friday's round, Dunne was asked about potentially winning the silver medal for being the week's low amateur and replied "that would be brilliant" and "something I would remember forever." After Sunday's round, the questions revolved around a much bigger prize.
"Yeah, it's surreal I'm leading the Open, but I can easily believe that I shot the three scores that I shot," Dunne said. "If we were playing an amateur event here, I wouldn't be too surprised by the scores I shot. It's just lucky that it happens to be in the biggest event in the world."