News
Paul Casey and the pursuit of his missing major
As the Englishman approaches his 40th birthday, he's injury free, at peace with his new family and happy to indulge in off-course pursuits. But has he pedaled hard enough on the course?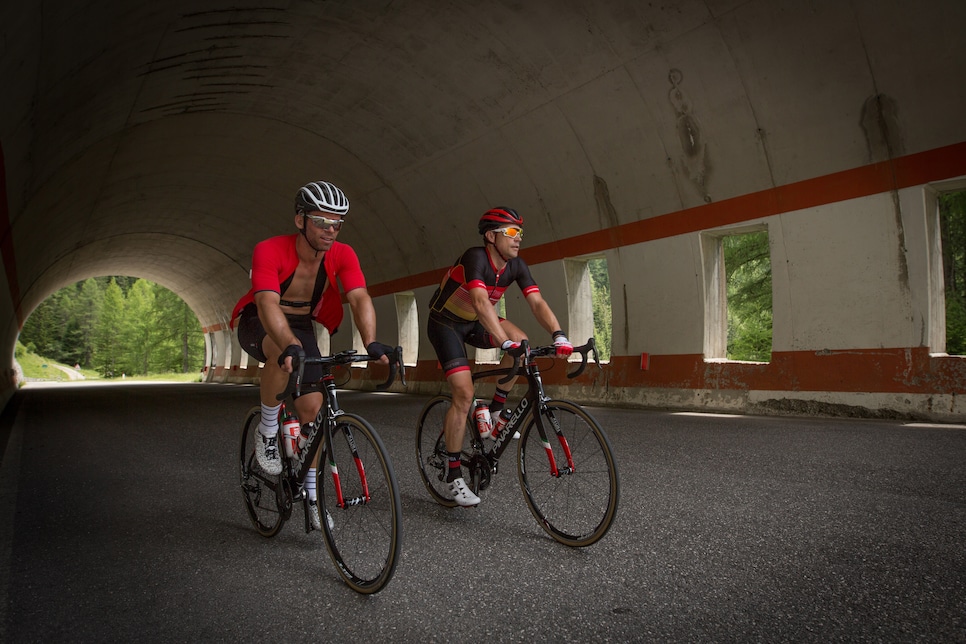 Paul Casey had just returned from a cycling spree through Italy in early July when he happily exclaimed with a chuckle, "Everybody's in one piece, which is the main thing!" That includes the soon-to-be 40-year-old Englishman, who along with his caddie, John McLaren, and 13 others embarked on a week-long excursion that covered 300-plus miles of postcard vistas in the country's northeastern provinces.
Most daunting was the climbing portion of the trip, a leg-and-lung torching 37,000 feet through the Dolomites. As Casey himself notes, however, it wasn't too rugged an affair to keep the group from sharing plenty of good food and wine along the way with a high-end touring outfit founded by former professional cyclist Joao Correia handling the logistics.
"It's my release," says Casey, who took a similar trip prior to the 2015 PGA Championship at Whistling Straits. "I don't think about golf when I'm on the bike."
Yet here's the thing: As Casey peddles to his milestone birthday this Friday at Royal Birkdale, where he will be playing in his 15th Open Championship and 54th major overall, he actually doesn't think too much about golf even when he's on the course. At least not in the context of a career that some like to consider underachieving.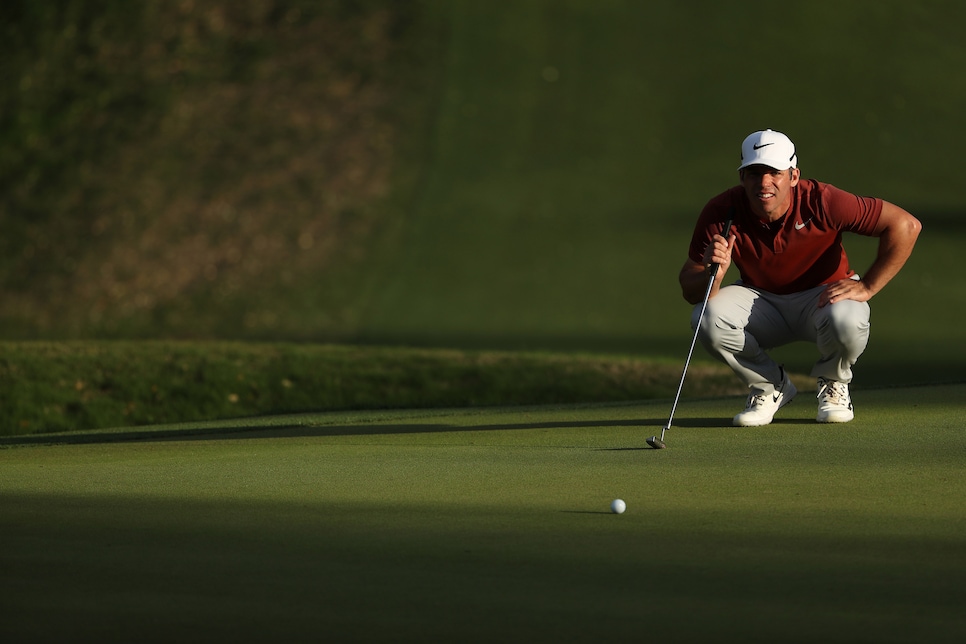 Though Casey has amassed 17 career titles around the globe, reached as high as No. 3 in the world in 2009 and was a stalwart for Europe in three straight Ryder Cups beginning in 2004, there are some glaring holes in his resume, particularly given his immense ball-striking skills. Not only has he never won a major, he's rarely been in contention at one on the last day. Meanwhile, only one of his victories has come on the PGA Tour (Houston, in 2009) and at one point four years ago he sunk all the way to 169th in the world.
"It's a tricky question," Casey says of the underachieving label. "There was a time when I was competing against Tiger and it was slim pickings, so that's half of it."
The other half, he says were a lot of "self-inflicted injuries [on and off the course] … that were crippling."
Quite literally. Casey's list of maladies included a torn intercostal muscle, a left wrist injury, a left thumb injury and a dislocated shoulder caused by a snowboarding accident. Then there was the divorce that was splashed across the back pages of the London tabloids.
"Most of 2011 through 2013, I had to construct a swing around those injuries," says his longtime coach Peter Kostis, whose biggest focus with Casey the last couple of years was getting him to control his center of gravity and eliminate the slide and subsequent stuck position that had developed because his right side wouldn't fire. Kostis says that was the primary reason for the decline.
"Now that he is back healthy, his swing is technically better than ever," Kostis said. "It's better even than it was in 2009."
The results are more like what they used to be, too. Since the beginning of 2015, Casey has 22 top-10 finishes in 64 starts on the PGA Tour, including four runner-ups and three third-place finishes. Two of those seconds came in back-to-back weeks during last season's FedEx Cup Playoffs, followed by a fourth-place finish in the Tour Championship.
At this year's Masters, Casey finished sixth. And at the U.S. Open at Erin Hills, he had a share of the lead after 36 holes. "I wasn't playing great," says Casey, who finished 26th. "But I was getting away with it."
Off the course, life for Casey has been every bit as good as the bottles of Amarone, Sassicaia and Castello di Ama he and his fellow riders enjoyed in the hills and villages across Italy. He's gotten through the dark time of a divorce in 2011 from his first wife, Jocelyn Hefner, which he says also contributed to the drop in his game. He has since remarried to English TV presenter Pollyanna Woodward. The two met at the Abu Dhabi F1 Grand Prix that same year as both were going through a divorce at the time. The two have a young son together with a daughter due later this year.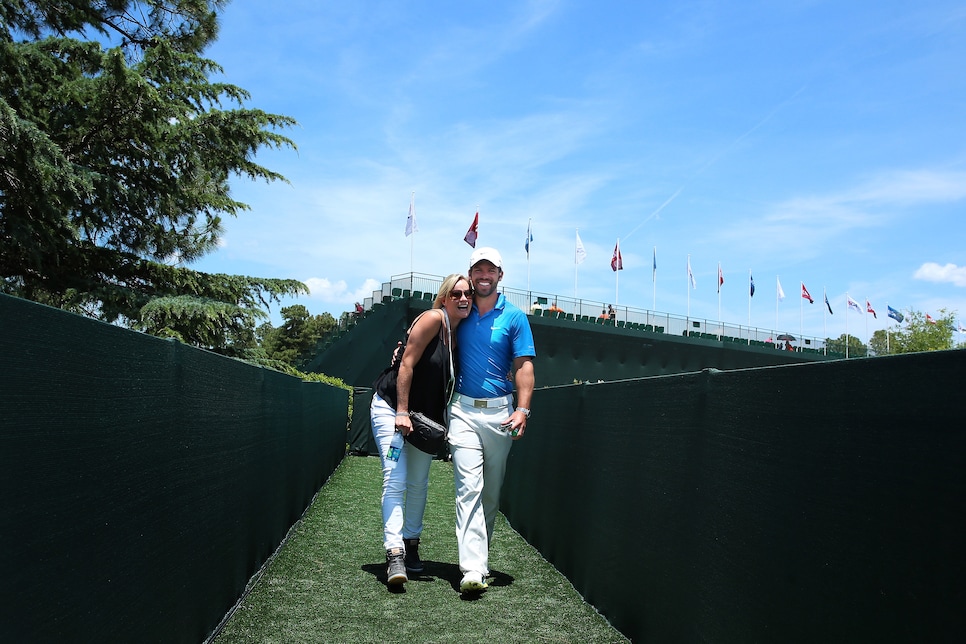 With their home base in Arizona, Casey has also given up his European Tour membership in order to spend more time at home with his family. In doing so, he's not eligible to play for Europe in the Ryder Cup.
"When it comes to golf, you can't discount the importance of his wife and son and baby girl that's coming," Kostis says. "They're every bit as important as what I've done with his swing."
It's for all of these reasons why Casey feels good about his chances going into this year's British Open at Royal Birkdale, even if it has been 25 years since an Englishman won the championship (Nick Faldo, at Muirfield).
Casey considers the seaside course a "proper" links test and arrives in good form with his game and in life. In his last seven starts, he has finished no worse than 26th, which included a tie for fifth in his last start at the Travelers Championship. Then came the trip to Italy, followed by one to the royal box at Wimbledon with Woodward, and some practice mixed in along the way, a balance on and off the course that's just the way he likes it.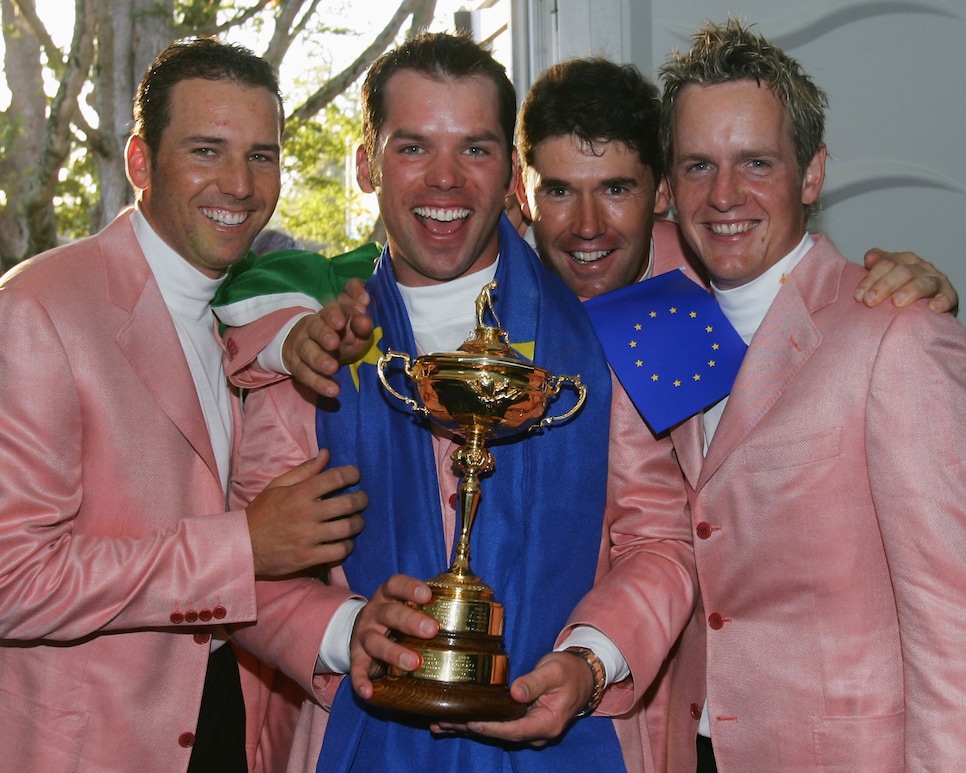 It will also be Casey's second trip to Birkdale. The first was in 2008, and it serves as something of a microcosm of his career. Caught on the wrong end of horrific weather in the opening round, Casey shot 78. Considering 19 players failed to break 80 and the scoring average was just under 76, it wasn't that bad, but it left him nine back and playing catch-up the rest of the way.
Two days later, he pushed his second shot at the par-5 15th right and into deep grass near a cluster of gorse. Among the search party? Prince Andrew, who recounted to Casey having hit his ball into a similar spot. Like his royal highness, Casey never found his ball, went back to the fairway and made double on his way to a 73. On Sunday, he shot 70, one of just eight rounds of par or better, but finished nine back of winner Padraig Harrington.
It was one of nine career top-10 finishes in majors for Casey, whose only lead on or going into the weekend of a major was this year at Erin Hills. As he turns 40, Casey understands his opportunities are fleeting.
"I know the clock is ticking, that I've got maybe another five years of amazing stuff," he said. "I'm more frustrated about the two or three years of injury and divorce that might've robbed me of great golf, but I'm proud of the way I'm playing golf now and the enthusiasm and passion I have for it."
He's also inspired by the performances of others, with snakebitten Sergio Garcia having won his first major earlier this year at the Masters at age 37 and Henrik Stenson having done the same at age 40 at last year's Open Championship at Troon. The last seven majors have all been won by first-timers as well.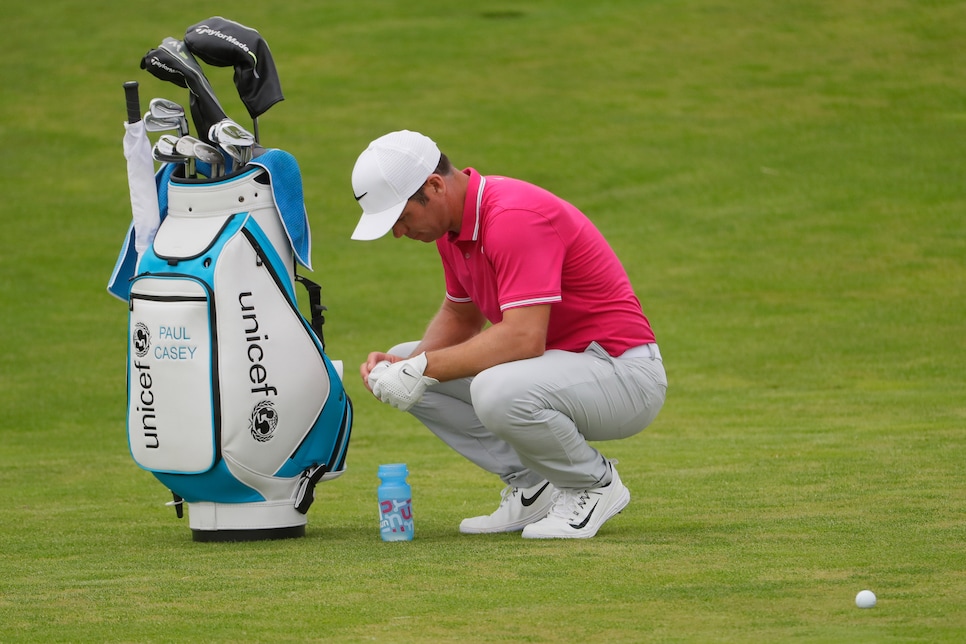 Still, would Casey consider it an underachievement if he were to never get his turn? He turns philosophical for a moment.
"I don't think I look at it that way anymore," he says. "Don't confuse that for being soft and not having desire. What's more important now is, did I give it my all and did I make an impact? Have I helped people and had an effect in their lives?"
To that end, Casey announced earlier this year that for every birdie he makes through December, he will give $100 to UNICEF to fight famine and food crisis. "It would be sad if I won all these tournaments or majors and nobody gives a crap," he said. "That's the stuff that matters."
The golf still matters, too, Casey insists. There's just more context to it now.
"Sure I'd like more titles, I really would," he says with a wry laugh. "I still hope I win a major. Let's have this conversation in six or seven years. Hopefully I won't be pissed off then."