News
Paul Azinger on Justin Thomas' use of 'we': "*We* aren't losing sleep tonight. He is'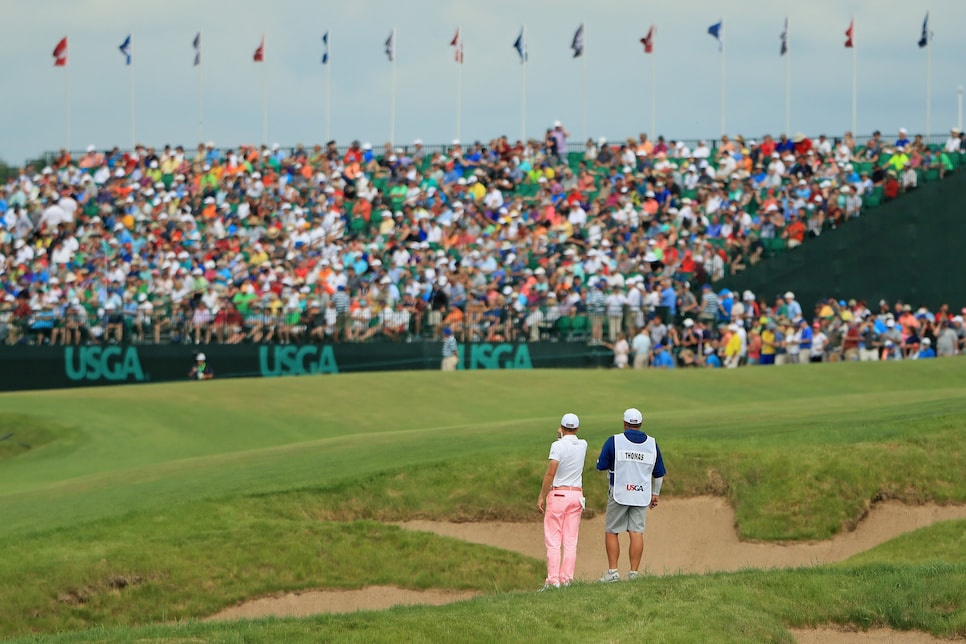 The word we seems innocuous enough, but it seems debatable whether it helps a player psychologically in a decidedly individual sport to speak as though he's a part of a team.
The debaters were Fox Sports analysts Paul Azinger and Brad Faxon, when the latter brought up Justin Thomas' interview in the wake of his U.S. Open record-round of nine-under par 63 at Erin Hills.
"Justin Thomas in that interview with Shane Bacon said, 'we.' And I think that's a common theme with a lot of players now," Faxon said. "You hear Jordan Spieth and Rory McIlroy use, 'we.'… Rickie [Fowler] as well.
"And You know [Thomas has] got his caddie Jimmy Johnson. He's got his coach here, Matt Killen. He's got his dad Mike here. He's like the soothing guy in his team. And he's also got Bob Rotella, his sports psychologist, who talks about keeping things simple and in the moment and acceptance. And that's my favorite word for these players. Can you hit a shot and can you accept it and can you go on? So hard to do, especially on a course like this."
"This 'we' thing," Azinger said, shaking his head, "it's like humility on steroids. I get it. They've got their entourage and they've got their team and all that. But we aren't hitting 3-woods 299 yards in the air. He is."
"But that's a way for players to defect the pressure," Faxon replied, "to take pressure off themselves. They feel it's a group project here. I think it's a good way to go. They all have a lot of people helping them out."
The last words went to Azinger, and they were good ones.
"We aren't losing any sleep tonight. He is. We'll see what happens."