News
Patton Kizzire holds off Rickie Fowler for first career victory at the OHL Classic at Mayakoba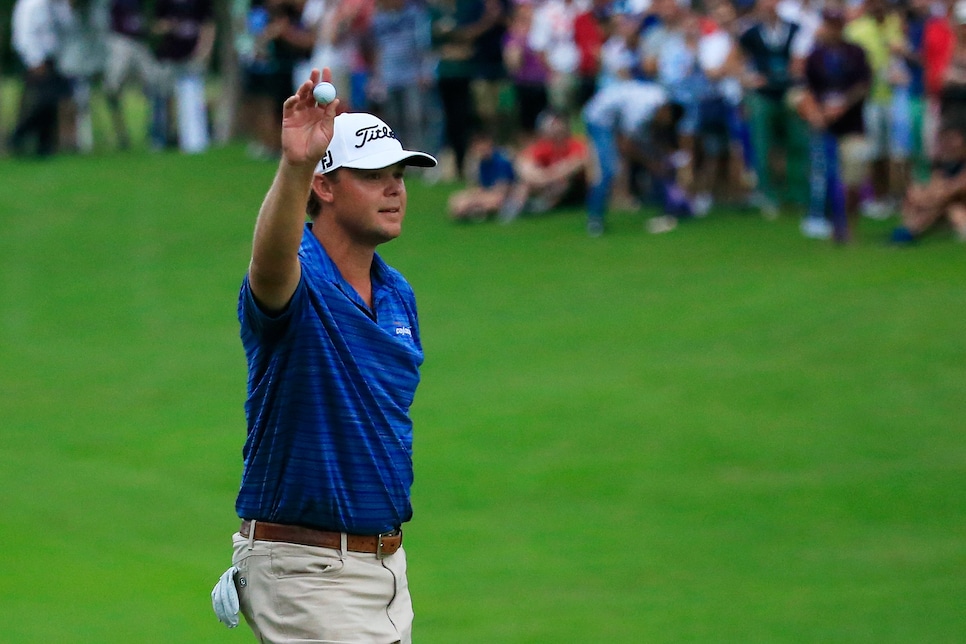 Breaking through for your first PGA Tour victory is hard enough as it is, but add in the challenge of doing it on a marathon, 36-hole Sunday and it becomes an even taller task. Patton Kizzire was up for it though, posting rounds of 66 and 67 at El Camaleon to finish one stroke ahead of Rickie Fowler at 19-under 265 and earn his first career win at the OHL Classic at Mayakoba.
"It was pretty nerve-wracking, but I felt good," Kizzire said. "I've been in tough spots before and I drew from that from all my experiences."
Kizzire, 31, never flinched on Sunday, often getting out of some tricky situations and limiting the damage as best he could. There was no better example of this then at the par-5 13th hole in his final round, when the Auburn alum badly hooked his drive into a hazard and had to take a penalty stroke. It looked like an opportunity for Fowler to gain some major ground, but Kizzire battled, saving par and losing just one shot after Fowler made birdie.
He went on to make pars the rest of the way, which ended up being enough, but Fowler did make it interesting with a late rally. The four-time tour winner made back-to-back birdies at the 16th and 17th to cut the lead to one, but left his final birdie putt short at the 18th, allowing Kizzire to two-putt his way to a win.
"It means a lot, I'm pretty excited right now, pretty emotional and I was glad to get it done. Rickie made me work hard," Kizzire said.
Fowler, who carded two 67s on Sunday, has now finished in second place 12 times in his PGA Tour career, and three times in his last 11 starts.
Reigning Players champion Si Woo Kim made a strong run on Sunday, posting rounds of 69 and 65 to finish in solo third at 15-under 269. In addition to his two victories, Kim's now finished inside the top five four times in 76 starts on the PGA Tour. He's also made seven consecutive cuts dating back to The Northern Trust in August, matching the longest streak of his career.
After 36 holes Charles Howell sat six off the lead at four under, but carded a pair of five-under 66s on Sunday to vault up the leader board and finish in a tie for fourth with Martin Piller at 14-under 270. Piller finished with rounds of 71 and 65, collecting 11 birdies and an eagle along the way. The T-4 finish matches the best of Piller's career. For Howell III, it's his second consecutive finish inside the top seven at the OHL Classic at Mayakoba.
Ryan Moore and Scott Brown tied for sixth at 13-under 271.
Coming into Sunday, Patrick Rodgers held a share of the lead with Kizzire, looking to win for the first time in his PGA Tour career. It will have to wait, as Rodgers struggled all day, posting rounds of 72 and 70 to finish at 10-under 274.