The Loop
Patrick Reed's perfect timing, Rickie Fowler's playoff mustache, Demi Lovato's golf crush & fun with bobbleheads
Welcome to another edition of The Grind, where we are in bobblehead heaven thanks to a new collection of FedEx Cup champions. Previously, my paltry stash consisted of two Jordan Spieth bobbleheads and a broken one of President Obama playing golf in Hawaii that now sits in a Pebble Beach shot glass. And no, that is not some sort of political statement.
But now, I have one big happy bobblehead family to keep me company at my cubicle during lonely summer weeks and dark winter days.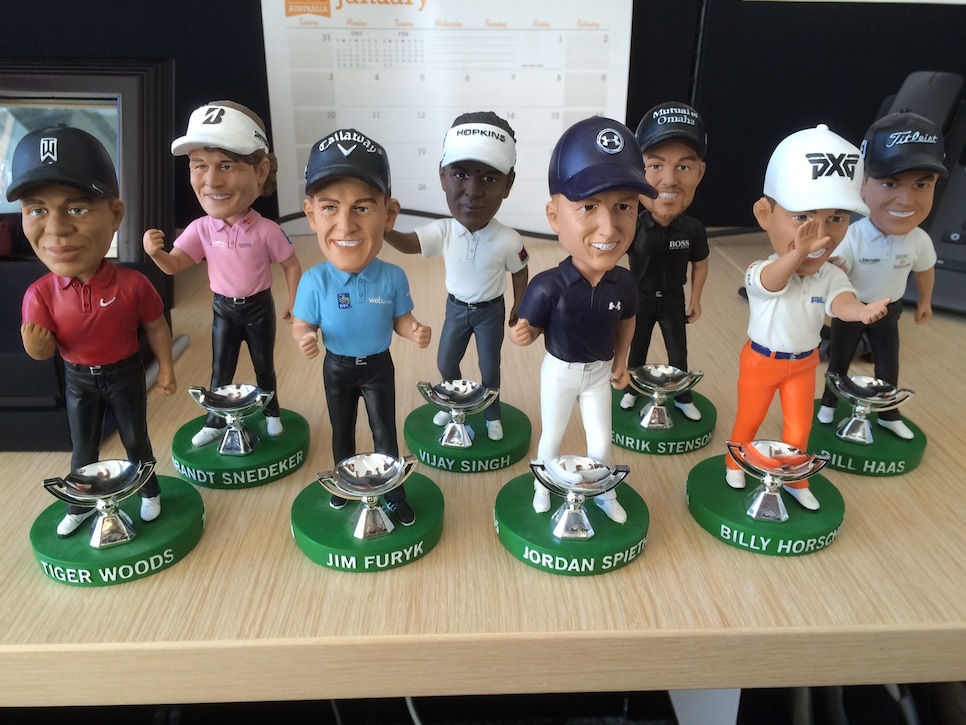 Or, to possibly give me nightmares. In any matter, here's what else is on our mind.
Patrick Reed: The current Golf Digest cover boy picked a great time to pick up his first victory in nearly two years. With the win at the Barclays, Reed took the lead in the FedEx Cup and clinched a spot on the U.S. Ryder Cup team. Hence, this patriotic headline I came up with: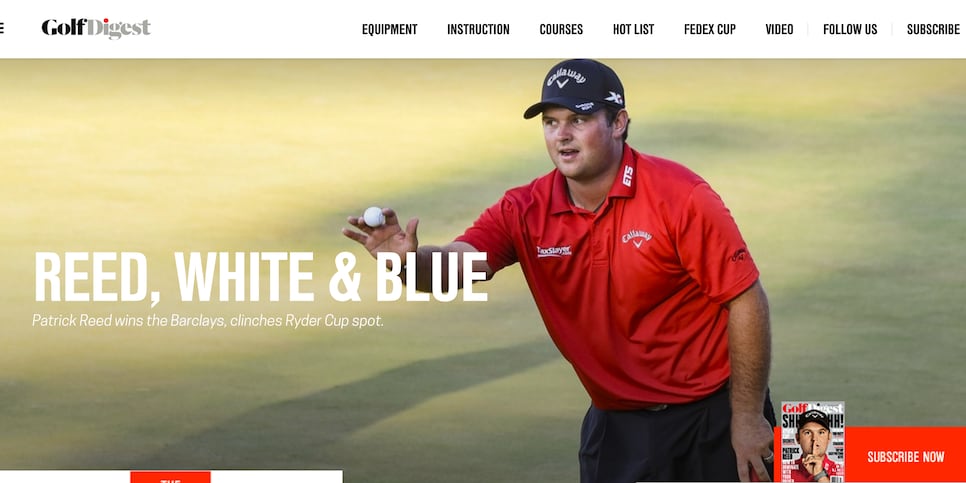 "The 25": Twenty-five Web.com Tour players wrapped up PGA Tour cards for next season at the WinCo Foods Portland Open. The coolest story? Former Michigan State player and coach Ryan Brehm winning the event to jump from 30th to fourth. The saddest story? Golf's other "Mr. 58," Stephan Jaeger, missed the cut and didn't finish in the top 25 on the money list. On the bright side, he and the others who didn't will have another opportunity to play their way onto the PGA Tour at the Web.com Tour Finals.
America's Great 8: OK, so the name needs work, but the eight automatic qualifiers for the U.S. Ryder Cup team (Jordan Spieth, Dustin Johnson, Phil Mickelson, Jimmy Walker, Brooks Koepka, Brandt Snedeker, Zach Johnson and Reed) are pretty solid. And now the real fun starts with Davis Love III's captain's picks. Let the endless (seriously, I already did an 88-minute podcast with Shane Ryan) debates begin!
Bethpage Black: Great course. GREAT atmosphere.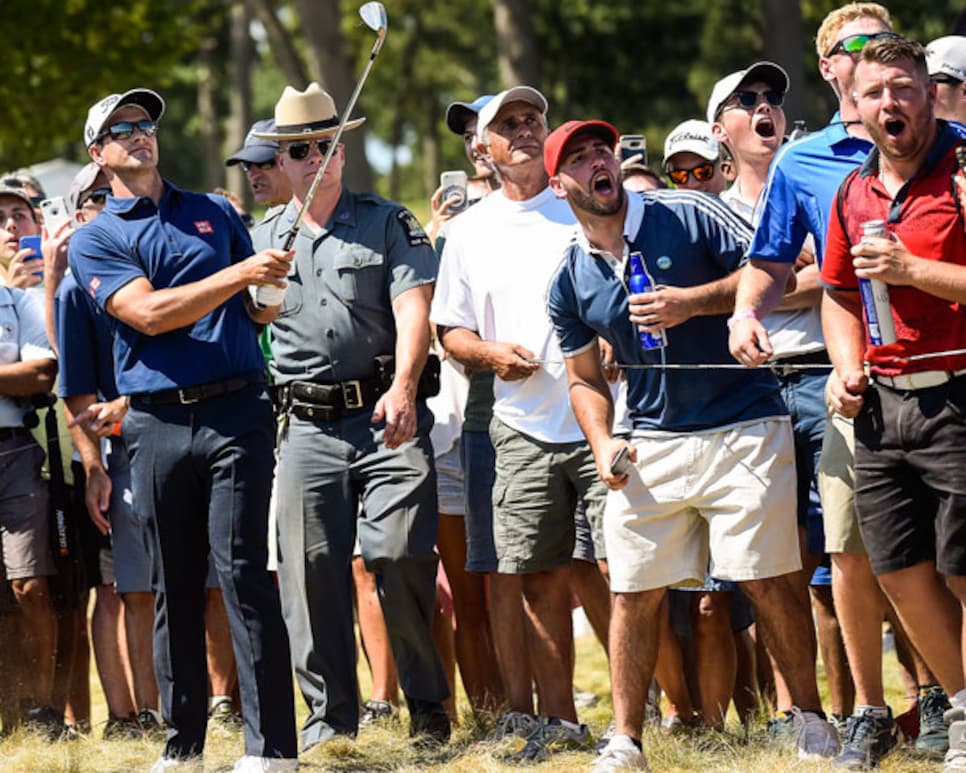 2016 Chris Condon/PGA TOUR
Think the 2024 Ryder Cup is going to be any fun?
Rickie Fowler's finishing skills: After one bogey in his first 64 holes at Bethpage Black, Fowler finished with three bogeys and a double bogey over his final eight holes to let both the Barclays and an automatic spot on the Ryder Cup team slip away. This also brings his PGA Tour record with the 54-hole lead to a dreadful 0-5. But that wasn't the worst thing he did. . .
Rickie Fowler's hair choices: First, that Olympics haircut. And now, this playoff mustache?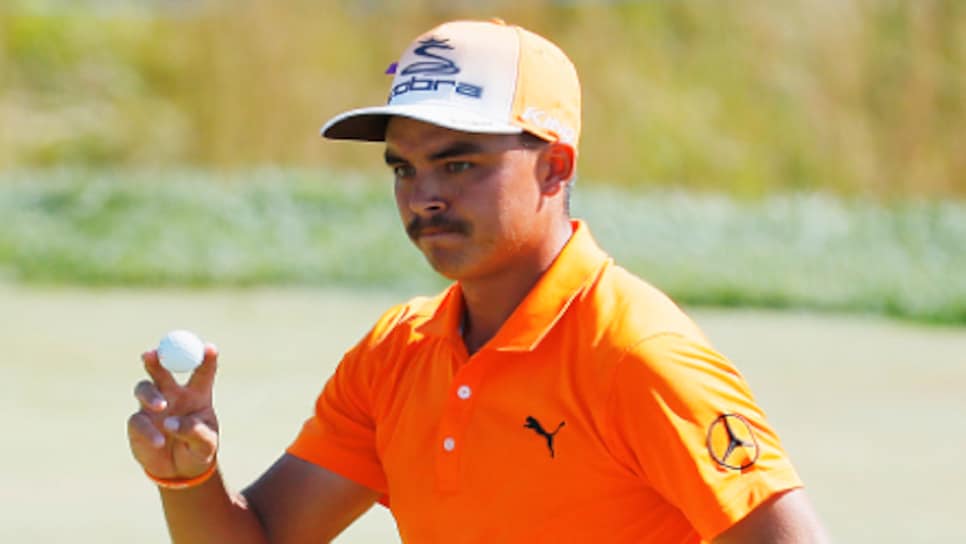 Russell Knox getting shafted: There is only one European Tour player to win twice on the PGA Tour this season. His name is Russell Knox and yet somehow, he will not be representing Europe at this year's Ryder Cup. Euro captain Darren Clarke made his three captain's picks on Tuesday and went with Lee Westwood, Martin Kaymer and Thomas Pieters. While all three are solid picks, it seems silly that someone in the top 20 of the Official World Golf Ranking didn't make the team. Speaking of European Ryder Cuppers. . .
Rory's new putter: One of the big headlines of the week was that Rory McIlroy had ditched his Nike Method putter for a new Scotty Cameron model. And for one week, nothing really changed. McIlroy continued to struggle on the greens, finishing 77th of the 79 players who made the cut in strokes gained putting. We know a certain group of players who wouldn't mind McIlroy keeping this up at Hazeltine next month.
The PGA Tour heads to Boston for the Deutsche Bank Championship, aka the most spell-checked event of the year by U.S. golf writers.
Random tournament fact: Rickie Fowler sent champagne to the media center after winning last year. What a guy.
RANDOM PROP BETS OF THE WEEK
-- Russell Knox will send champagne to Darren Clarke if Europe wins the Ryder Cup: 10 MILLION-to-1 odds
-- Jason Day will win the FedEx Cup: 7-to-2 odds (Still the actual odds for the favorite)
-- Rickie Fowler will still make the U.S. Ryder Cup team: LOCK
John Daly and Jesper Parnevik got lost driving through Canada to the next PGA Tour Champions event. Fortunately, Jesper documented some of it:
This leads to an obvious question: When does Season 1 of "John & Jesper on the Road" start?
Before he pounded Bethpage Black, Patrick Reed closed the New York Stock Exchange – and broke a gavel.
At least, it turned out to be a good omen. Reed kept the gavel and said he's going to hang it near his Barclays trophy.
(Side note: If you want to know how badly Reed wanted to play in the Ryder Cup, look no further than that tie. Wow.)
VIRAL VIDEOS OF THE WEEK INVOLVING KIDS
First, you have the meeting of Jordan Spieth and Scripps National Spelling Bee co-champion Jairam Hathwar. The two had their own spelling contest – and it turned out as you might imagine:
And then, you have Tony Finau's oldest son, Jraice, showing off ALL the dance moves.
I'm stealing that golf swing move the next time I go out.
"He just told me, he was like, 'Hey,' he goes, 'I'm going to go get my work done,' and he was like, 'I'll see you in Minnesota.' I said, 'I know you will be.'" – Patrick Reed on his exchange with Rickie Fowler at the conclusion of the Barclays.
THIS WEEK IN DUSTIN JOHNSON-PAULINA GRETZKY PUBLIC DISPLAYS OF AFFECTION
Paulina gave DJ a wet willy on the way to the course!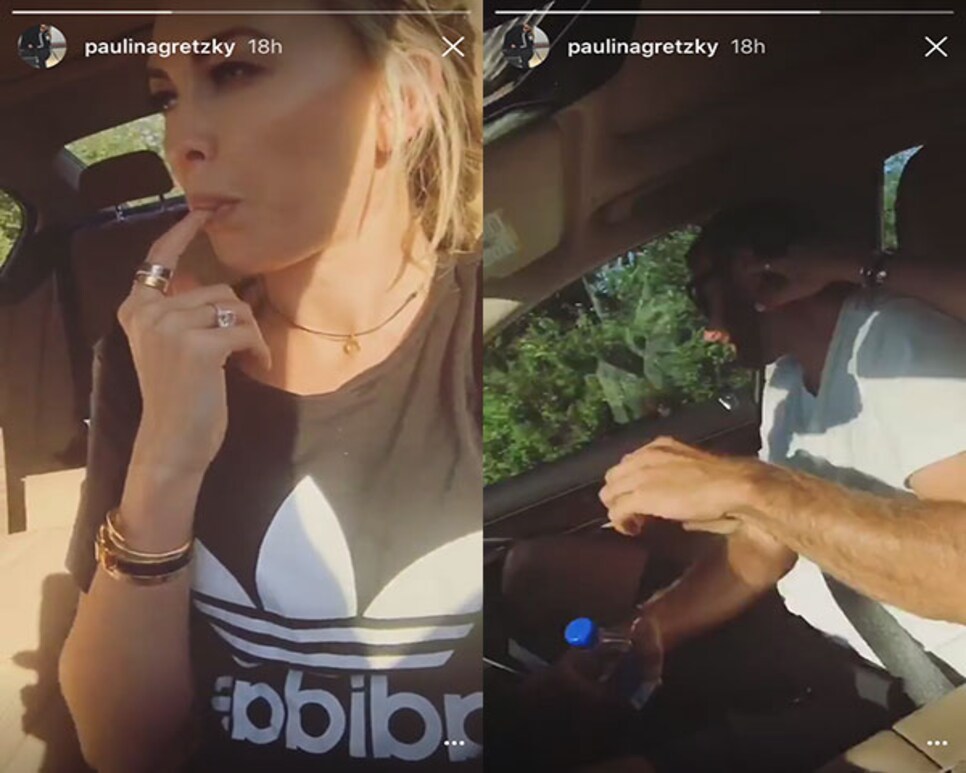 If that's not true love, I don't know what is.
THIS WEEK IN TENUOUS GOLF CONNECTIONS
So it turns out pop star Demi Lovato is dating UFC fighter/celebrity golfer Luke Rockhold. Why do we care? Because you might remember Luke from being on the cover of Golf Digest and from this instructional video in which he shows how to handle annoying golfers.
By the way, if U.S. Ryder Cup captain Davis Love III is looking for an intimidating assistant captain. . . then again, the Europeans already have Conor McGregor in their corner.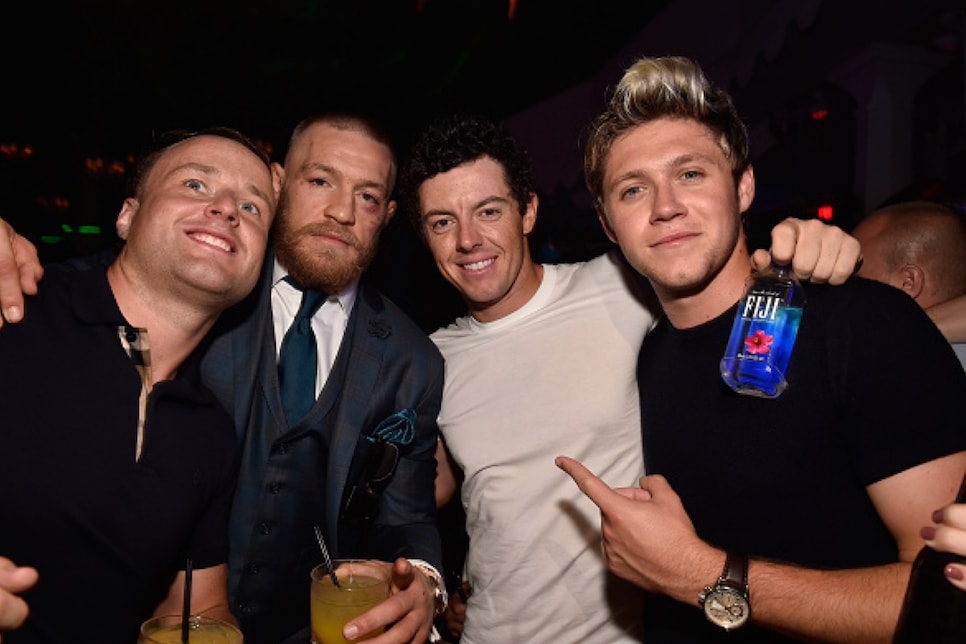 THIS WEEK IN PAIGE SPIRANAC BEING PAIGE SPIRANAC
Unfortunately, Paige didn't have a good week on the course, failing to make it past the first stage of LPGA Q School:
On the bright side, it appears she has her own line of golf clothes coming out:
And she's not taking a break from social media: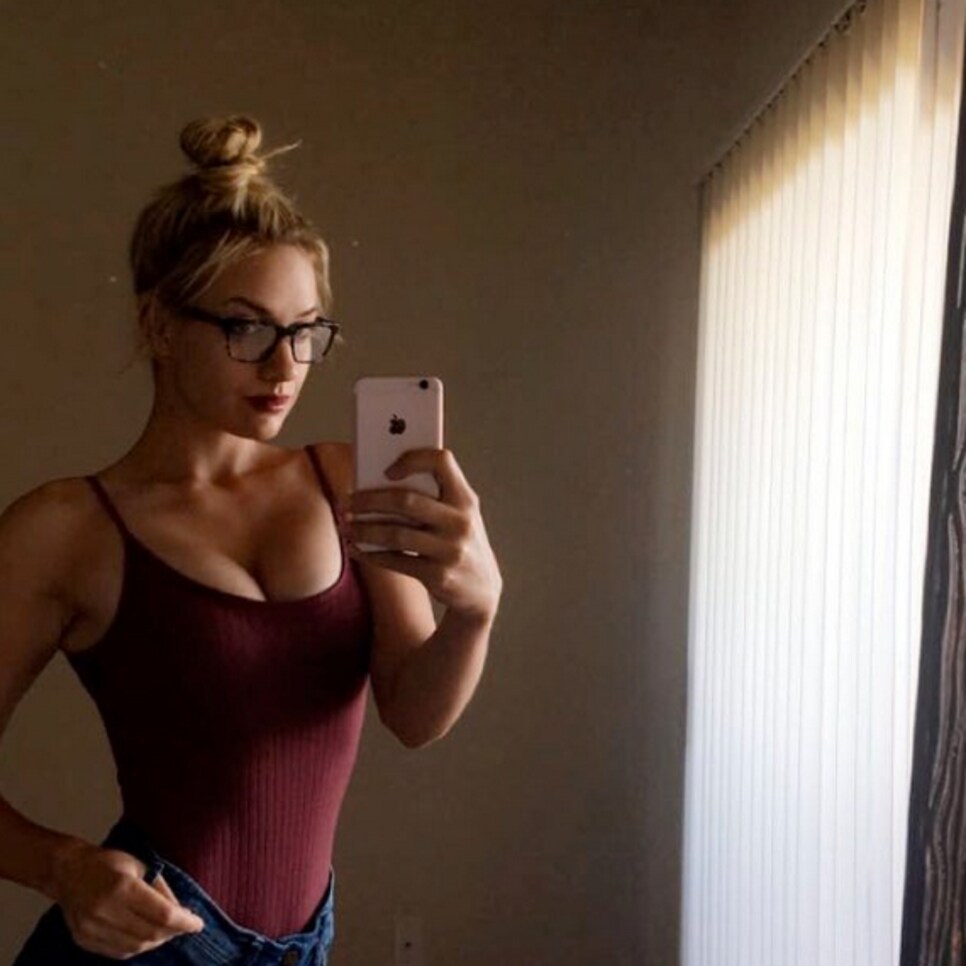 Ariya Jutanugarn won for the fifth time in her past 10 starts on the LPGA Tour. The 20-year-old breakout star is the winningest player in pro golf in 2016. . . . Not too far behind her is 59-year-old Bernhard Langer, who won for the fourth time this year on the PGA Tour Champions. Sounds like another Ryder Cup snub by Darren Clarke. . . . How about the week for the Sea Island golfers? Zach Johnson made Davis Love's Ryder Cup team, and Trey Mullinax, JT Poston and Rick Lamb all earned their PGA Tour cards at the Web.com Tour's season finale. When is the Sea Island Mafia bobblehead collection coming out? . . . And finally, I was on hand at the Ralph Lauren flagship store in Manhattan on Monday for captain Davis Love III's official unveiling of this year's uniforms:
Say what you will about Team USA's chances, but the boys in red, white and blue will look sharp, at least.
RANDOM QUESTIONS TO PONDER
How many beers were consumed at Bethpage Black?
Should I consider growing a playoff mustache?
Could I even grow a playoff mustache?