The Loop
Patrick Reed told Tiger Woods, "You are not sitting me on any matches"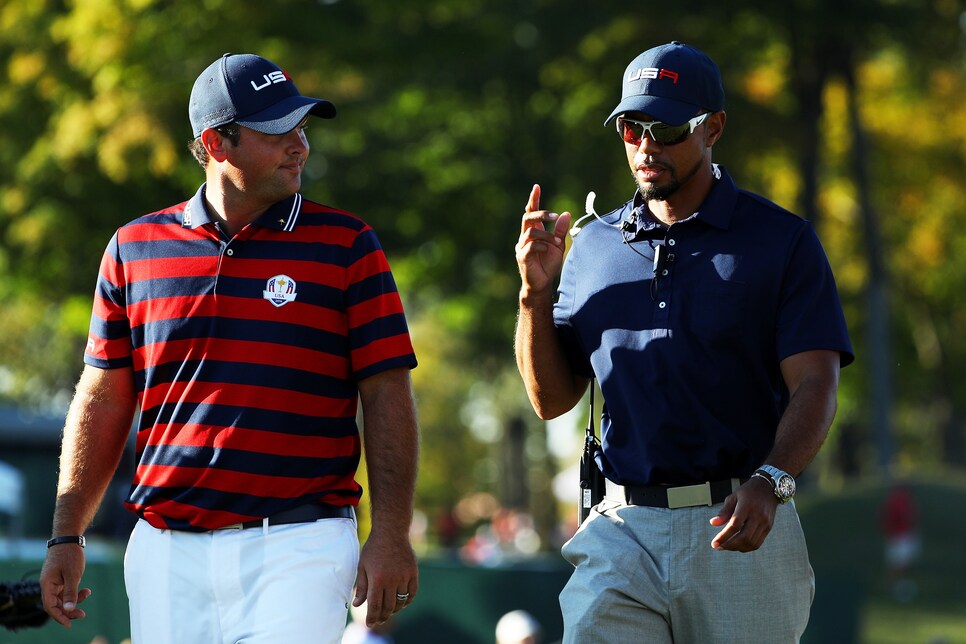 PGA of America via Getty Images
CHASKA, Minn. -- A quick disclaimer: This post is NOT insinuating that there are any issues with chemistry among Team USA. In fact, as of Saturday night, the 12 players, their captain and their army of vice captains are quite the merry band of brothers. Hey, it helps when you're winning.
But Davis Love III faced a big decision before Saturday afternoon's four-ball session. And it appears that Patrick Reed and Tiger Woods made up their captain's mind.
The question was whether to send the star pairing of Reed and Jordan Spieth out for a fourth consecutive session, especially after the duo seemed to run out of gas in blowing a late 4-up lead in the morning and only coming away with a half point. That's when Love turned to his squad's most overqualified golf-cart driver.
"I finally just said to Tiger, 'Are we playing them or are we sitting them?'" Love admitted after Reed and Spieth won in the afternoon to extend the U.S. lead to three points heading into Sunday's singles session. "He said, 'No, you have to send them back out there, they are playing so well.'"
Who says Ryder Cup vice captains don't do anything?
"He's Captain America for us. He wanted to play five matches at the beginning of the week," Spieth said of Reed. "Tiger told him he might be sitting one and he said, 'You are not sitting me on any matches.'" Feisty!
Reed got his wish, the U.S. got a much-needed point against Europe's top tandem of Justin Rose and Henrik Stenson, and everyone was happy to tell the tale afterward. All's well that ends well, eh?