The Loop
Patrick Reed says Tiger Woods hasn't swung a club this week, has given him a tour of Hazeltine's back nine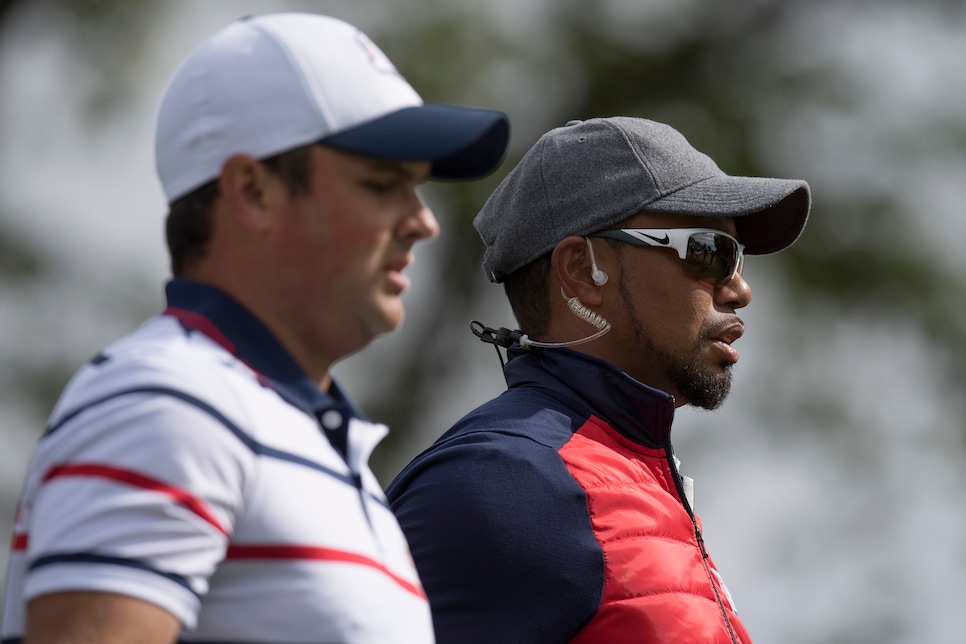 CHASKA, Minn. -- Patrick Reed is a bundle of patriotism and excitement at this week's Ryder Cup. The 26-year-old American spark plug is having a grand old time at Hazeltine. Just look at this guy: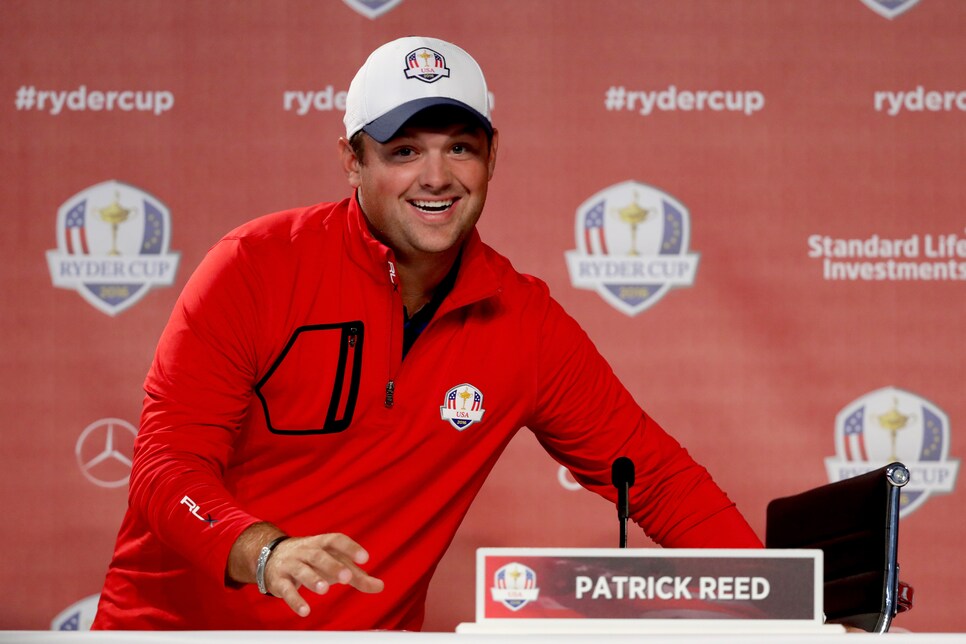 Clearly, Reed is pumped up to be representing the U.S. at the biennial matches for the second time, but he's also giddy over something else: Being part of American vice captain Tiger Woods' pod. That group within captain Davis Love III's squad consists of Reed, Jordan Spieth, Dustin Johnson and Matt Kuchar with Woods as its leader. Reed has enjoyed getting to know his idol better and he even got a private tour of Hazeltine's back nine from the 14-time major champ.
"We played nine holes on the first day, and the whole group, it was so windy, they only wanted to play nine. I decided I wanted to go see the back nine, so I just walked the back nine backwards," Reed said on Thursday. "He was like, "All right, well, let's go." And he walked it with me, helping me figure out the golf course. You don't get that very often. And to have somebody do that for you, especially a guy like Tiger Woods, it meant a lot to me."
Later, he elaborated on their walk together.
"The way his mind works on the golf course, it's impressive and it definitely shows why he has won so much and where he is. It was amazing," said Reed, who went 3-0-1 as a Ryder Cup rookie at Gleneagles in 2014. "I learned so much just from that nine holes walking around that I felt like just that alone could save me so many shots throughout my career, because of -- just by thinking about just the little minor details. And it's not rocket science. It's really stuff that you're like, well, I should have been thinking about that."
Reed said the information Woods has imparted this week has gone well beyond the local knowledge of a course where he finished runner-up at two PGA Championships.
"And to have a guy like that who, if you ask him any question or if you need anything, he is there," Reed said. "He's all-in. He'll answer any question, whether it's about golf, on the golf course, off the golf course, anything. He's there to genuinely help you and help you on not just Ryder Cup but throughout other things, and it really speaks volumes on what kind of person he is."
However, there's something Woods, who plans to make his return to the PGA Tour at the Safeway Open in two weeks, hasn't done at Hazeltine that has Reed slightly disappointed.
"No, he has not swung a golf club, unfortunately," Reed said. "We are all pushing him to, but he's not going to do it."
Patience, Patrick. Patience.