tour technique
How Patrick Reed succeeds from the sand, and how you can too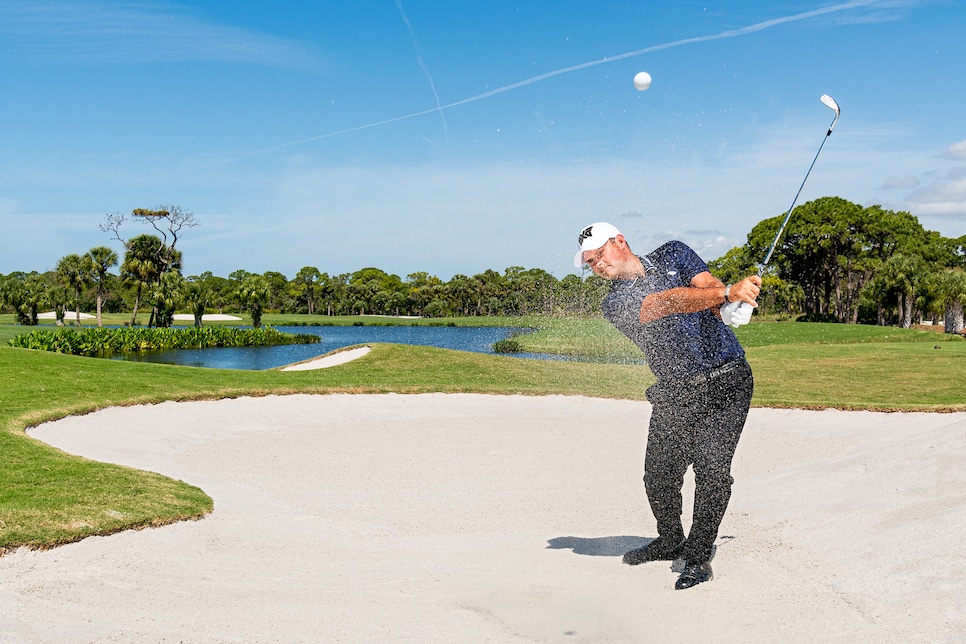 Your goal from a greenside bunker is simple: Give yourself a reasonable chance to hole out with your next shot. That's it. You can do that if you come up with a simple strategy and stick with it. Here are my keys:
From an open stance, play the ball close to your front heel and keep your chest hovering over it. The key is to get low with your hands and stance. This will help you skim the club through the sand.
Bowing your knees away from each other at address helps keep your lower body stable when you swing.
For longer greenside shots, like I'm hitting here, you can open or close the clubface to regulate distance, but a more fail-safe option is to change clubs. For a longer greenside bunker shot, you can even go with a 9-iron. The beauty is, the technique stays the same.
Stare at a spot about an inch and a half behind the ball and never take your eyes off of it. That's where you'll make contact.
The back side of your wedge—the bounce—is your best friend. It should strike the sand first, and you should hear a loud thump when it does.
LET YOUR DOMINANT HAND CONTROL THE SHOT
Around the ball, it feels like my left hand stops, and my right hand passes it and keeps moving up and across my body (above). Don't stop at impact. —With Ron Kaspriske
PATRICK REED, top 20 in sand saves over the past three seasons on the PGA Tour, gets up and down from greenside bunkers three out of every five attempts.
The average sand-save percentage on the PGA Tour this season through late March: