The Loop
Patrick Reed prevails over Rory McIlroy in Ryder Cup match that was better than advertised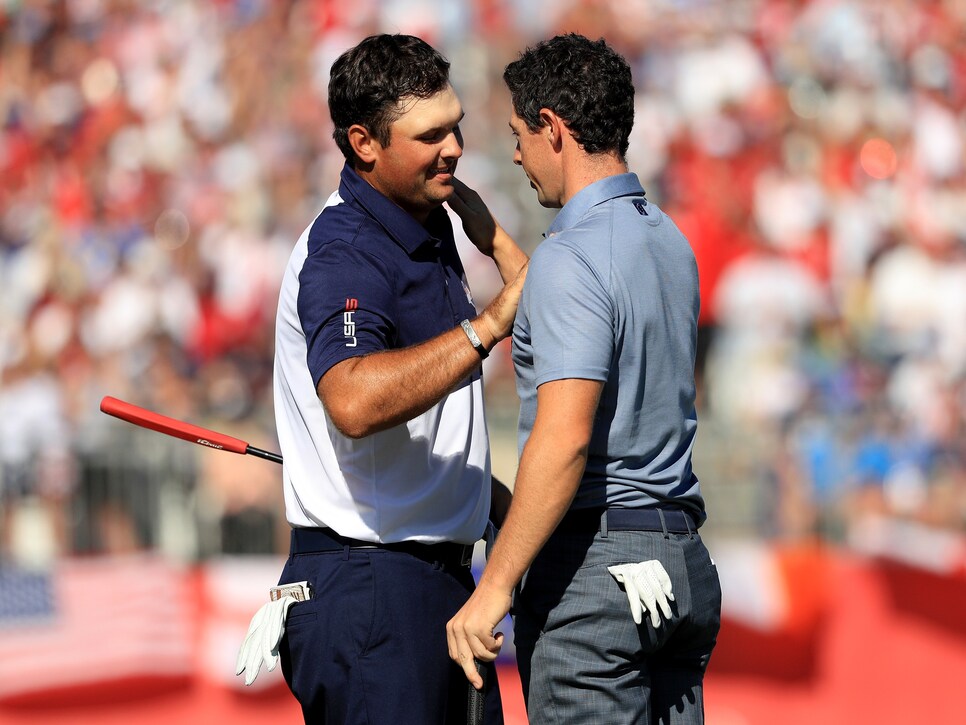 PGA of America via Getty Images
CHASKA, Minn. -- For over four hours it was like watching Rocky Balboa vs. Apollo Creed, with Patrick Reed and Rory McIlroy landing one haymaker after another, so dramatic it couldn't possibly be real.
It was, and this one exceeded its billing.
In a match that pitted arguably the two biggest Ryder Cup stars of the U.S. and Europe against one another in the opener of Sunday's singles matches on the final day of the 41st Ryder Cup at Hazeltine National Golf Club, Reed and McIlroy didn't disappoint.
The two combined for eight birdies and an eagle on the front nine alone before Reed landed one last body blow with a 12-footer for birdie on the 18th hole to secure a 1-up victory. It was the first point of the match for the U.S. and an emphatic statement victory that ultimately was one of many that helped the Americans end their Ryder Cup drought.
"I knew today was going to be tough going against a guy like Rory, especially with how he was playing earlier this week," said Reed, who pumped his fists and shouted in elation before the final putt even hit the bottom of the cup. There was never a doubt. "To come out and play as well as we did, especially on that front nine, it was definitely something fun to be a part of and pretty sure fun to watch."
No more so than on the par-3 eighth hole.
With the match all square and McIlroy 70 feet short of the pin, the 27-year-old Northern Irishman and veteran of four Ryder Cups sent his ball speeding up the slope and into the center of the hole. After having tempered his emotion on an earlier birdie that had briefly given him a 1-up lead, McIlroy couldn't hold back this time, letting out a primal scream, "----ing come on! I can't hear you!" as every vein and muscle in his body reached maximum strain.
No big deal for Reed, who was 20 feet left of the flag and made his on top of McIlroy. He playfully wagged his finger at McIlroy, let out his own scream and pumped his fists toward the gallery. The crowd exploded.
"It looked like I was in total control of the hole, then he makes a 70-footer," Reed said. "To make a 25-footer on top of him, that was the turning point of the match."
Nearby, pop star Niall Horan, a close friend of McIlroy's and an ambassador for the European Ryder Cup team who had been out following matches all week, could hardly contain himself. "Never seen a game like this!" said Horan, one of probably 200 family, friends, media and celebs (Bill Murray) who were walking inside the ropes for the match.
So packed and electric was the atmosphere that it was like a separate tournament was going on, and chants of "USA!" and "Pat-rick Reed!" were more constant than the histrionics from Reed and McIlroy every time a big putt fell.
Despite the stage and the match's importance, the incredible performance wasn't lost on its participants, either. McIlroy and Reed bumped fists in a show of sportsmanship and appreciation as Reed plucked his ball out of the hole on the eighth.
"We both wanted to win very badly, but at the same time we both appreciated how good everything was out there," McIlroy said. "Patrick played phenomenal golf."
Like any heavyweight fight, the pace slowed as the holes wore on, though. McIlroy did not make a birdie on the back nine (until a concession birdie at 18), and his bogey on the 12th gave Reed the lead for good. As the two made their way down off the 14th tee, one fan shouted, "Finish him off, Patrick!"
A few holes later, he did.
"It was tough at the end, it really was," a spent McIlroy said. "I ran out of steam. It's been a long week. I didn't make any birdies on the back nine, which you can't do against a guy of that quality."
And this one was of some of the highest quality, the kind of match that will be talked about 50 years from now when looking back at how the U.S. put an end to Europe's three-match win streak. It started with it's own version of an American hero.
Said Reed, "They put me out front to do my job, and to put that point on the board."