The Loop
Patrick Reed altered arc of Ryder Cup with two par putts -- one missed, one made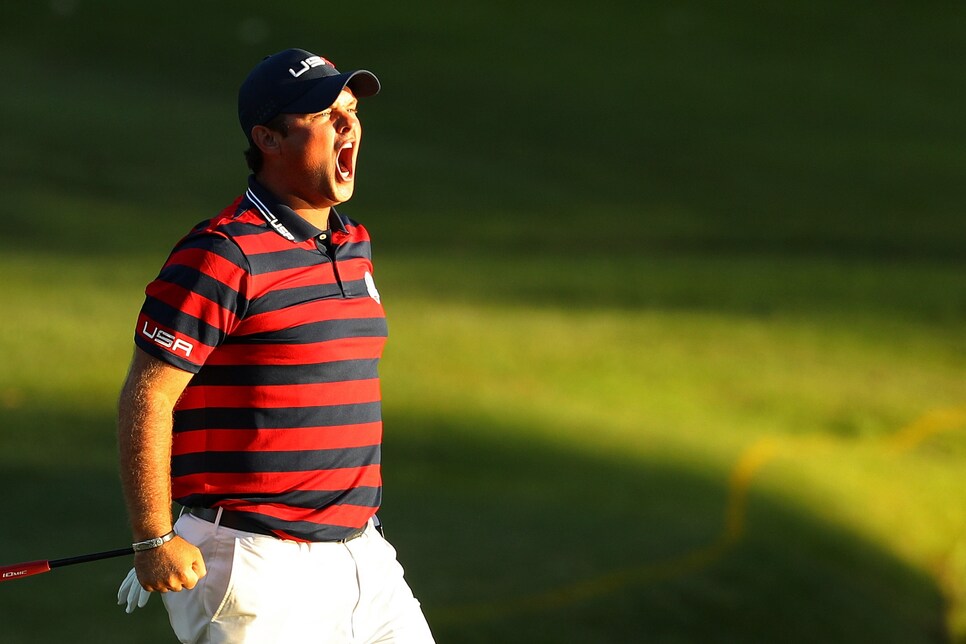 PGA of America via Getty Images
CHASKA, Minn. – Two par putts on the 18th hole, one in the morning and one in the afternoon, one made and one missed, altered the arc and tenor of this 41st Ryder Cup.
We can talk all night about the scintillating display of golf American Patrick Reed conjured on Saturday afternoon at Hazeltine National as he carried Jordan Spieth to a 2-and-1 four-ball victory over Olympic gold and silver medalists, respectively, Justin Rose and Henrik Stenson. His barrage of six birdies and an eagle was the kind of signature performance that inspired the boisterous American crowd to leave his ears ringing with chants of "MVP" as he exited the 17th green.
But Reed's biggest contribution Saturday was the six-foot par save on the home hole in morning foursomes that allowed him and Spieth to salvage a half-point against Sergio Garcia and Rafael Cabrera Bello after letting a 4-up lead disintegrate over the last six holes.
Some seven hours later on the same green, with another half-point on the line, England's Lee Westwood, whom good friend Darren Clarke included among his three wild-card selections, stood over a two-foot birdie putt that could yield a half-point for Europe. Having missed from four feet on the previous hole to provide 1-up daylight to J.B. Holmes and Ryan Moore, it was the optimum scenario for quick redemption.
His grotesque jab never threatened the cup, and the U.S. was gifted additional breathing room heading into Sunday's singles, a three-point lead the Americans will try to convert into their first victory since 2008. Granted, the 9½-6½ advantage represents a lead that is one fewer than the four-point cushion it carried into singles in 2012 at Medinah. But the Europeans, riding a late Saturday rally ignited by an unconscious Ian Poulter, were able to erase that seemingly insurmountable edge to perpetrate the greatest final-day road rally in Ryder Cup history.
The mood and the momentum couldn't be more different this time. Fueling these circumstances was a tie that should have been a win and almost became a loss. On these slivers of fortune does the Ryder Cup hang in the balance.
"You know, everything was pointing towards him missing that putt, because of how we had let that lead go," Spieth said of the telling stroke that kept the U.S. in the lead by a point. "But he knocks it in, and we sort of feel different about the match. We didn't like the tie, but the loss would have been pretty devastating."
"It was hugely clutch for sure. It was massive momentum swinging back at us," said Matt Kuchar, who teamed with Phil Mickelson for a 2-and-1 four-ball win over Garcia and Martin Kaymer as part of America's 3-1 session triumph. "There was a group of us watching inside very intently. It was big. Hard to believe one putt can set a tone, but that's how the Ryder Cup is."
Only Northern Ireland's firebrand Rory McIlroy and impressive rookie Thomas Pieters of Belgium prevented another whitewashing to bookend the one America registered Friday morning. That 3-and-1 Euro victory drew the visitors even on the scoreboard at 6½, but after rolling that boulder all the way up the hill, they suffered a Sisyphean fate.
Mickelson, who jarred a six-footer for birdie on 17 to close out his eighth four-ball victory – most all-time for the U.S. – has seen 11 of these things up close and understands how the day's dynamics were so telling. The U.S. weathered a storm Saturday, while Europe expended copious amounts of emotional capital without making inroads. In fact, it fell back.
"Look, we know how good they are, and they played some great golf. They won the last two sessions before this afternoon," Mickelson, the five-time major champion, said. "But we were able to counter their run and get the momentum back, and I think our guys showed a lot of heart. But in 2012 we had a four-point lead, so we know we have to stay focused."
"It's nice to go in on a high," said U.S. captain Davis Love III, who desperately seeks to make amends for the Medinah mess. "But as I said all but two of us have been on teams before, and we know the deal – that tomorrow is extremely important. There's still 12 points to be played, and you just can't get off the game plan. You have to keep grinding it out for one more day."
With all the talk of the U.S. Task Force and the Ryder Cup committee that was formed in its wake, with all the strategizing and orchestrating and planning and hand-wringing, it was a putt here or there that has brought America to the brink of just its third Ryder Cup win in the last 11 tries.
It really is just that simple. It really does work that way. It really does look like it could be the difference for an American contingent starved for redemption – not just for its failures, but the lengths it has gone to ensure success.