The Loop
Patrick Reed leads the British Open, already wins for best club twirl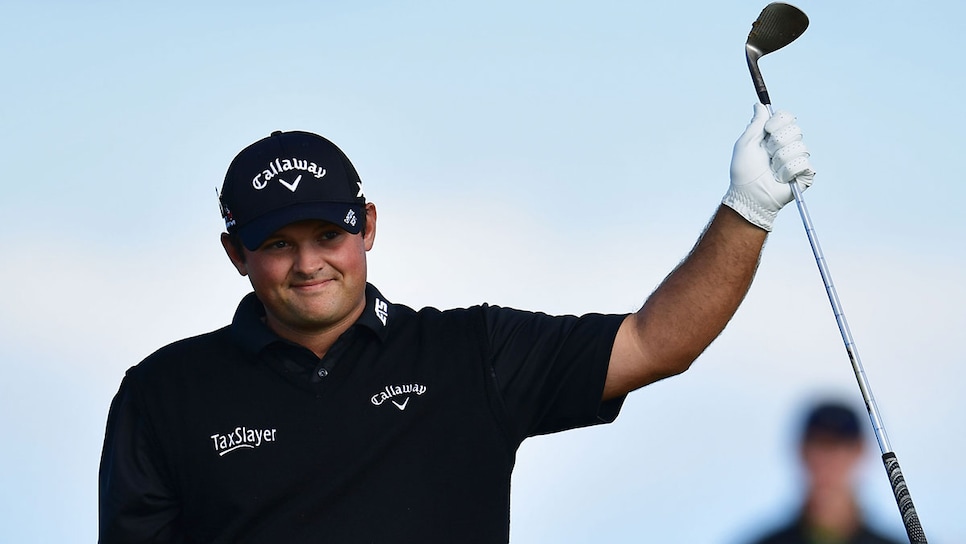 TROON, Scotland -- It was a thing of beauty. Executed quickly and perfectly. And with one hand, no less.
No, we're not talking about any particular shot by Patrick Reed on Thursday at the 145th Open Championship, but instead, a club twirl. A club twirl that brought club twirling to a whole new level, to be exact. Old Tom Morris, eat your heart out.
Oh yeah, Reed also played pretty well. The four-time PGA Tour winner shot an opening 66 to grab the the clubhouse lead after the morning wave.
"I felt like today was a lot easier than what I've had to deal with all last week," said Reed, who is coming off a T-10 at the Scottish Open thanks to a 67-67 finish. "So it kind of allowed me to be a little more aggressive on lines with iron shots into the greens, because I wasn't trying to play too much of wind or trying to really shape a ball or trying to hole it into things because really the wind was only blowing five or ten out there today."
One of those aggressive lines came on the third hole, when after laying up off the tee, Reed dunked his approach shot from 139 yards for an eagle to jumpstart his day:
But back to that club twirl. Reed offered some insight to the popular move after his round.
"I think it's just a normal reaction. I honestly couldn't tell you where I got that from," Reed said of club twirling. "If you're right here, and you hit a good shot, you kind of twist it and it kind of spins it's way down to your hand."
But he didn't recall the one-handed twirl
"Really?!" he said when informed about it. "Man, when did I do that because I'd love to see that. I don't remember anytime doing a one-handed club twirl. That's cool."
Of course, what's also cool is leading an Open. Reed has one of the best PGA Tour resumes of any young player, but his lack of success in majors (A T-15 at the 2015 U.S. Open is his best finish in 10 previous starts) has held him back from making the top-five status he believes in a reality.
It's also been an unusual season. Despite trailing only Dustin Johnson in top 10s, Reed hasn't won on tour since the opening event of 2015.
"The year hasn't been quite how I wanted it to be yet. I've had a lot of top 10's, but I don't go to play golf tournaments to finish top 10. I try to go and win golf tournaments.
"The game is really close. I just need to keep going and hopefully the wind blows even more, because it would be more exciting to hit some lower shots and make it tough."
Reed developed a fondness for links golf when he played in the 2006 British Junior and stayed to watch the early portion of the British Open at Hoylake, where Tiger Woods famously won despite hitting driver just once all week. Reed said he was "in awe" seeing Woods play in person for the first time, and he loved learning about playing the ball on the ground.
"Just watching the different shots that other players were hitting, I always thought it would be fun because I love to create shots and hit the funny things," he said. "At home, we can't do that. It's too soft. So you can't hit the stinger 2-iron and let it run, or the low hook chip shot and watch it bounce up a hill and kind of trickle over. Those aren't things we can do at home. It's more thick rough, take the ball in the air and try to stop it. So I feel like my creative side has been able to come out."
It certainly has in the club twirling department as well.