News
Patrick Reed enjoying the challenges of the Scottish Open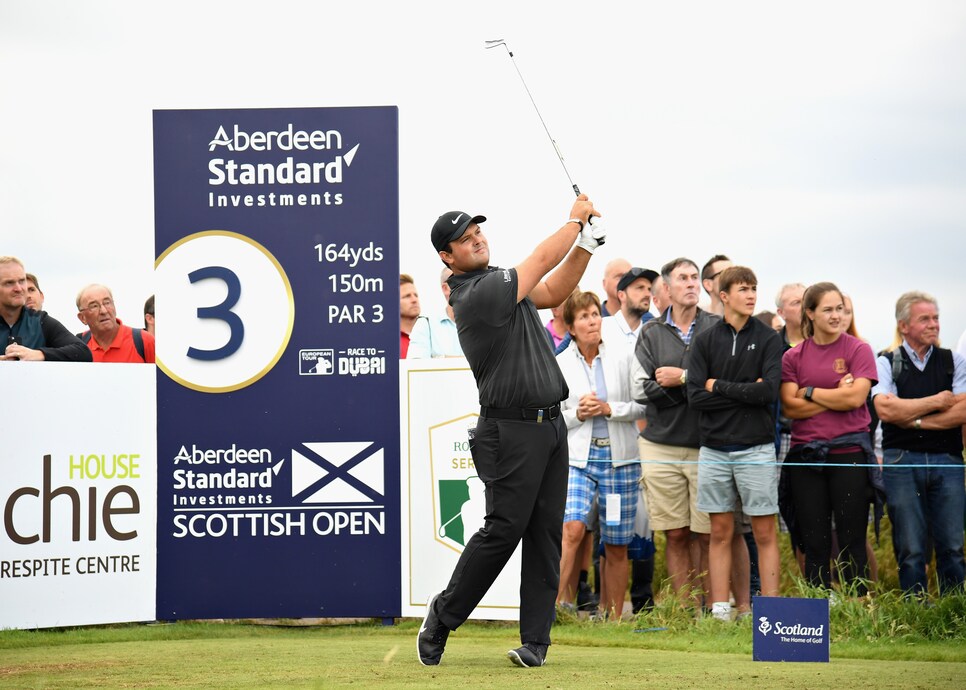 Nine-under par through the first 29 holes of the Scottish Open, things were looking pretty good for the 2006 Junior British Open champion. Eight birdies and an eagle dotted his Gullane scorecard, easily outnumbering a lone bogey at the par-5 16th on day one. Another birdie followed, but two shots were dropped at the short 12th and one at each of the two closing holes. Back to six-under and five shots off the lead at that point, Patrick Reed was not happy.
Not with his score anyway. But the Masters champion, a regular and popular visitor to the European Tour, has been reveling in the challenges presented by the 18-holes that travel up, down and along a currently baked-out Gullane Hill.
"I enjoy the different questions we get asked over here," said Reed. "There are like 10 different ways you can play every shot. So you have to commit to one way and allow all that other noise in your head to escape. In that respect, links golf is more mental than physical. On tour, we all have the physical talent. But the winner is always the guy who can really believe the ball will fly a certain number and let it run to the hole. Or the guy who can hit a shot so far off what appears to be the correct line, yet know that the ball will get back to the flag."
Still, Reed's thoughts have actually been straying. In less than a week the 147th Open Championship will begin at Carnoustie, two hours north of Gullane by road. Tied-second, first and fourth in the three most recent majors, the 27-year old Texan will arrive in the county of Angus as one of the favorites to become "the champion golfer of the year." Already, in fact, he has been to Carnoustie for two practice rounds.
"Carnoustie is firm," he reported. "Really firm. It's a great course. I played Sunday and Monday and really enjoyed it. It's ridiculously firm and fast. A lot will depend on the wind. If the prevailing breeze blows the 18th will be downwind. If that is the case, I will probably hit only one driver. On 18 it was blowing about 12mph. I hit 3-iron and had 95-yards to the flag. The ball is going miles. So you have to put it in play. You have to know where you can run out and where you can't. It's going to be a position course.
"When I was there, the greens were softer than they will be for the Open. But they have to do that. If they let them go they would be concrete by the time we get there. They were watering the rough. It was nasty in some areas. But in others it was a little thin. It gives us a chance. But the water will make it a little healthier and thicker. If they were doing what they were doing to get the rough to where it is supposed to be, it will be nasty."
By now warning to his theme, Reed was off and running, having seemingly forgotten the "piss-poor" golf he claimed to have played over the last two days. Golf marred by "too many lip-outs. Too many missed clubs. And a couple of loose swings here and there."
"I definitely feel like I can win every week," he continued. "I even have a chance this week, if I learn how to play the back-nine. I'm ten-under par on the front and four-over par on the back. I seem to make a lot of puts on the front, but I haven't made that much on the back.
"I'm confident that, if I put myself in position, I have a chance to win. The nerves were definitely more settled at the Masters this year because of what I did at the PGA last year. And once I was able to close-out Sunday at Augusta, it felt like I had no pressure at Shinnecock. In the big moments, when you have to pull off a shot or make a putt, I've had some success. I know I can do it, which eases the mind and lets me just play golf."
Ironically too, Reed made mention of his family. Famously estranged from his parents and sister, he is clearly a bit of a softie when it comes to the wife and children he plays for. The best part of his Masters victory is the knowledge that he can go back to Augusta National every April for the rest of his life.
"When I am 70-years old I'll be able to have my grandchildren caddie for me in the par-3," he says.
By which time Reed also hopes he will have annexed the other three major titles.
"It would mean a lot to win another major," he shrugged. "But you are either a major champion or you are not. Then you are a career Grand Slam champion. Those are the two bars. I want to win them all. My goal is to have won all four at some point in my life. There is nothing better than the Claret Jug though. I would love to take it home. The history behind it and winning at a place that is so different from home would mean you have full control of your game. It basically means you can win on anything."