News
Patrick Reed, in short sleeves, posts a 68 on 'a nice summer day' that was anything but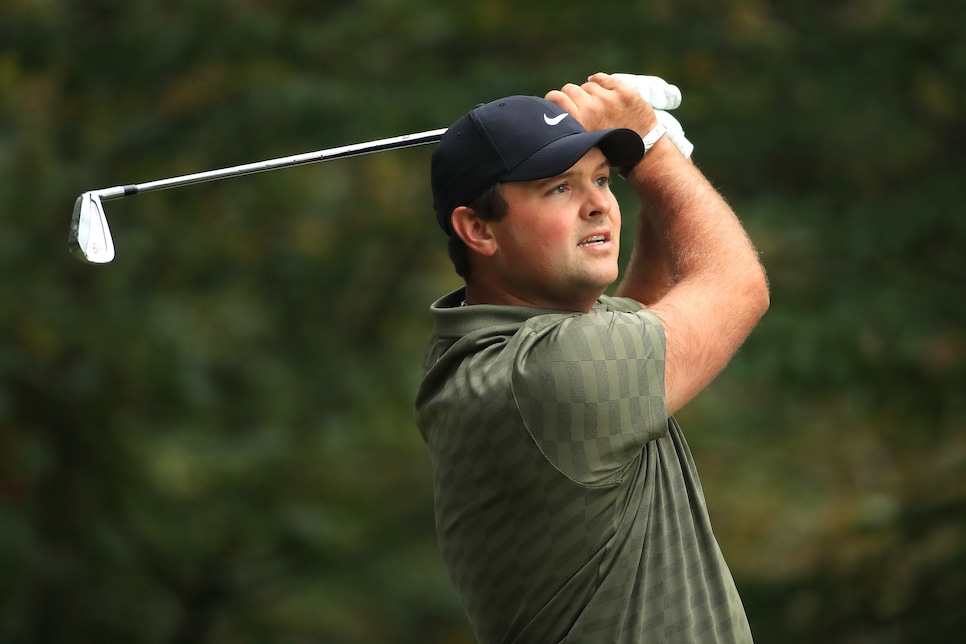 It was a wee bit nippy at Wentworth for the third round of the BMW PGA Championship. A shower or two added an occasional lack of comfort, too. But at least one member of the now 67-strong field didn't seem to be feeling either the cold or the wet. Playing in short sleeves, Patrick Reed — along with Sean Crocker, one of only two Americans to survive the level-par halfway cut — shot a bogey-free 68 to reach 10-under par and a tie for fourth place, four shots back of leader Tyrrell Hatton.
While Reed wasn't quite whistling as he worked, his apparent disdain for the temperature and the intermittent precipitation seemed to help him cope as others struggled. The former Masters champion's card was the only one not to feature a dropped shot.
"What are you talking about?" was Reed's jocular response to questions regarding his unorthodox choice of clothing. "This is a nice summer day. I've seen worse conditions over here before. But no, I've always been in short sleeves. I'll put on a vest here and there just to make sure my core stays warm. If my core is warm, I'm good. But I do have a couple of tricks. Today I wore long sleeve in-between shots, just to make sure I stayed warm. And I putted with a long sleeve on."
Still, Reed did acknowledge that things could have been a lot worse. Had any sort of wind picked up he felt things really could have gotten "chilly." But as it was he was pleased that "the weather held off for us. It felt good to come out and get those juices flowing and get going."
In that, the 30-year old Texan was successful, although it could easily be argued that the high quality of his ball-striking deserved a better return than a mere two birdies over the first 16 holes. Like just about everyone else, Reed was at times perplexed by the inconsistency of the breezes swirling across the tree-lined layout. Think the 12th tee at Augusta National.
Then there were a number of putts that "burned the edges," turning what could have been a special day for Reed into one that was simply satisfying. Make that really satisfying. An eagle on the par-5 18th meant he left the premises with a smile on his face.
"I feel like I did a lot of things really well," said Reed. "I hit the ball solid and felt like I was hitting a lot of good putts but the ball just wasn't going in the hole."
As for a final round he will start tied with Open champion Shane Lowry and world No. 14 Tommy Fleetwood as well as Englishman David Horsey, Reed was clear about his tactics with only three men ahead of him - Hatton, Swede JB Hansen and the Scotland-based Frenchman, Victor Perez.
"I play aggressively as it is, so I can be really aggressive," said Reed. "But I'm going to pick my battles depending on how my swing feels, what the weather is like and the pin placements. Besides, although I rode kind of a cold putter today, I'm actually putting really well. If I get within 30, 25 feet, I feel like I have a chance of making putts. It's more making sure I give myself as many looks as I can. My aim is to play bogey-free and make as many birdies as I can."
There was no mention of a final day outfit. But, on the evidence of day three, it is safe to assume Reed will be wearing the bare minimum. No matter what.